Atomic Email Hunter, an online email extractor, is developed to collect the e-mail addresses and user names form the sites on-line. The extractor does not depend upon any additional software the way many other email collectors depend on Internet Explorer and it can work through proxy servers. Atomic Email Hunter is a very fast program working online and supports multi-threaded page loading. The harvester requires very few machine resources while running and can run quietly in the background on any computer running Windows XP with a functioning online connection to the Internet.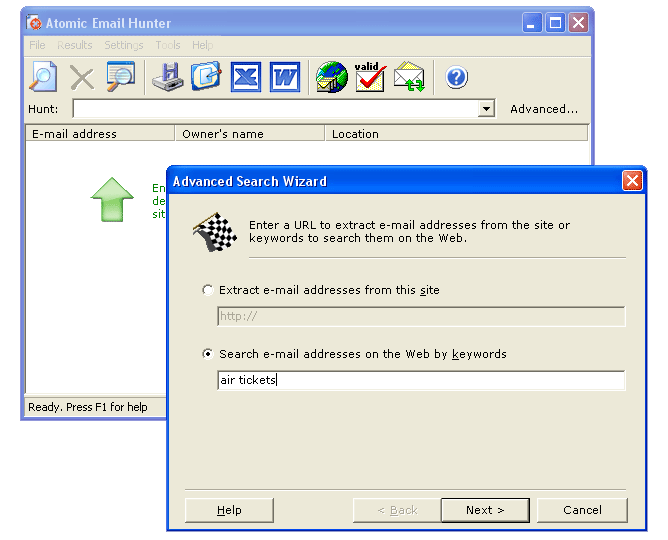 Atomic Email Hunter provides a variety of filters for scanning web pages. You can limit the scanning depth and paths. The program is flexible and easy to use. In most cases all that is needed to get results is to enter a valid URL or type several keywords in search bar.
With Atomic Email Hunter extracting addresses online is as easy as using an internet search engine. Type in the desired keywords and the Hunter extracts the top ranked pages directly from Google, Yahoo, AltaVista and then searches those pages. Our keyword search provides a unique and useful feature, non-existing in other popular web email extractors.
Ordering the e-mail extractor on-line
The current version of Atomic Email Hunter is distributed as shareware. You can download the program for free and try it before purchasing (in unregistered versions some features are locked). To use the software beyond the 30 day evaluation period a registration is required. The fully licensed version can be ordered through the internet using any major credit card