O'HARA success story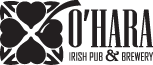 About O'HARA
O'HARA is Irish Pub and Brewery that uses Atomic SMS Sender to send news to its clients.
O'HARA brings part of friendly Ireland to the capital of Kazakhstan. o plunge into the atmosphere of Ireland, you don't need to fly to Dublin. You can simply visit the Irish pub O'HARA, and enjoy the delights of the restaurant's unique "fusion" menu. O'HARA Irish Pub and Brewery runs its own brewery right on the property, using only the best brewing recipes.
In the restaurant, you can have a cup of coffee in the morning, conduct negotiations during lunch, or invite your special someone for a romantic dinner.
Tasks
O'HARA needed to communicate with clients on a regular basis to send news about the restaurant, announce new dishes on the menu, and share its calendar of upcoming events.
Why the company chose Atomic products?
To implement the above-mentioned tasks, the restaurant needed an instrument that allowed bulk SMS-sending. Atomic SMS Sender appeared to be the most convenient one, as it guarantees instant message delivery.
O'HARA based its choice of the service on the following criteria:
• suitable price
• user-friendly interface
• professional technical support that could solve any problems
The results of using Atomic products
The restaurant uses Atomic Bulk SMS service to keep its clients constantly informed. The service allows O'HARA to build friendly relationships, as clients receive relevant information and remain loyal.
Atomic SMS Sender manages all of the tasks that the restaurant set itself.
Specific uses of the service
Type of bulk sending—informational.
Distribution frequency—3-4 times a month.