Kill suspicious
This function is used to remove not needed, suspicious emails. The key words to determine suspicious email can be entered into signal strings field. However, four standard options are available.
Remove emails with:
four successive digits – 1234ikks@gmail.com
six digits at all- for example 1234ikks56@gmail.com
protocol prefix- such strings as "mail to:" and "?subject="
double characters – for example alikkks@gmail.com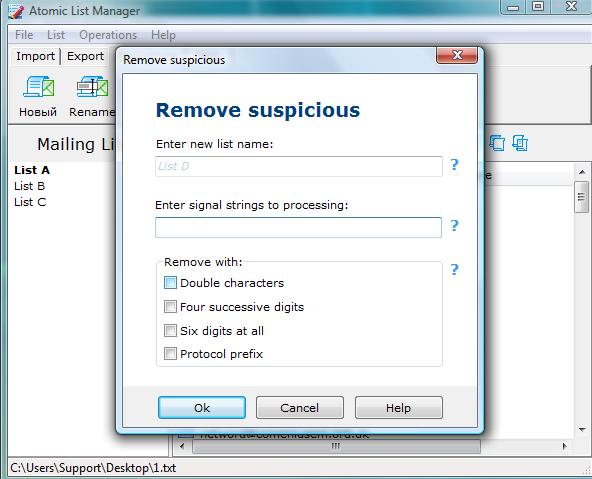 An example of removing suspicious emails is shown below. In the given case webmaster@ and .org were entered into Signal Strings field.
Original List
Signal Strings
Result
zakaz@hot-post.ru
alex@smsclub.ru
info@goldesign.ru
agentX@kgb.org>
welcome@termocraft.ru
webmaster@ipc2u.de
mail@ipc2u.de
linksoft@linksoft.ru
webmaster@.org
zakaz@hot-post.ru
alex@smsclub.ru
info@goldesign.ru
welcome@termocraft.ru
mail@ipc2u.de
linksoft@linksoft.ru
Back