Editing email message
Atomic Mail Sender allows you to use both text and HTML messages. You can switch the message type in the "Format" menu.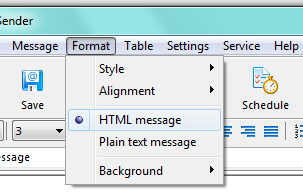 Working with text format of the messages only limits the editing abilities. You work only with the text part. In this case it is possible to set the alternative part for the HTML message for displaying in old e-mail clients that don't understand up-to-date HTML format (for example, Alpine, Bongo, Pop Tray etc.). By default, Atomic Mail Sender generates the alternative text part automatically (it extracts text from the HTML part). If you clear the "Synchronize with HTML part automatically" checkbox, you can make your own text part.
You can use the "HTML Source" code page to view and edit the HTML code of the message. You can also paste the HTML code of another page there. Editing the HTML source should be used to add some effects that cannot be added in the HTML editing mode to the message.
You can use the "Preview in browser" page to see what the message will look like in Internet Explorer and Outlook. In addition, you can send a test message to evaluate it.
You can paste a ready-made message from FrontPage, Word, HomeSite or another application.
For starting the work with HTML code, use the tab-page "HTML Source code". You can use the editing toolbar with the general options:
— choose the text style
— choose the text size
— make the selected text bold
— make the selected text italic
— underline selected the text
— change the color of the selected text
—change the paragraph alignment to left
—change the paragraph alignment to center
—change the paragraph alignment to right
—change the paragraph alignment to page width
— make an ordered list
— make an unordered list
— put the text outdent
— put the text indent

Picture ー use an image as a background
Solid colour ー change the color of the message background
Clear background ー delete the current background

ーinsert a clickable hyperlink
— insert a new table
— insert a new image into the current message
— insert a horizontal rule
— create an ASM project
— attach a file from the folder
— insert a linked social icon
— insert a linked social icon
— choose the way of unsubscribing and insert an unsubscribe link
— run Google Analitycs for tracking the delivery
— create unique messages with the help of the spin text

During the work with the HTML editor you see several tabs.

• "Email message" — you have an opportunity to edit the message, chenge the alignment of the selected text, insert objects or clickable links.

• "HTML Sourse code" — there is HTML code of the message there. Also you can paste HTML code of another page. Edit the sourse only when you need to add the effects that cannot be added in the "Email message" tab.

• "Alternative text part" — this text part is necessary for the old email clients (for example, Alpine).

• "Preview in browser" — the tab allows to see what the message will look like on the Internet .

It's important! Editing message is possible only in "Email message" tab. When you use other tabs, the editor tool is unactive.

Back