Web Email Extractor
Atomic Email Hunter is a very flexible online email extractor designed to extract email addresses from websites and search engines. It's easy to use. In most cases, all that is required to get results is enter a valid URL or type several keywords in the search bar. That's all that had to be done to get going with the extractor - email search literally starts in a matter of seconds. Check the video below to see the email address extractor in action.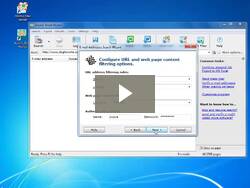 With our web email extractor, email address search is as easy as using Internet search engines - it can visit a website that ranks on Google for a chosen keyword, find its email, extract and save it for further use. Type in your target keywords, and Email Hunter will find the top-ranked pages for them directly from Google (or other search engines you choose--42 SEs available) and then search those pages to extract email addresses. Our keyword search is a unique and useful feature that does not exist in most other popular email address extractors.
How Does Email Address Extractor Work?
Our web email extractor can harvest more targeted email addresses when you search through one or several websites focused on a single niche. Email Hunter provides a variety of filters for scanning web pages; for example, you can set it to include only pages that contain certain words like "contact," "about us," "feedback," etc. You can limit the scanning depth and paths. If you use filters with the extractor, email relevancy can be higher and the resulting email list can be more targeted. If you need to search for a specific type of an email - extract them using advanced filters. This could be the case when you need to find emails with the sequence "webmaster@" in them.
Atomic Email Hunter is a very fast email address extractor that supports multi-thread spidering. It requires very few machine resources and can run quietly in the background on any PC connected to the Internet. Once the program is launched, you literally don't do anything in order to search for an email, extract and save it.
Atomic Email Hunter does not depend on any additional software, unlike many other web email extractors, and can also work through proxy servers. When you are looking for an email extractor online make sure it supports proxy servers. In Atomic Email Hunter email extraction is done via proxies in multi-threaded mode.
All that sounds just amazing, isn't it? We want to belive that we've created the best email extractor out there, but it's up to you to make judgements about it.
How to extract email addresses from websites
Like with any automated software dealing with online data extraction, it's better to use a configuration that prevents the program from collecting emails way too fast, which can result in sites blocking the software and your IP address. Atomic Email Hunter is configured to collect data in a friendly way, but you can change the default settings if you want to speed it up a bit and extract email addresses from websites a little bit faster.
To get a great number of new e-mail addresses and save 30%, click the Discounts & Packages section and purchase the "Massreach package" including 5 collectors as follows:
Have you ever searched for the best email extractor capable of doing millions of things? We don't have one, but we've created a whole range of tools, each serving a specific email extraction purpose depending on how and from where you want to extract emails.
Web Email Extractor Screenshots
Click on any screenshot to enlarge. Screenshot of a large size will be opened in the current window.
Got Questions?
If you feel geeky today and think you could use a little bit more information about the product or still not sure how to extract email addresses from websites so that nobody gets hurt, you can conduct further research at the support section of the website.
Besides, there is a whole bunch of support people waiting for your call, so don't hesitate - our people are ready to answer the most quirky of your questions as to how to search for an email, extract it and further use it for your own purposes.
Our clients about Atomic Email Hunter:
| | |
| --- | --- |
| I have reviewed over 50 different programs that collect email address's and tested most. Atomic Email Hunter is far the best on the market from the options it allows you to select. A very powerful program, my only regret is that it is that good I wish they could take it off the internet :-) Would recommend this to anyone who is serious about emarketing. | |
Get More and Save!


Atomic Email Studio - a full pack of email marketing software with a discount. 9 programs in 1!
Frequently Bought Together
Atomic Mail Sender
For sending personalized emails to your mailing list. Easy-to-use software for creating, sending and tracking email campaigns. Read more »
Atomic Mail Verifier
For verifying email addresses. Three-stage process: checks email syntax, domain name MX records and existence of the email address. Read more »
Atomic List Manager
For managing mailing lists. You can sort, remove duplicate and suspicious emails, subtract one list from another and more. Read more »
TOP 10 REASONS
TO TRY
Show products menu