Verify failed
Verify statuses you can see in the coloumn "Status" or look to the "Journal Window" for more details.
If a verify failed or there is a connection fault, you can see SMTP report code and find out the reason of the fault.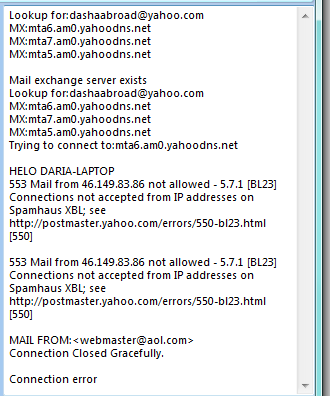 There are the numbers and descriptions of possible SMTP answers.
| | |
| --- | --- |
| Responce Code | Description |
| 211 | System status, or system help reply |
| 214 | Help message |
| 220 | Service ready |
| 221 | Service closing transmission channel |
| 250 | Requested mail action okay, completed |
| 251 | User not local; will forward to |
| 252 | Cannot VRFY user, but will accept message and attempt delivery |
| 354 | Start mail input; end with . |
| 421 | Service not available, closing transmission channel |
| 450 | Requested mail action not taken: mailbox unavailable |
| 451 | Requested action aborted: error in processing |
| 452 | Requested action not taken: insufficient system storage |
| 455 | Server unable to accommodate parameters |
| 500 | Syntax error, command unrecognized |
| 501 | Syntax error in parameters or arguments |
| 502 | Command not implemented |
| 503 | Bad sequence of commands |
| 504 | Command parameter not implemented |
| 550 | Requested action not taken: mailbox unavailable |
| 551 | User not local; please try |
| 552 | Requested mail action aborted: exceeded storage allocation |
| 553 | Requested action not taken: mailbox name not allowed |
| 554 | Transaction failed |
| 555 | MAIL FROM/RCPT TO parameters not recognized or not implemented |
Back