Export Wizard
"Export Wizard" allows exporting email addresses (both checked, i.e. good addresses, and non-valid addresses) to various formats. The current version of Atomic Mail Verifier supports exporting data to text files, Windows Clipboard, MS Office (Word, Excel), Open Office (Writer, Calc) and to other Atomic products — Atomic Mail Sender and Atomic List Manager.
"Export Wizard" is accessed by clicking the "Export Wizard" button in the "Exports" or "Verify" menu.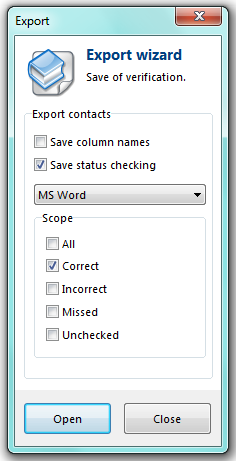 Save column name — save columns' names while exporting email addresses.
Save status checking — save verbalized statuses for addresses while exporting into the file.
MS Word — choose the file or program type to export addresses list. The following types can be choosed:
Clipboard — save the verifying results into the Windows Clipboard
Text file — save the addresses to the text file (*.txt)
MS Word — save the results to the new MS Word document
MS Excel — save the results to the new MS Excel sheet
Open Office: Writer — save the results to the new Open Office: Writer document
Atomic Mail Sender — export the addresses to the "Recipients List" for starting delivery into Atomic Mail Sender
Atomic List Manager — export the email addresses into Atomic List Manager
Score — choose what email addresses to save.
All — save all the addresses without reference to the statuses
Correct — save actually existent addresses only.
Incorrect — save invalid email addresses with "mailbox does not exist", "domain doesn't exist" or a syntax error
Missed — save addresses that were missed during verifying
Unchecked — save the unchecked addresses