When it comes to sending mass emails, you do want to be sure of getting into the inbox. Here, you've got efficient tips to succeed in the bulk mailing with Atomic software.
Globally speaking you need to go through three essential steps:
Manage the recipients' contact information
Design the email template
Customize sending tools
Email marketing always starts with the list of recipients. You should know that your mailing list must contain only opt-in subscribers. Otherwise, it will not be an email marketing, it will be spam; you will get a large number of spam complaints and a bad sender reputation. The same situation may occur if your mailing list consists of nonexistent or bad email addresses. Don't even think to rent or buy mass email lists! It's not the best choice, is it?
For keeping the list clean we have provided two powerful programs – Atomic Email Verifier and Atomic List Manager.
Email Verifier confirms if the domain name and email address exist and removes the invalid contacts automatically.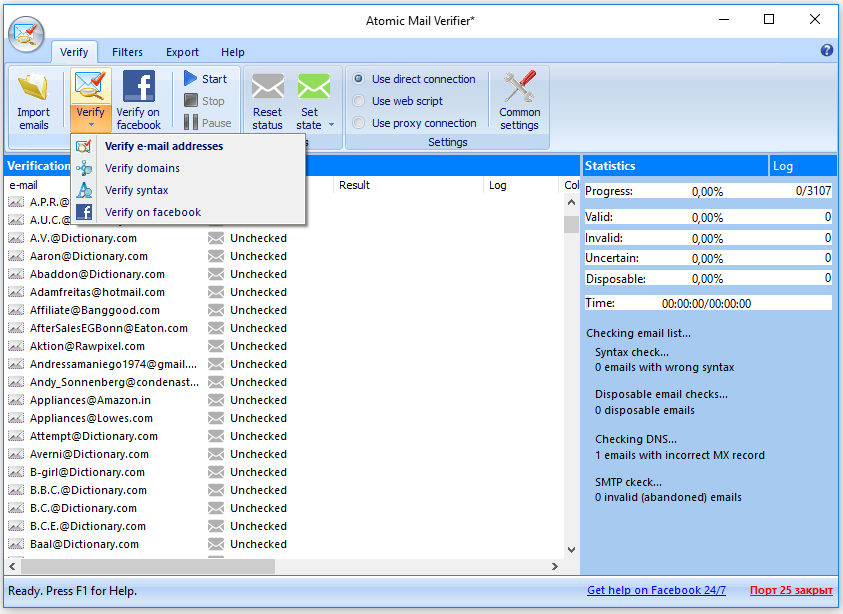 List Manager has more than 15 options to manage mailing lists: sorting, splitting, merging, filtering emails, etc.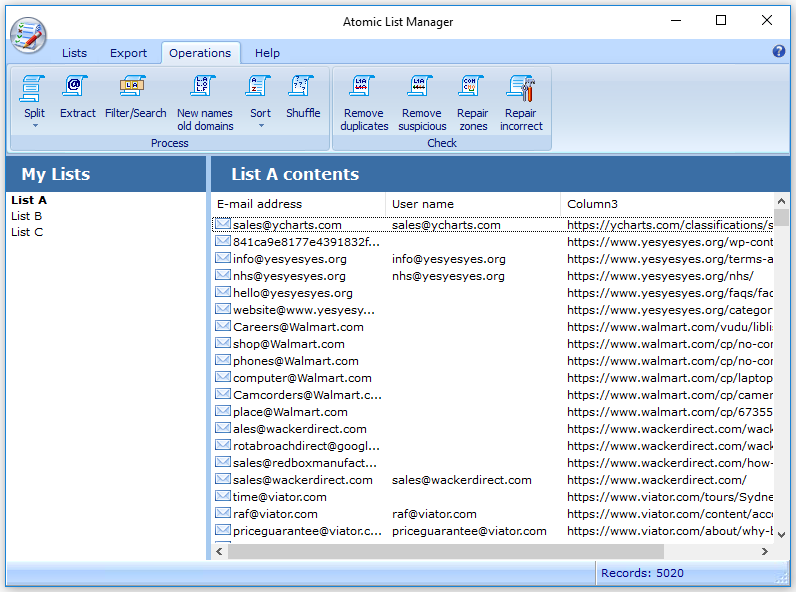 Keep your list of clients' contact email addresses relevant and up-to-date – and you'll be the master of email marketing.
In common with all people, you prefer to read colorful and topical emails, don't you? Nowadays, plain text emails aren't exactly the most comme-il-faut option on the market. The question is about where to get colorful email templates. Bulk mailer is ready to serve you. It includes a large number of ready-made professional designer and free email templates suitable for all kinds of business. Mobile-friendly and easy to edit, these templates can save your time and facilitate the bulk mailing preparation. They include all mandatory elements of a professional email, as well as a few variation of the internal content.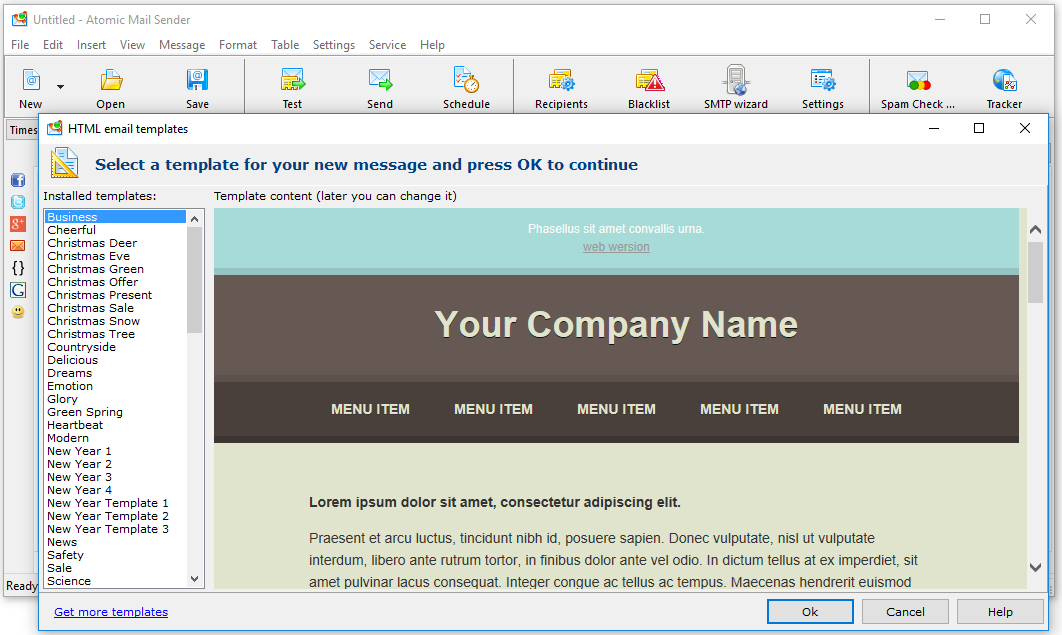 At the same time, Mail Sender gives you the opportunity to create and send personal unique HTML emails that you can create using WYSIWYG editor. If you are good at email designing – you are welcome to impress clients with a branded memorable email. Besides, the program supports any HTML template you download.
Note! The most common reason when emails are flagged by spam filter is when a message contains too many images and little of text.
There is no matter on how you create the template. Just consider that your email has to contain the unsubscribe link, the sender business address, and signature, the reason why your client received your email.
Now about sending.
Sending tool customization – it's the biggest theme to discuss.
You have already chosen Atomic Mail Sender as a bulk email sender. What's next? Firstly, check that your firewall doesn't block the program.Secondly, an indispensable item for bulk mailings is SMTP server for Mail Sender, which enables to send the emails that you created. You can send a number of emails through free SMTP servers but it is not recommended. Some providers place limits on the number of emails per minute/hour/day in order to protect recipients from a ton of unwanted emails.
That's why we teamed up with reliable SMTP server providers and propose you to use their SMTP servers for sending bulk mails. It is recommended to connect multiple SMTP servers for the program to work in multi-threaded mode and deliver newsletters quicker.
The third main thing is sender information in the Default email message properties: from address, reply-to address, and username. The best way is to send from a corporate mailbox and a real person's name. This helps to bypass spam filters and keep up the recipients' trust.
After setting up these parameters, you can start loading a mailing list into Mail Sender. Add as many email addresses as you need, there are no limits at all. Feel certain that unsubscribed clients will be automatically removed from the list as well as all those emails which servers return the error message – bounce. Therefore, you will always send newsletters to the actual mailing list.
And the last is the test! test! test! Never forget to test the created email message before sending bulk emails. The best plan to be followed is to register accounts on different popular email services and mail platforms to check the correct message display and inbox delivery.
Tracking is necessary!
Atomic Mail Sender offers you statistics on sent emails. It's a simple delivery report. But you can learn more about your bulk email and recipients' behavior. Try to activate and use Atomic Email Tracker – our web-based service for tracking sent campaigns. It provides the information about email opens, click-throughs, pages visited, and much more. You can analyze such kind of statistics' details and improve your email marketing by making mails more targeted.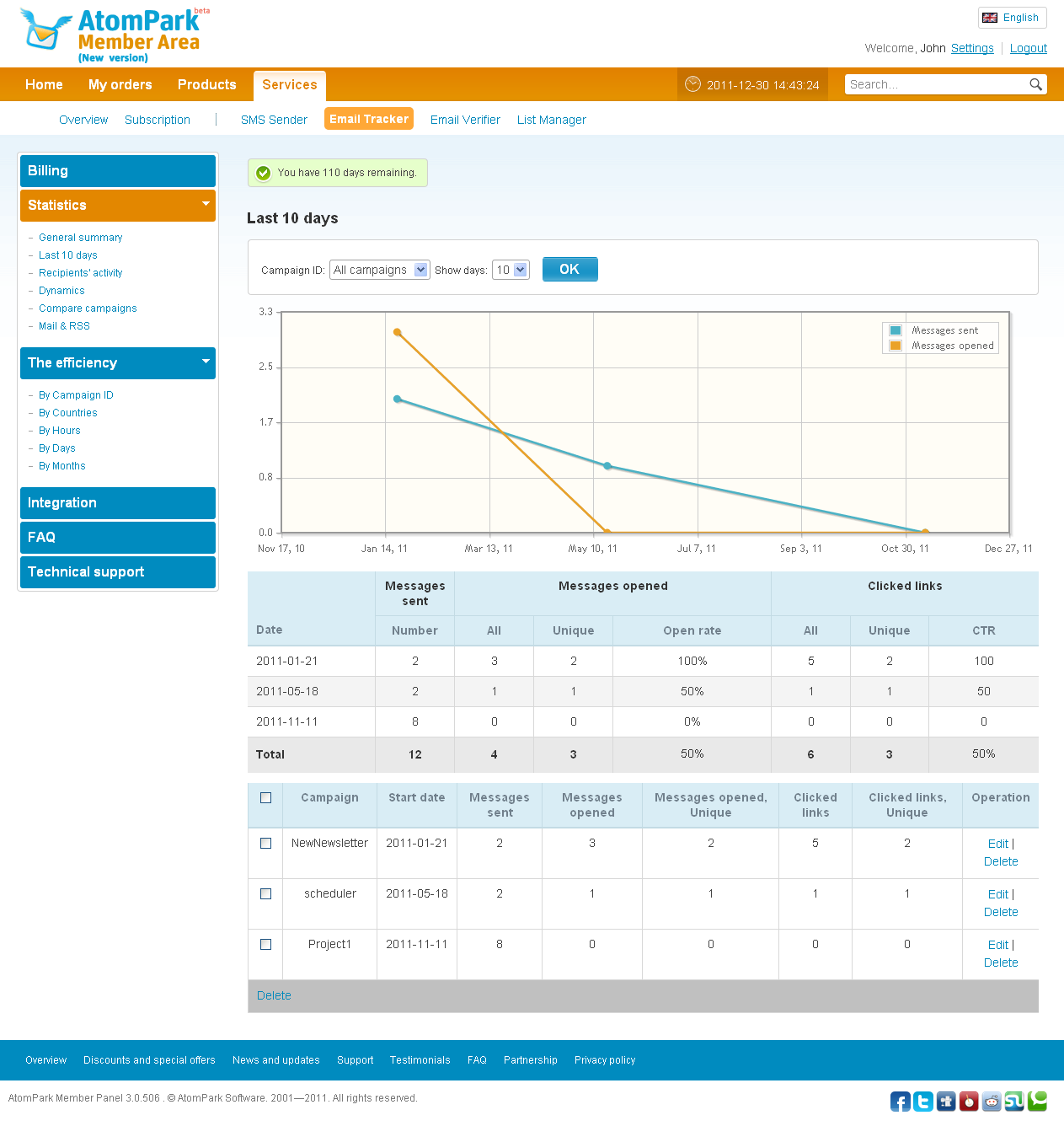 Basically, in order to send mass emails you need the go through the following steps using Atomic software:
Check the email addresses validity in the mailing list (Atomic Mail Verifier)
Manage mailing list to get a relevant one (Atomic List Manager)
Create or choose email template, make it branded and write interesting text (Atomic Mail Sender)
Customize the SMTP server for sending newsletters, fill in the main sender information for people to know they receive expected email from a real person and not spam (Atomic Mail Sender)
Analyze email campaign statistics to improve all future campaigns (Atomic Email Tracker)
Here you can read more information about how to create and send effective mass mailings:
Guidebook for Atomic Mail Sender
Program Guidebook for Atomic Mail Verifier
How to create email template: Guide against errors
Improve Email Deliverability: 6 Important Rules
The Open Rate Killers: 3 Email Marketing Mistakes You Should Strictly Avoid