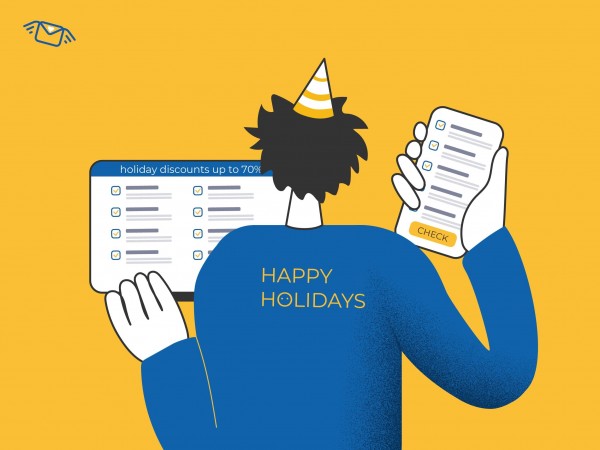 During the holiday season, people make a lot more purchases. This is a good reason to offer them what they need, isn't it? The importance of running your marketing campaign is not just about updating products and services. It is also the ability to promote your brand at special dates, holidays, various discount periods and so on. If this is done correctly, then the result will not be long in coming.
Holidays provide a unique opportunity to remind of yourself once again and increase the number of clients. And don't worry, you won't spam your customers. They expect you to solve their gift problems.
An easier and simpler way to do this then SMS and Email is hardly to find. That's why today's article is about containing bulk SMS and Email.
So, what is important for your holiday promotion via the bulk SMS and via the Email sending?
You should follow some basic rules for increasing the sales for sure. That's why we have created a special checklist to simplify this task. By going through this checklist, you will test your email or SMS marketing readiness. Let's start!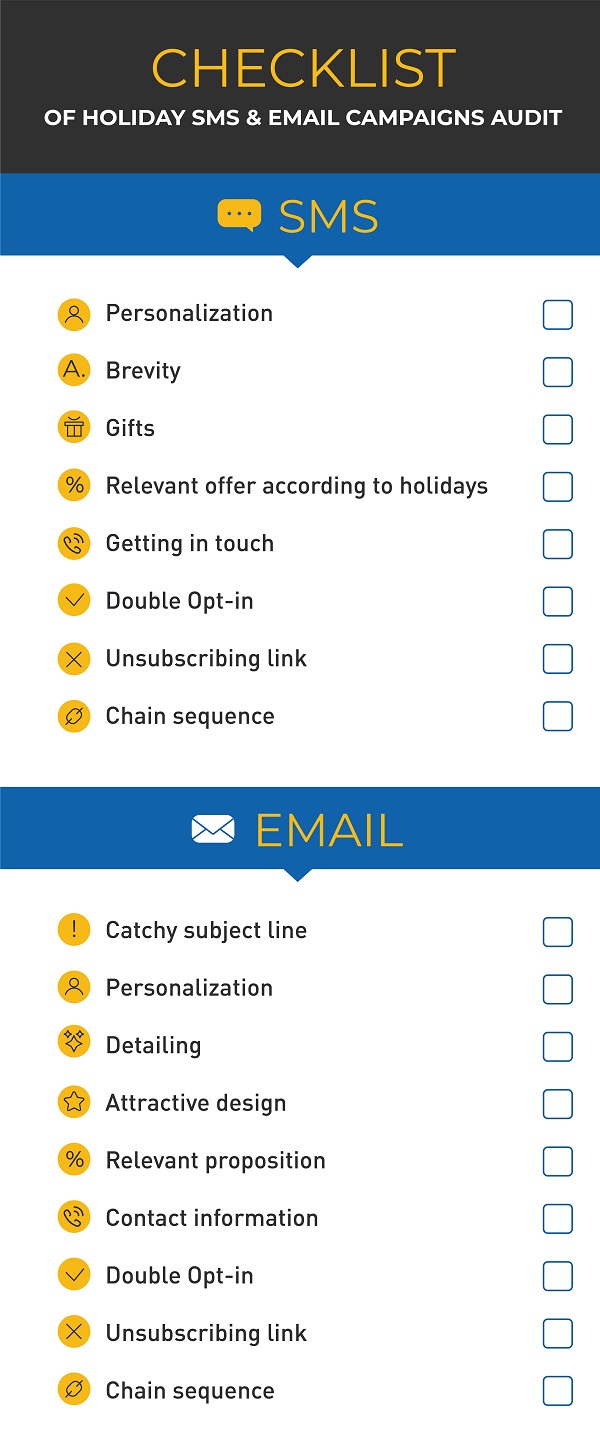 Bulk SMS content
To make it easier for you to understand the structure of the message, we have created a layout for you with optional components.
Recipient's name
+
Gift
+
Your contacts
Personalization. Your message must be personalized, that is, it must contain the addressee's name. We appreciate personal holidays, because they are about us. And people are also pleased to know that someone remembers their memorable dates. When a company remembers its customers' holidays, it increases their loyalty. Ex.: "

Margaret

,

we know your B-Day is soon. Get a personal discount for every purchase at our store by going to our website *link*. Discount is valid for a limited period. Hurry up!"

Brevity. SMS should contain only the most important things. Remember The golden rule of saying "Brevity is the soul of wit". And if in real life it is because of your good breeding, but in this case there is possible a limited number of characters in SMS. Ex.:

"Patrick, Christmas is coming! Come to our Christmas tree toys store at * address * and get a gift when you make a purchase from $ 10! *link*"

This message contains 142 characters, which does not exceed the number of allowed characters, but the essence is stated in full measure.
Gifts. Holidays are always about gifts, and you are no exception, if you get started, then do it efficiently. SMS should contain some kind of profitable deal, decorated as a gift. It can be a discount, an additional product or an exchange. Ex.:

"Louis, a wave of holidays is just around the corner. To stay in touch with the people you love, give your old phone and get a new one with a

30% discount.

We are located at * address *. Call us *phone number*"

To get in touch. If you offer some deal you have to give some possibility to contact you to order this deal/service/product. Just leave the link on your website, phone number etc. Ex.

"Polly, we wish you a Happy New Year! Only till the end of the week, get a second dress for free! To order, go to our application

* link *"

Double Opt-in. If you received consumer contacts, then you should also give them the opportunity to unsubscribe from your bulk sending. At the very least, the customer may not be interested in your information after the holiday comes through or if you bought a contact base.
Congruity. Your proposal should correspond to the atmosphere and spirit of the holiday. Hardly anyone will congratulate you on Thanksgiving with some professional holiday.
Chain sequence. If your customer ordered some good or service you can use a few SMSes

First contact has to contain the information about your products for gifts, where you can tell about all the benefits and advantages of your company to make the client interested. Make your content unique by specializing for each client. You have to give them what they need.
The next SMS can be sent when the client ordered something. You can send the thanks for choosing you and confirmation of the ordering. Also, you can note terms of order fulfillment.
After completing the transaction, you can ask the customer to share their impressions of the service and the product. This will show that you care about his opinion.
These were the tips on how to compose your SMS campaign, now let's talk about the email campaign. They are still somewhat different.
Email content
Personalization. Using an Email marketing campaign for the holidays, you should also personalize each email. Firstly, it shows a unique approach to everyone. Secondly, this way your emails can avoid the very unpleasant involvement with the spam section.
Detailing. Here you can already show your marketing and writing skills as your heart desires, but it is also important not to overdo it. Also, you can indicate your promotional offers and basic discounts, offering the deal the client needs.
Gifts. As in the SMS campaign, it is worth indicating the presence of gifts in the email, because the holiday implies their presence. You can indicate in your appeal that your company can provide or organize holiday offers for the buyer himself or for his family and loved ones.
Contact information. It is mandatory to have contact information, such as a link to your website or any other method of contacting you. The person should be aware not only of your offer, but also of the way to conclude or purchase it.
Double Opt-in. With every mailing it is important to give the person the choice to continue to participate in your campaign. It is important to leave a link to unsubscribe from your mailing if the person becomes uninterested in further information.
Attractive content. Decide on the number of letters in the holiday chain and the time of sending. During the holidays, the competition for a subscriber's attention increases, think about how to attract a reader. For example, add emoji to the subject line, or experiment with styling. Consider the scale of the holiday. So that your proposal does not get lost among other email newsletters and reaches the maximum number of subscribers, send the same letter with a new subject to those who did not open the first one in a day.
Chain sequence.

Email 1: Gift Guide with Product Picks. Add a clear call to action so that subscribers have time to collect gifts for loved ones and friends.
Email 2: Information on delivery dates. Explain when to order in order to have time to receive gifts before the holiday. Consider the remoteness of the regions - the delivery time in Alaska will differ from the delivery time to Los Angeles and so on.
Email 3: A selection of gifts for yourself. Focus on subscriber buying history and preferences.
Email 4: Congratulations. On the day of the holiday it is too late to order something (unless, of course, you have express delivery), send a greeting card. More emotion - time to show your brand as human.
Email 5: Options for the weekend. If the holiday is celebrated for more than one day, offer goods for recreation, a trip to a visa-free country, or just useful content that will help pass the time on vacation.
With the help of the convenient service from AtomPark, you can competently combine these two components of a successful marketing campaign on the eve of the holidays and throughout the entire period.
Setting up your account, uploading your customer base, and creating templates for sending will save you a fortune and a lot of time in a few clicks.
Download Atomic Mail Sender and test its features for 7 days free of charge!
Always remember that success lies in your desire to achieve it and in his methods, and our service will help you achieve this goal.
Stay with AtomPark and let's make life easier together!
Written by:
Boost your business
with AtomPark
Try our software and evaluate it in action