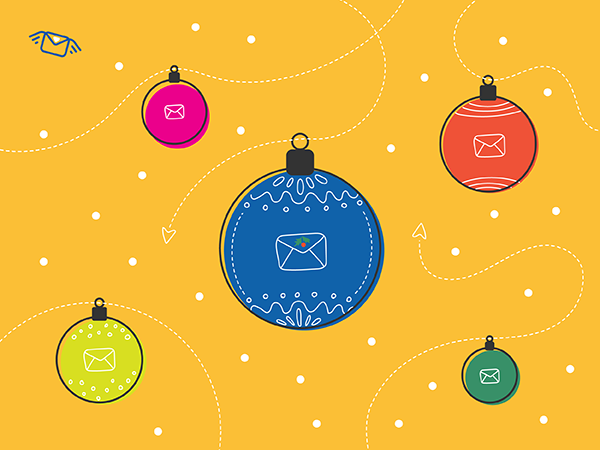 Christmas is coming, are you ready? It's the time of the year when even the most suspicious customers get ready to buy online. On this day every second person wants to treat himself, his family with the nice gifts. So why not help our clients to organize the biggest family holiday? Let's take advantage of the emotions people already feel on these days!
In this article, you'll find fresh tips and creative ideas for your Christmas email marketing campaign.
Are there any presents for your business at Christmas?
Christmas is accused of attaining more and more commercial shape. The charges are quite reasonable, just look at the statistics.
Holiday retail sales in 2018 surpassed $1 trillion according to the statistics.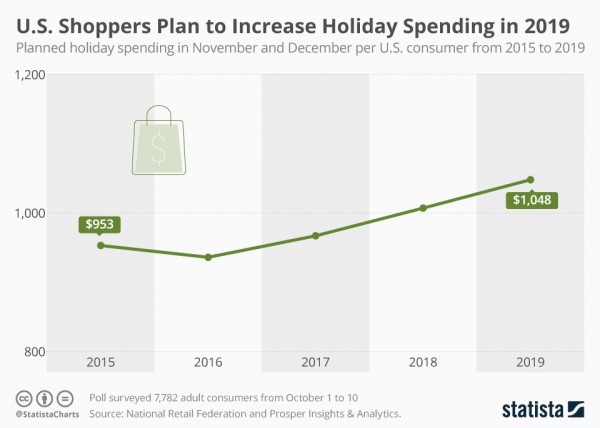 Holiday season became the hottest sales period of the year for e-commerce businesses. The president of Australian Retailers Association Russell Zimmerman said, that retailers got 60% of their income on this holiday.
Let's have a look at results of last year Christmas sales for UK retailers
JD Sports (sports goods) ― in the 5 weeks to January 3rd sales rose to 12%
Primark (clothing company) ― in the 16 weeks to January 3rd, Sales were up by 15%
SuperGroup (branded clothing company) ― total income growth of 17.8 %
Marks & Spencer (international clothing brand) ― food sales were up on 17%
Lidl (discount supermarket) ― reported about 20% sales growth
Maplin (electronic online shop) announced about 24% growth in online sales during holidays.
But, there are companies which were left without Christmas presents. Why? They ignored marketing advice for holiday campaigns. Sticking with the rules does not guarantee a 100% result, but increase your chances to be on the winners' list.
So, what is the receipt of successful Christmas sales? Don't try to sell Christmas, help people to create it. How? The answer is below in the text.
The perfect time to start your Christmas email campaign
It's very important to be ready for the launch of the ad campaign on time. So, you should plan it much earlier, depending on the possibilities of your company. Remember that planning could take much time - from weeks to months. All depends on the extent and duration of the marketing campaign.
When should you start mailing? When people begin thinking about the upcoming holidays. Moreover, it's exactly you the one who has to make them think about the celebration. You have to inspire people to feel the atmosphere of upcoming Christmas.  
Fact: the people start Christmas shopping a month before the holiday.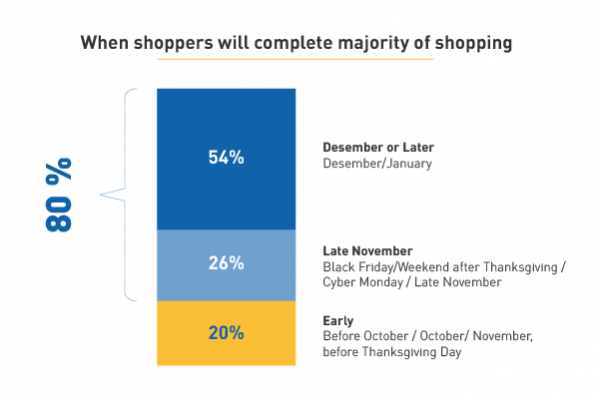 Deloitte's 2017 Holiday Survey (Deloitte - the largest professional services firm in the world)
That's why the majority choose the end of November or the beginning of December as a starting point for the mailing.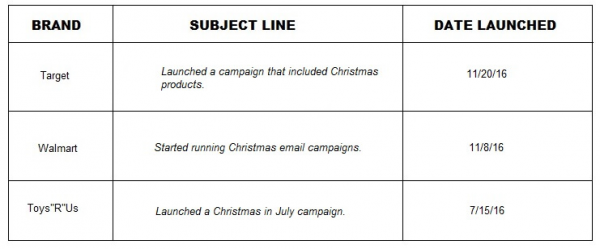 *You should always remember the behavioural specifics of your target audience
World e-commerce practice shows, that Christmas mailing has several steps:
Pre-Holiday ― recommendation newsletters with useful info about/for the Holiday.

The pre-sale … up to 15 Dec

The main sale 15-25 Dec

After Christmas Emails
For example, "24 Days of Deals campaign" of furniture online shop westelm.com: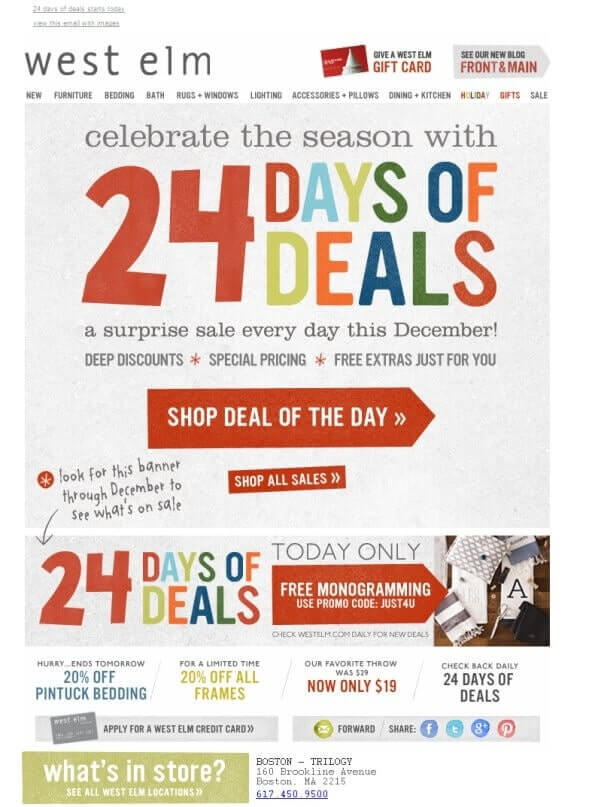 Read more about Christmas email: How often should you send it?
Email subject line: The Christmas star of client's mailbox
Be sure, you are not the only one who wants to congratulate all on the upcoming holiday. So think twice about what the receiver spots first - the subject line of your email.
Here are some hacks for your email to be noticed:
Play with the client – use puns, show your sense of humour

  Holiday looks your grandma might not hate

  Read between the wines

  "Family, friends, food & flying – all of our favourite F words!"

  Cheeses are the reason for the season

  Season's Eatings!

Intrigue the reader

  The secret's out!

  You won't miss that!

Everybody loves presents

  Merry? — We got you a gift…Old Navy

  Hey, we made you something for the holidays!

Be clear, use numbers

  Reach more holiday shoppers with your $100 coupon

  Because we miss you. Enjoy 15% off!

Let people feel special
  Shhh…you're the first to know It's all for YOU
Top ideas for your Christmas email campaign
Remember, the moment person opens your newsletter she/he shouldn't be thinking of you. Make readers think about the upcoming holiday, create an atmosphere of magic.
People like scrolling, so the task is to grab their attention.
We have found some fresh ideas that might inspire you.
2019 is a year of return to the past ― Handwritten Emails
New is a well-forgotten old. Why not try to use some elements of vintage style?
Want your letter to be read ― remember about your calligraphy)) 
Engage Christmas spirit with the right colours - Email Design Colors and Emotions – Stimulate Engagement and Purchases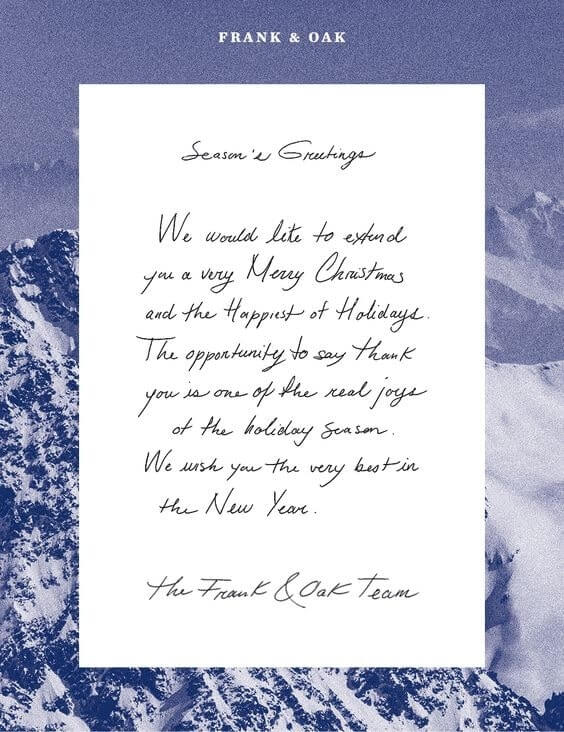 FRANK&OAK wrote the letter and congratulate people kindly. Such an approach shows customers that the team appreciates them.
Follow the trend ― minimalism
Minimalism is one of the most popular trends of the 21st century.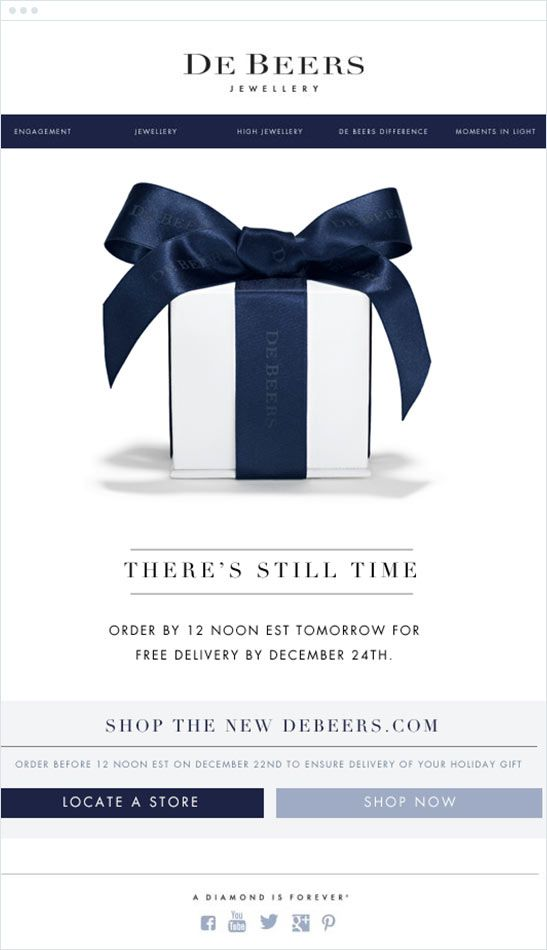 De Beers prefers minimalistic elements in email. Calm dark blue and white colours with shadow looks so stylish.
As a gift for clients, the company gets free delivery.
Show people that you like Christmas too
Christmas is a good time when people become more loyal and kind. Catch the moment and win the favour of even the most sceptical customers.
The simplest solution is to congratulate your subscribers. Try to show them that your company is a team of good people who daily work for them.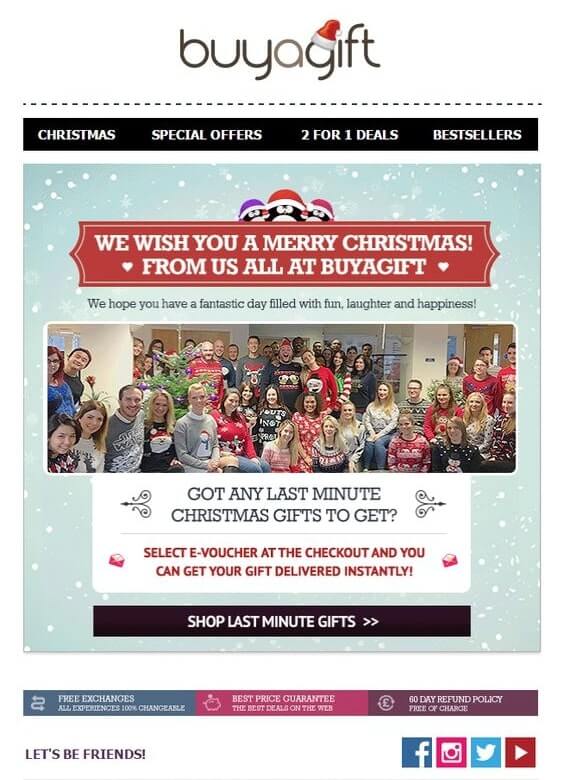 Buyagift has taken a photo of the team in Christmas look. It prepares a gift for every client before the holiday.

Help customers to cook dinner for Christmas
All your clients will prepare a holiday dinner. It'll take much time to solve what special dishes will be on the table. Give them advice on what to cook, as Tovala did.

The company sends an email in which it gives recipes of dishes and proposes to buy an oven that helps to cook them.
An email has high-quality pictures and formed in corporate red colour. The CTA is the same colour.
To motivate for buying company said, if customer order oven for 12, December, it will delivery by Christmas.
Sweet cats
There are a few people who can resist cats. Some brands use these cuties to break the ice and it works.

MacPaw congratulates client and gives 30% on all apps. Cat and discount is the best symbiosis for Christmas mass mailing campaign.
Use the power of gamification
Help your subscribers to choose presents for their relatives and friends in the form of a game.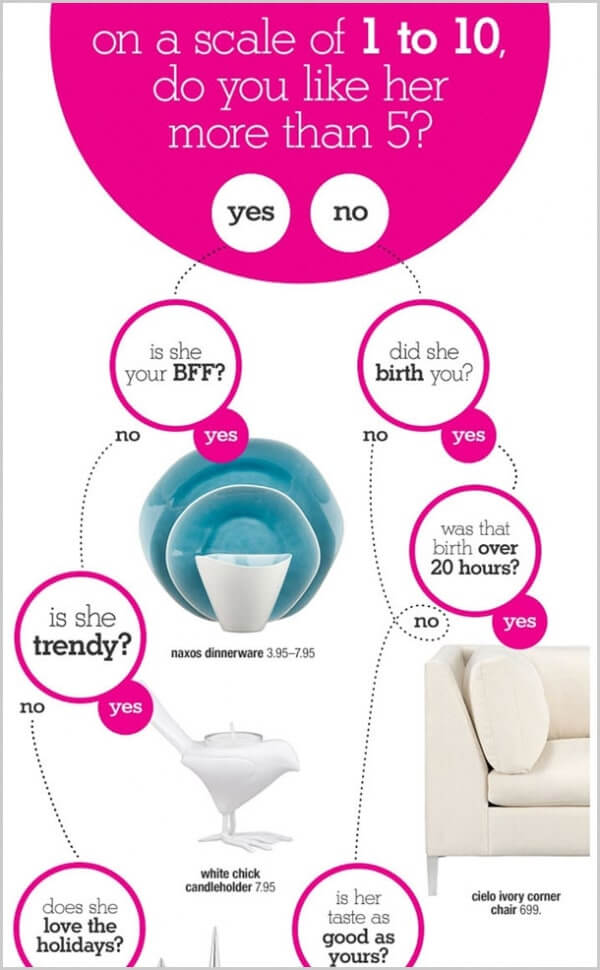 Interactive emails engage clients and provoke them for answering. Furthermore, this email helps customers to choose presents for relatives.
Snowflakes, Santa Claus and gifts ― a win-win combination
What do we wait for Christmas? Snowflakes, Santa and gift. Why not give it to clients a bit earlier to make an atmosphere of the holiday.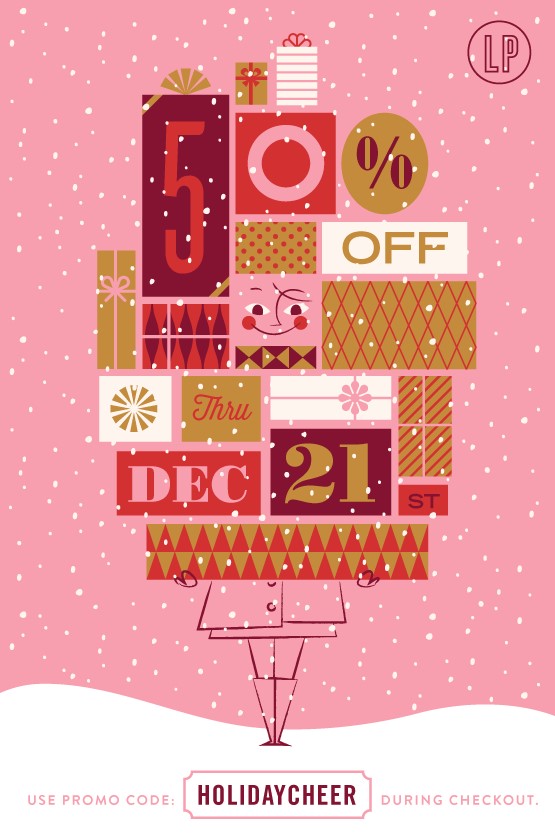 Such email is cheering up even if your clients are in a rate race before the holiday you make them feel better.
The whole email looks so sweet and makes smile.
eMarketers' Christmas forecast
So, what to expect from the 2019 Holiday shopping season? Let's see a short review of what e-commerce experts think:
The majority of purchases in the U.S. will come from mobile.
Online shoppers may buy gifts amounting to over $1 trillion in the USA and over £2 billion in the UK.
54% of customers prefer shopping in-stores
I think you've understood, the secret of perfect Christmas email campaign not in the quantity but in quality.
If we're talking about the quality, it is worth mentioning the best tool for your Christmas campaign ― Atomic Email Studio. It is an all-in-one email marketing solution that consists of 9 top email marketing programs. Save your money and time with a complex tool - collect clients database, manage your mailing lists, create and send newsletter and monitor results using only one program!
Be creative and mind the specifics of your target audience.
If you have any better ideas or questions, write them in the comments.
P.S. Merry Christmas!
Written by: