All e-commerce and other companies are eagerly waiting for that time of the year. Long and meticulous preparations will be fully paid for by the growth of traffic and sales proceeds.
But the winners of the holiday race will be those companies that manage to cope with the increased flow of requests and orders from customers and attract the target audience's attention and convince them to make a holiday purchase in their store/at their website, etc.
One of the most effective ways to do this is by launching a business holiday emails marketing campaign. Creative, bright, taking into account the interests of the audience and sending at the right time. And this is just the beginning. Let's revise at least six-holiday email campaign ideas with examples of the best practices taken from brands that stood out from others with their creative emails.
There are tons of ideas for New Year's letters. The main thing is that your messages should be sincere, correctly composed, and relevant to the audience.
Errors when creating a New Year mailing list:
Mixed information

The letter should be either entertaining or informational. Bad example of a New Year mailing: "Happy New Year, Ted! We wish that in the coming year there will always be comfort in the house! We remind you that you are a member of the bonus program; there are 303 bonuses on your account. They will expire on January 17th, so be sure to spend them on gifts!" This letter should be divided into two: in one to send congratulations, in the other - to inform about the bonus program.


Wrong tone of voice

Transforming a congratulatory letter into a complimentary ode to the company is not the way to succeed. Even if the year was very successful, congratulations should remain congratulations.


Platitudes and cliches

These torn phrases probably will be quite enough by the end of December. You may be sick and tired of them from so many holidays and so many people wishing you lots of things. Write the way you would write to friends and acquaintances to avoid such cliché abundance.


Lack of harmony between text & design

Try to design your mails so that it complements the text block and makes the letter feel seamless.


Sending a generalized letter to everyone

The New Year or any other holiday newsletter is to be sent to show respect and still needs to solve customer problems, if not even tied to the target audience. Try to approach them with as many personalized mailings as possible.


Inappropriate personalization

The letter should not contain an appeal to Kevin, but the banner created - for girls. You don't need to do this.
Arrange a holiday sold out
Use the formula: Order by [DATE] and receive the item just in time for [holiday name].
Ideally, the ad campaign should run at least a week before the start of the celebrations. It makes sense that the closer the holiday is, the more active your marketing efforts should be.
As the holiday approaches, some customers start to worry if all orders will arrive on time. Therefore, it is at this moment that you have a chance to try again to convert them into buyers by offering them extra fast delivery.
Example from: PUMA
Email subject: ⌚ Order by 2:00 pm ET and get FREE next-day express delivery.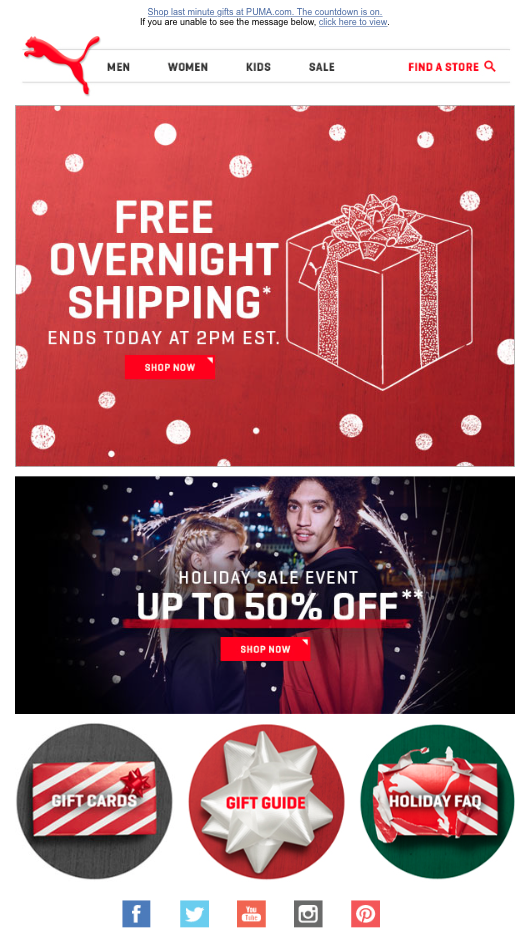 This is one of the holiday sales emails from Puma sent on the morning of the day before Christmas. The letter has a simple structure and consists of standard elements - several banners, links to additional promotions, a navigation bar, and social media buttons.
Send out creative emails
Come up with creative ideas for your holiday email blast. The emoji, gifs, "clock" in the subject line, or other creatives is a good addition, making the letter stand out from the others.
For example an eye-catching email from ASOS: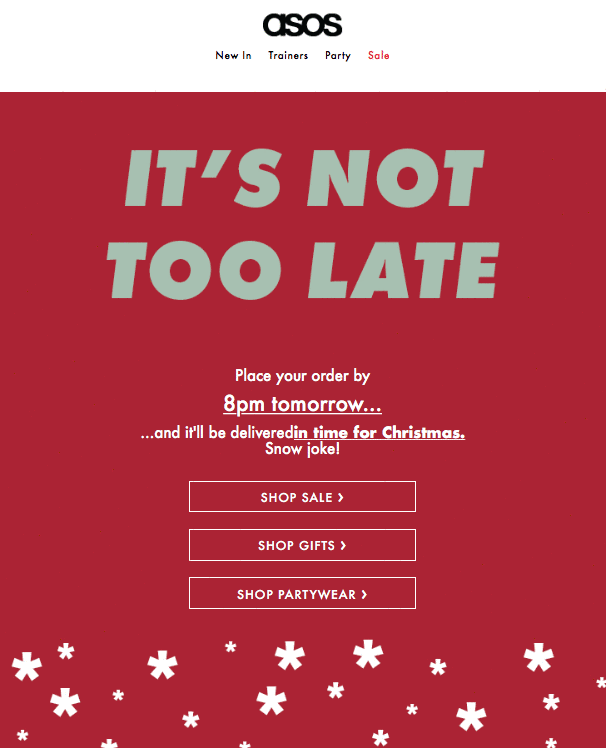 The GIF animation and the jokes in emails or some other creative elements are not a limit. Do your best to impress your readers here.
Responsiveness is an important characteristic of a template. The letter should be displayed correctly in desktop and mobile versions, in different browsers. You can check the letter for adaptability in before the blast.
Create hot offers
This is great advice for e-commerce companies. Consider when and how your audience will read your letter on holiday. Do they have time to read? Or do you need to act quickly? Use this information when composing your letter and, if necessary, go straight to the point of the offer. Your time-limited offers will be a great idea here.
The New Year newsletter may be done in different ways: men will receive one version, and women - another, etc.
Create Here is your to-do list for [holiday name]
Holidays are a hectic time for both marketers and consumers. Many of us take out long-forgotten pens and papers to hand-write a list of all the things to do on the holiday.
But how can marketers use this information? For example, you may create a to-do list that your audience will be interested in doing on holidays as one of your next holiday email marketing ideas. Like Bonobos: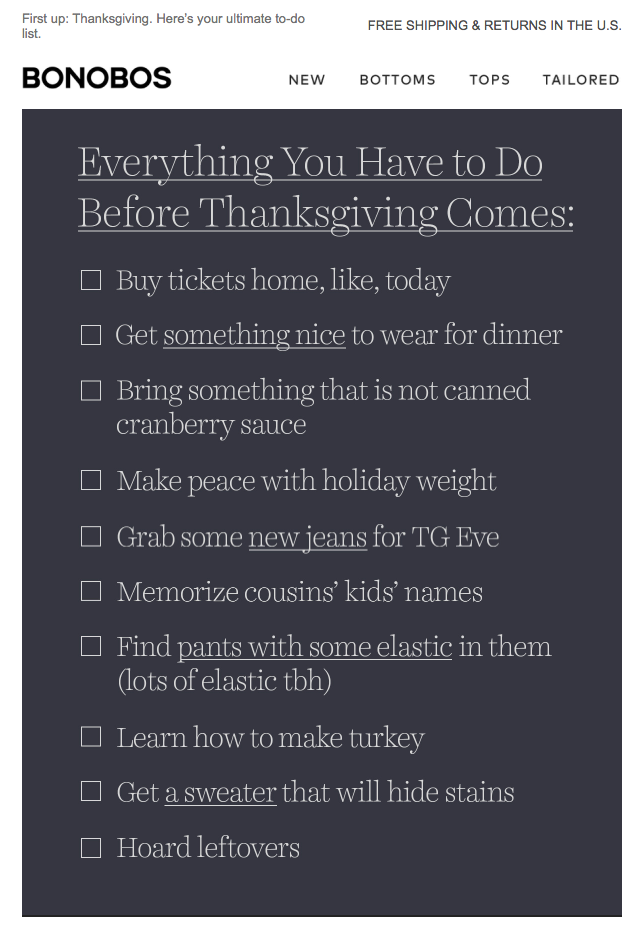 What an amazing and engaging idea, right?
Be original with your holiday wishes
You don't expect on holidays that the company will remind in its letter of the philosophy that moves it forward, of its mission, thanks to which you most likely chose this particular company, etc.
You may recycle trash, plant trees or do charity for children on holidays too. And announce that in your awesome holiday emails. Christmas is the time for magic, right?
Take the time to check them. Grammatical errors, illogical transitions between phrases or paragraphs are unacceptable.
To improve your texts in letters, use helpful tools. Make sure the banners and buttons are working as expected and the links are pointing to the correct page. Test your newsletter with several people to make sure the text is easy to read and unambiguous, and the design is noteworthy.
One of great holiday email marketing examples: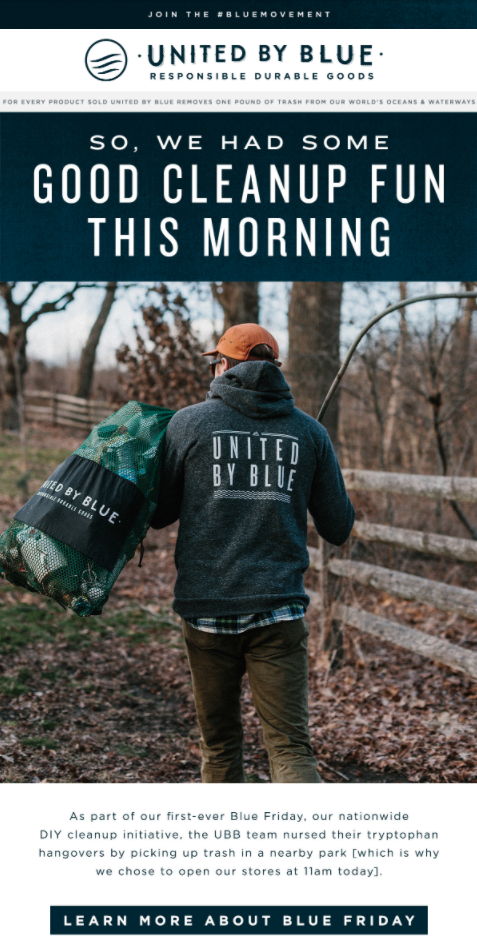 Blue or Black, Friday should start like that!
Wake up, it's Christmas!
Another scheme to apply in your campaigns is to develop a message like: Wake up or you will miss everything on this [Holiday Name] Sale Ending Soon!
Although the holiday season lasts quite a long time, some people still have difficulty finding gifts for themselves and their loved ones.
This way you create an urge out of this circumstance and make it reasonable to hurry up your audience and motivate for action. Have a try. For example: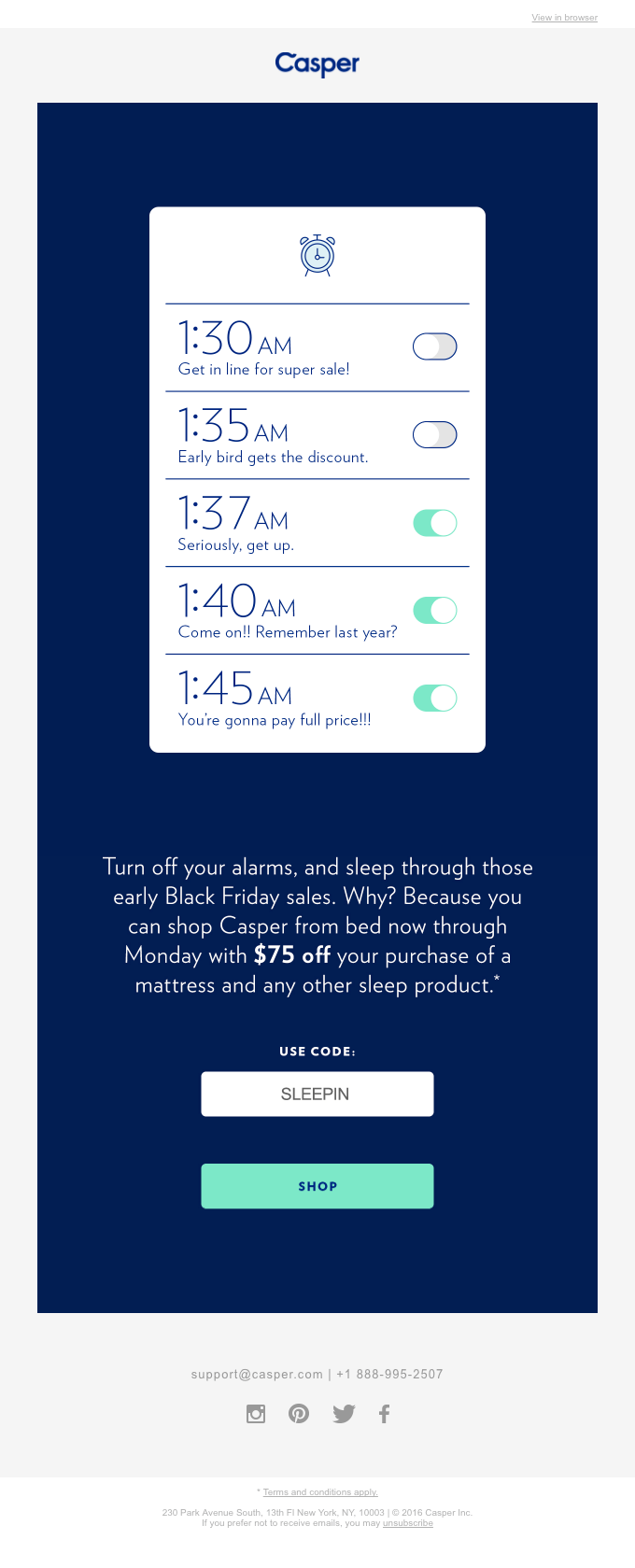 A Casper Black Friday Sale letter
Use any event for good
How to create a mass mailing campaign on holidays like never before?
When we talk about holidays, we mean not only Christmas, right? Thanksgiving, Christmas, New Year, or perhaps Hanukkah spot on your mind. But there are many other great dates! They might not be as popular as Christmas, but that doesn't mean they can't be played nicely in your brand's emails. Use every event to turn it into a great reason for holiday emails to customers.
Resume a year
Summing up the results of the year is also an excellent reason for a campaign. When preparing marketing campaigns, most marketers focus on what they have designed for clients. They offer discounts, free shipping, contests, or launch a new line of products.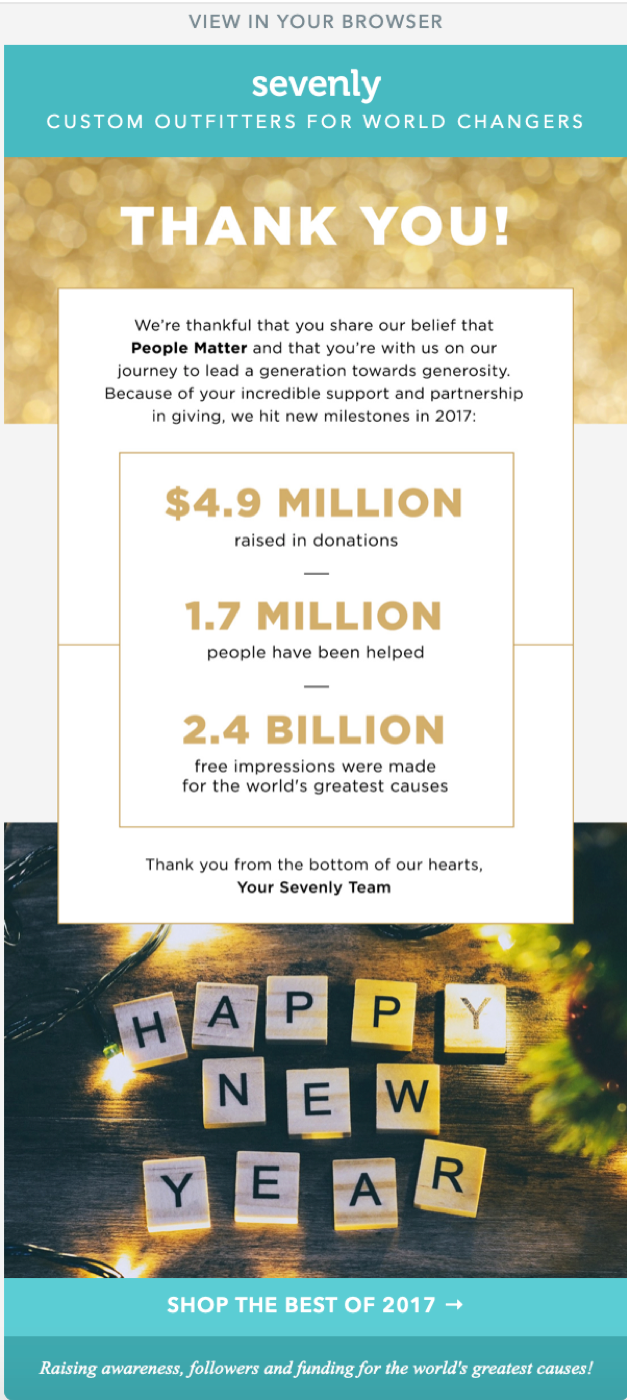 You may also focus on what the clients have done and what they have participated in. Campaigns dedicated to summing up the results of the year are rare but worth it. Try to engage the users, make them remember what they've faced in the past, and have a lot of fun analyzing that data.
Launch loyalty programs
If the store has a loyalty program, you may include an email address in the application form and remind of the program on holidays. Give the buyer an opportunity to agree to the newsletter - you may briefly describe the benefits of receiving letters, give a small bonus. These leads are familiar with the brand, motivated, and loyal to the company, especially on a holiday. They are more likely to read the newsletter - if it is helpful, informative, and not overly intrusive.
When new followers are added to your contact list, their engagement and interest in your brand is at its highest.
In the end, they made a conscious decision to fill out this form and provided you with their email address because they were interested in you. And now they are looking forward to your next step.
The best way to make a good impression on your new subscribers on the holiday eve is to send them awesome holiday offers or even a whole sequence of emails.
Use special tools
If you're planning to launch your own holiday marketing campaign, make sure your messages are in sync across all your internet marketing channels. For this purpose, apart from bulk mailer, apply special applications that allow you to create animated posts on social networks without any difficulty. Share your content faster and more effectively on social media. Or apply video editing tools to improve the quality of your creatives.
Thanks to this, even if someone makes a typo or provides you with a fake email address, it will not affect the success of your email program. This is because such users will never click the confirmation link and therefore will not receive your message in the future.
A verified subscription helps you build a healthy list, but it also has the added benefit of giving Internet Service Providers (ISPs) like Gmail or Yahoo! signal that you are a reliable sender and that your messages are legitimate. In other words, it helps you build a strong sender reputation, improve email delivery, and keep your messages from ending up in spam folders.
Verify your contacts
There is a tendency in digital marketing to measure results based on the size of our audience.
You should be well concerned with how big your email list is, how many subscribers there are that you're attracting, or how many people are subscribing to your feed, etc. At the same time, you may completely ignore the importance of audience engagement. And terms like email list management don't even make it into your dictionary.
In other words, your performance is usually measured based on growth, but not less favorable factors such as list expiration. Keeping large chunks of inactive data and treating those contacts as if they were actively involved will lead to future problems.
Of course, to send email campaigns with a minimum bounce rate, you need to launch your mailings via mailing services only after a thorough check out of the contact base via email verification software. There's plenty of useful software and other tools that may optimize your mailing work.
This is where email list management comes into play. It's about making sure you're collecting user personal information correctly, your contact lists are healthy, and your email campaigns aren't buried in spam folders, or worse, blocked entirely.
Ready, Steady, Go!
Welcome to combine the above-mentioned methods to motivate your target audience to buy from your company on any holiday. Apply the most creative New Year email campaign ideas to succeed.
You cannot either forget about subscribers until the end of the New Year holidays. Email campaigns cannot be stopped even during the holidays, especially if it is B2C. Create a mailing list in advance and schedule the sending of emails. Yes, the Open Rate will be lower, but recipients will have more time to think about offers and purchases. And you will get higher conversions.
We hope our tips and tools help you create a creative New Year newsletter that your recipients will love. And to make it easier for you to prepare it, use ready-made templates. Mailing list management isn't just good practice. It's a strategy that can put you ahead of other businesses and turn your email marketing program into a program that delivers outstanding ROI.
Place calls to action on incredibly designed letters, use non-standard buttons, demonstrate the popularity and extreme use of holiday newsletters - this will hook users. At the same time, do not forget that the Christmas email blast is about bringing joy and happiness, desire to cooperate with you in the next years, and not just sales and sales. Good luck!
Written by:
Boost your business
with AtomPark
Try our software and evaluate it in action