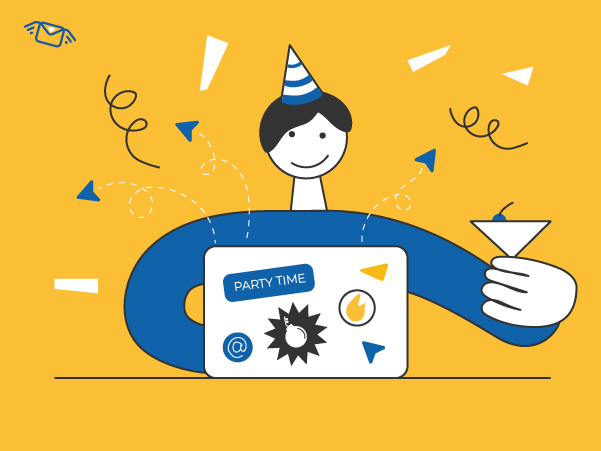 Every business has its eyes on the holiday season. And why not? Holiday season witnesses all-time high sales for the entire year. Marketers always have a hard time keeping up with the anticipation amongst buyers. Thankfully,
email marketing
has got you covered. The times are challenging, and the market dynamics have shapeshifted beyond expectations. Hence, the stakes are even higher. Therefore, it's far more crucial to devise and deploy a well-crafted email marketing strategy. Today, we'll look at some of the most effective ways to do so.
Personalize the subject line
As per a
report
,
"Emails with personalized subject lines are 26% more likely to be opened."
Hence, adding the subscriber's first name to
the subject line
may do wonders. You can also customize the body text to deliver that personalized vibe to your subscribers.
Leverage emojis
Putting an actual Santa in your emails is better than mentioning him? Well, I am talking about
using emojis
. A recent
report
suggested that
"Brands using emoji in their subject lines have seen a 45% increase in their unique open rates."
Emojis are great at high-impacting visual communication, and they garner users' attention like nothing else. But you must do it with subtlety and should only mention the most obvious and easily understood emojis.
Shower offers
Holiday season means great offers and a truckload of them to be precise. So, the one you make must stand out. Mention it wherever you can, but make sure you don't overdo it. If the offer is about free shipping, then your subject line must contain it.
Data
shows that
"74% of consumers say free shipping is one of the most important features when checking out online."
A recent
report
said, "More than 60% of consumers who abandoned their carts did so because of shipping costs." Here's the perfect example of how shooting free shipping emails can help you retain customers during the holiday season.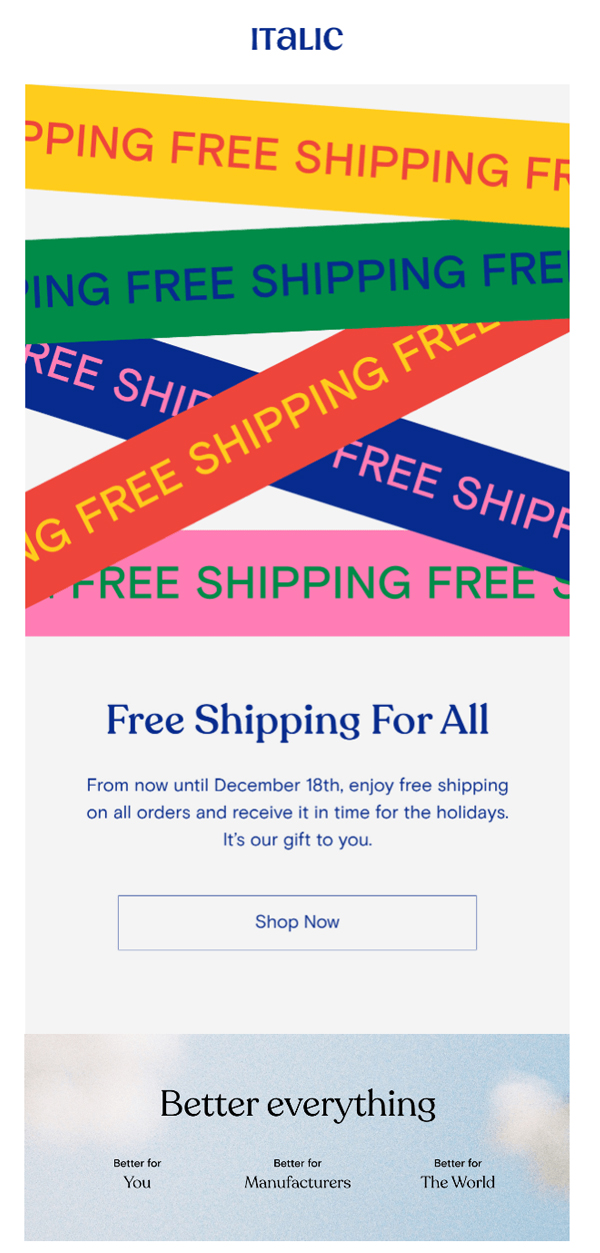 Source: Really Good Emails
Cash on Holiday referrals
One smart way to grow your business is by playing the 'gifting game' right. See, we all exchange gifts during holidays, which makes it a great time to grow your customer base by promoting referrals. You can offer them a discount or points to cash in later when they refer a friend or gift a subscription to someone. Here's an excellent example from MeUndies. I love how they have kept the messaging clear and have revolved their product branding around the sentiment of friendship. Notice how the 'offer' pops out as the most visually appealing element of the email.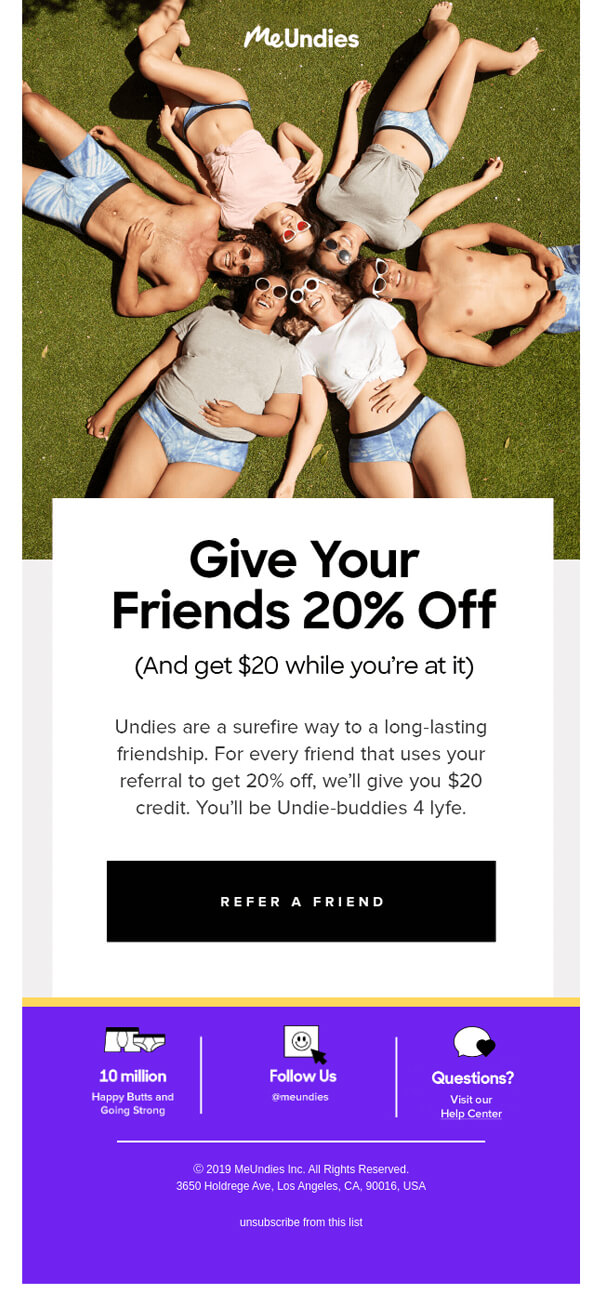 Source: Really Good Emails
Give a sneak peek
Perhaps, the most prevailing emotion during the holiday season is excitement. You can leverage this by creating anticipation about your future business plans. It is the best time to create the online buzz around your brand. With the increased online activity during the holiday season, your customers are more curious than before, and your sneak peeks into upcoming projects and deals would get more attention. Using tried and tested templates would be a great idea to deliver the right messaging. Professional services like
Pardot email templates
or
Salesforce email templates
would go a long way in making your holiday emails more tempting.
For holiday-specific email marketing tips, please check out this infographic from Email Uplers.
Wrapping up
To sum it up, the holiday season is all about reaching out to people (both existing and potential clients) and strengthening the bond. Moreover, this year
holiday email marketing
should also focus on radiating positivity, given the current challenging times. So, no matter what industry you are in or how large is your user base, just drop the right mail and hit the right festive chord with your people. If you need more insights into how to plan your Holiday email marketing for different occasions, head to the insightful infographic created by our friends at Email Uplers:
Holiday Email Marketing 2020-2021
.
Written by: