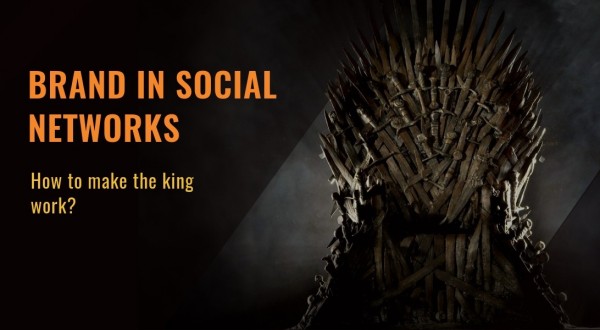 Content is the king of digital marketing and needs to carry out his obligations. He shouldn't just sit on the throne and attract attention. As a true ruler, he must bring financial profit to his brand. But how to make it true?
In the article, you will find the answer of how to raise sales via social media with the help of content.
Why did social networks become one of the top sales channels?
Ok, I know it's a weird question, but this info for those who still in doubt.
Let's start with the last year most-engaging posts:
Hum Rider video of how people can upgrade their cars: 35 million views on Facebook in less than 48 hours:
Starbucks, Frappuccino launch (Facebook, Twitter, Instagram): 175,000 reactions and 50,000 shares.The key point - bright visualization and limited time of availability
BarkBox - dog toys store, video - "Dog Mom Holiday Anthem" - 44 bln views and 55, 000 shares on Facebook
Impressive results, aren't they?
But, the true purpose of brands activity on social media isn't just "likes" and "shares". It's the conversion of clients attention into the real money. Of course, first we are pointed on:
client engagement
brand awareness
customer loyalty
Nevertheless, if you are the commercial company, the most important factor for you will be the rise in sales.
Feedback Systems study (since 1998 The company conducts regular studies on all aspects of e-commerce) showed that 63,4% of enterprises that use social networks as a sales channel have significantly increased their annual income.

The regular creation and publishing of content is the bottom line for reaching popularity on the social network.
What content do people look for following bands accounts?
Do you know why people/customers follow your corporate accounts on social networks?

[playbuzz-item item="7f94072d-b9e3-4837-a446-59866612b74f" shares="false" info="false" wp-pb-id="176925"]
Now, look what the statistics say:
As you see, mostly, people are looking for the promo-materials, useful or entertaining content.
And what about the format of the post?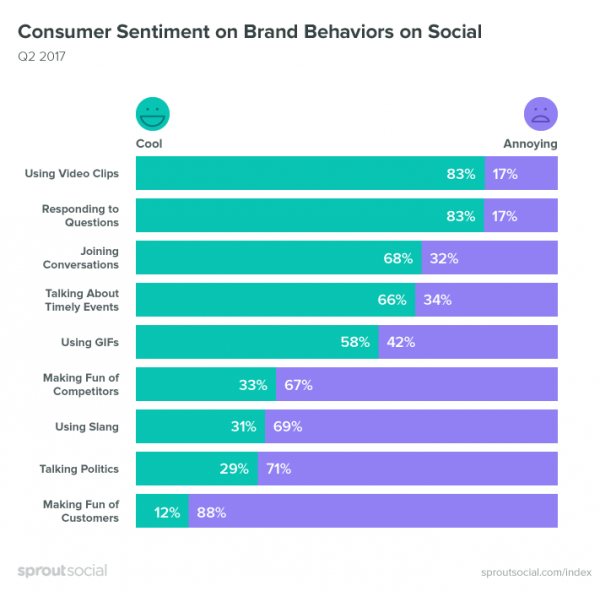 Read more useful social media statistics for your business strategy.
I think you remember that the same format of the post can't work equally across different social platforms:
Facebook is good for video, discussions, and conversations, long reads.

Instagram demand bright visualization, so it's better to use good quality images + text of any size.

Twitter is perfect for short posts with gif-animation. Also, good for conversation and debates.
But it's all the theory, time for real example.
Social Media Marketing from River Pools and Spas
River Pools&Spas is a small but successful commercial company specializing in outdoor water pools. It's Facebook profile has 1,5 thousand, nevertheless, the content strategy of its author - Markus Sheridan -  is one of the best.
On the company page, he just answers all kind of questions about swimming pools: describes prices, compares building materials and even the type of water.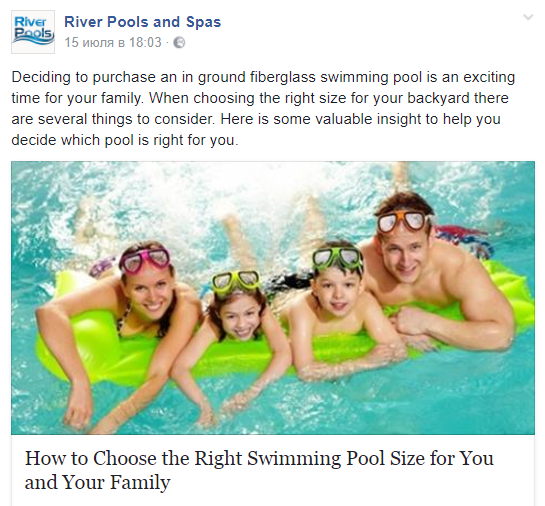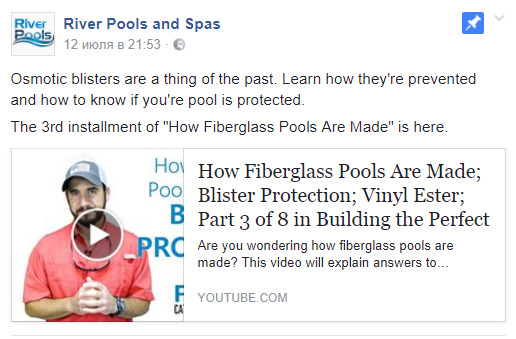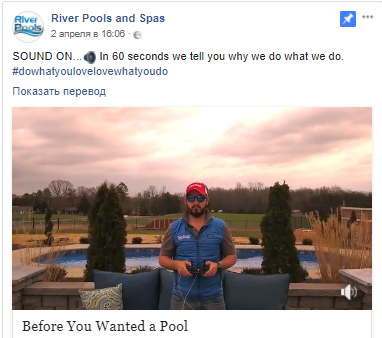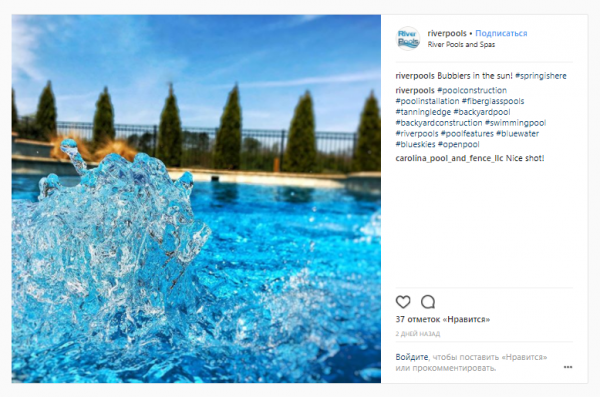 Marcus posts working moments, team photos, etc., bringing the brand closer to the audience: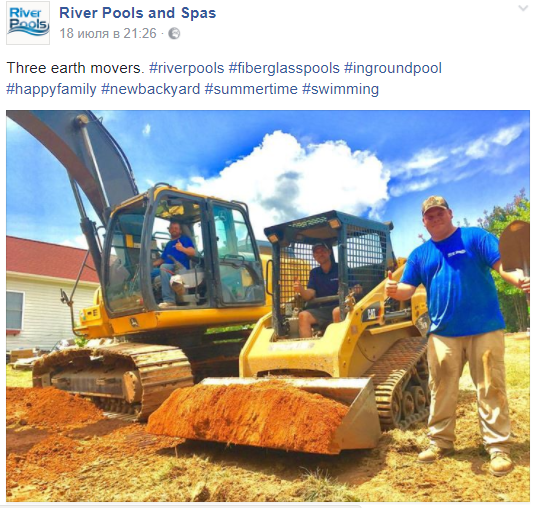 He focuses on the fact that his company employs ordinary people: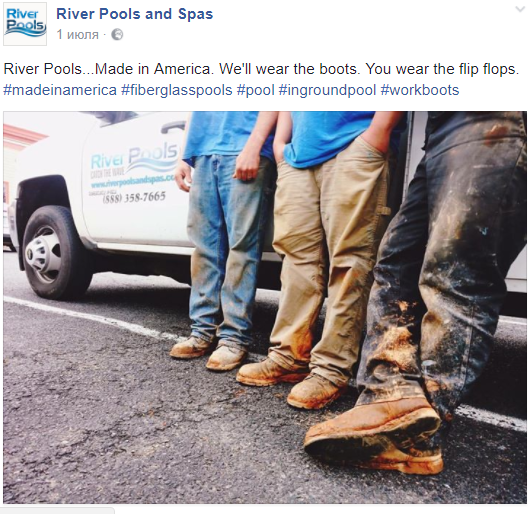 Marcus believes that content is the best sales tool. Here are his basic guiding principles:
By creating a frequently asked questions database, besides a helping hand for customers given, you can eliminate your client support team unnecessary overload.
Focus on the value and practicality of the information, offering it for review in specific problem situations.
100 times you can say something and people will not hear or once show how it to do in the video. Combine useful tips with video content, cause people love to watch.
Blog material can also be used as answers to subscribers ' questions on the social networks. It helps to improve communication and customer loyalty to the company.
But it's not the whole list of special tips for using content in SMM.
What kind of content will boost sales in the networks?
In order to understand the interests of subscribers in the network, the English IT company Soampli (the service helps people to create selling texts) analyzed Facebook and LinkedIn posts over the past year.
There are 3 thematic groups were identified:
Advertising campaigns-49%
Expert opinions-34%
Company lifestyle – 17%
The first category includes:
Promo-materials - 24%
Blog-posts - 12%
Events-7%
News - 6%
The second one:
Downloadable reports, webinars-14%
Articles about the trends of the year (top theme 2016 go-Pokemon Go!)- 6%
Case-articles of the best business practices-3%
Partners' materials-11%
The third category includes:
Photo and articles highlighting the corporate life of the office – 10%
Company vacancies-7%
Now, let's find out how to use it in popular social networks.
How can brands use content on social networks?
The specific of content use on Facebook
The highest average engagement rate among content types on Facebook has video.
What kind of video is the most popular on brands' pages?
How-to  guides
Blog article summaries
The video-materials downloaded on Facebook directly get more shares than YouTube links.
Second on the list of the top-material type is blog-posts.
The third type of content on branded accounts of Facebook is shares from third-party pages and sites.
Guided by these simple methods, Bufferapp's Facebook profile got on 40% Page Likes more than in 2016:

The specific of posting content on Twitter
The research of American Press Institute (over 3,000 of participants) says that the most common reason why people use Twitter is news.
Gif-images.
Links to blog articles with bright images, or infographic.
Short videos - no more than 140 sec.
The specific of posting content on Instagram
High-quality images - photos of product, company lifestyle scenes, re-posts of materials, published on the accounts of your followers (don't forget to tag them).
Quotes illustrating your brand mission. You can easily create it with the help of Crello or Canva.
Short how-to videos, company lifestyle and promotions.
---
Our recommendations are quite universal, however, always remember your target audience. Trends, as well as the interests of subscribers, are changeable. Thus, to get better results you should always be aware of the preferences of the social networks inhabitants and digital marketing trends.
And we will try to be the first to tell you about the most interesting moments from the marketing life of the digital community.
Written by: