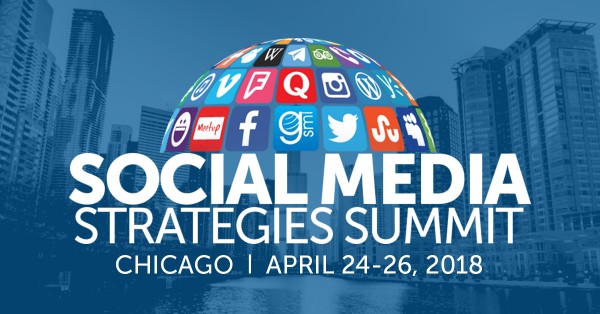 When:  April 24-26, 2018
Where:  Chicago, USA
Register today: socialmediastrategiessummit.com 
Topic: SMM, digital marketing
Price to Attend: $1,599 - $1,799
Social Media Strategies Summit, the longest running social media marketing conference in the U.S., announces its 8th annual show in response to industry enthusiasm around emerging social media trends in digital and content marketing. More than 250 attending industry professionals with gather at the Union League Club of Chicago for 3 days of networking and peer-to-peer learning.
SMSS Chicago will host 4 in-depth workshops focused on providing attendees with hands-on experience in video content strategy, Google Analytics, Facebook ads, and social media influencer strategy.
This three-day event will provide in-depth education specifically tailored for both small-to-medium size businesses and large corporations looking to learn best practices on social media marketing strategy and implementation. Sessions will be organized into six categories: content creation, video marketing, social media strategy development, harnessing social media data for better ROI, social media advertising, and brand engagement.
The agenda offers thought-provoking case studies from 30+ speakers from brands including McDonald's, Microsoft, Bitly, Weight Watchers, American Family Insurance and others to (candidly) share lessons learned in social media strategy development and execution.
SMSS Chicago will host a networking reception showcasing a wide range of solution providers who are driving the industry forward. Among the exhibitors, premiere sponsors include:
Lithium
Raidious
Temple University
Written by: