There is a rule that any marketing expert will remind you of: "Your distributions will only really work if your mailing lists are clean!". So, let's talk more detailed about how to check a list of email addresses and why you need to do this.
Why is it important to check email addresses?
A client database that has been kept up to date means:
You save time and money by not having to send emails to nonexistent addresses.

You get clear and accurate test results when exporting to excel and other formats.

You are protected from getting blacklisted due to a large number of delivery errors if you check email list for the spam trap.
So, there are 3 good reasons for keeping the contact base clear and up-to-date. And the next question you can ask is how to check my email list. Read further and you will find it out.
What kind of contact list can be called low-quality
This is the database which has many bad email addresses. These are the emails which are:
Not existent. Some mailboxes can be deleted by their users or just made-up.

Created for one-time use. Some people want to register on the website or to get the bonus offered in the lead magnet, but don't want to receive messages in the future. So, they create or buy one-time addresses.

Written incorrectly. If the domain is written with a mistake email won't be delivered.

No longer used by the owner. Many people forget passwords from their email, some mailboxes become full or sluggish.

Spam traps. Email providers use them to identify spammers. They create mailboxes that never subscribe to any mailings. And if your email reaches such an address you will be blocked as a spammer.
Sending emails to these addresses will bring you only problems:
First, you will have the wrong idea about the number of your subscribers. If you don't see if an email is valid you can think that your mailing reaches 10000 receivers, but in fact, the number of real people who read them can be much lower.

Also, your sales will grow slower than it would be possible with the clear email addresses list. You will have a wrong idea about the ROI of your mailing.

Besides, the reputation of your domain will suffer. If you don't check if an email is fake or real there will be lots of undelivered and unread messages. When providers see this you seem suspicious for them. So, you can be blacklisted.

And finally, your emails have fewer chances to be delivered to the Inbox folder. If there are lots of newsletters that haven't been opened by receivers the many emails from you will reach the Spam folder next time.
So, you should know how to check bad email addresses and remove them.
The main ways of how to check whether email address is valid or not
There are a few methods of how to check for valid email addresses. The first one is
manual
. In order to see if the email exists you should send the message on that address and wait for the response from the mailbox of a receiver. But there is a much easier way to verify your contact list. You can test the email address without sending an email. Special services or software will help you to do this
automatically.
They provide e-mail check by their correctness and domain.
How to check email addresses for validity with the help of Atomic Email Verifier
This is a fast and convenient email checker. It will help you to keep your mailing list clean with minimum effort.
The principle of functioning of email account existence checker
It makes 3-step validation:
The first way of how to check real email addresses is to validate the domain. The program does it primarily.
Secondly, the software knows how to check an email server address. This is the best way how to verify an email address and to make sure that it is working.
And the final stage of how to check if the email address is correct is to make sure that their format follows the rules of standard Internet mailing systems.
Using the software is very easy. First, you need to upload the list to the program. For this, click "Import emails"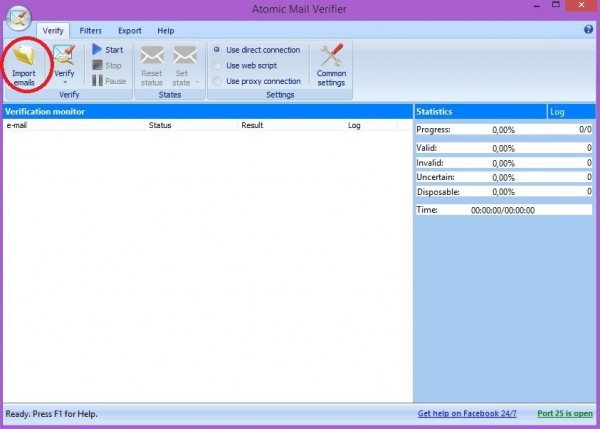 And then click "Start" for the program to begin checking.
The advantages of using Atomic Email Verifier
This is the easiest method of how to check if email addresses are valid. All you need to do is to upload the list, click Start and wait for the results.

The detailed statistics. The program shows the number and percentage of all types of addresses: valid, invalid, one-time, and missed.

Favorable price. Atomic Email Verifier costs only 69,85$. This is the price of solving the question of how to check a list of email addresses validity. Purchase it once and verify as many lists as you need.

Security of your data. As this is a program, not a service you don't have to upload your contact base to any external server. It is kept on your PC.
Written by: