Some people think that if they want to build email database, they just need to buy email extractor, launch it and click "Extract" button. But the case is that the program need to be customized according to your needs. Atomic Emai Hunter settings designed to help you to
extract email addresses
quick as well as to build targeted email database. Here are 7 tips you should know about how to make the search more efficient.
1. URL Search
You can simply type any valid URL in the search bar and click Enter to begin. Email Hunter will start searching and will take some time to find all the pages linked to it. In order to improve the search, Click "More options" and enter some limits there. You can set some limiting parameters for your search, such as the search depth and others filters. A new pull-down panel will be shown to customize the extraction.
2. Keyword Search 
When you don't have any clear idea about URL then, with the help of keyword you can find best match search results. What you need to do is just type your keyword and click Enter. Email Hunter will find the most relevant sites that match the keyword. After doing so, it will extract email addresses from all the results of the sites. It is the best way to create a targeted mailing list.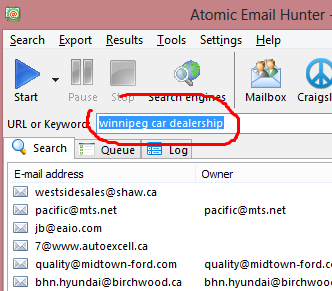 3. Search on site – By keyword 
Sometimes you may want to extract email addresses with the help of keywords from specific websites. An example is editorial calendar from www.eweek.com. Enter the website URL, specify the keyword "editorial calendar" and press 'Enter' to start the extraction.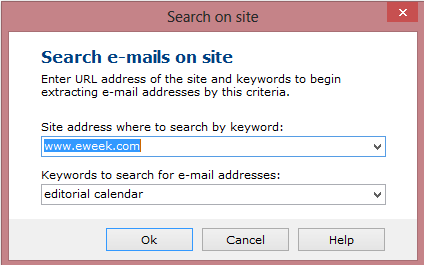 Atomic Email Hunter will scan the information on the website and distinguish the data that correspond to the search query. Then, the program will search for email addresses within the selected information. Atomic Email Hunter will open Google and make the following query and extract email addresses.
4. Skip Domains
It will be wise to skip a domain if the program finds no email address after exploring through 50 or more pages. Note it works for keyword search only. It only wastes the program resources and your time. In Atomic Email Hunter, such  "rubbish" websites can be skipped. You just need to activate the option from settings. Go to 'Settings/Common settings/Advanced' and choose 'Skip whole domain when no item was found on XXX pages'. Here, you can specify the number of pages to search for email addresses on one domain.
5. Replace Symbols
There are many cases in which some people hide their emails, trying to make them invisible for email extractors. Such as:
crawl at yahoo.com 
email_AT_website.com 
Atomic Email hunter has a powerful feature to recognize such emails and extract it for you.All you need to do is; open Atomic Email Hunter, go to 'Settings/Common settings/Misc' and see the replacing symbols lists for these two characters. You can add replacing symbols of your demand by inserting them to the list of replacing symbols and click 'Ok' for saving the changes.
6. Parse JavaScript
The trick to get all email addresses, even hidden by webmaster, is by opening html source code of browser. By default, the program does not parse JavaScripts, that's why it will not find and extract such addresses like "me@example.com" and "myCCaddress@example.com" within the code. To open html source code in your web-browser, do a right click on the page and select "View page source". By activating the 'parse JavaScript' feature, Atomic Email Hunter will get capable of processing JavaScript. Go to 'Settings/Common settings/Advanced' and tick the checkbox 'Parse JavaScript'. Now, Atomic Email Hunter will extract more email addresses. But be sure you really need it, because the program work-speed will be reduced.
7. Extract Emails From List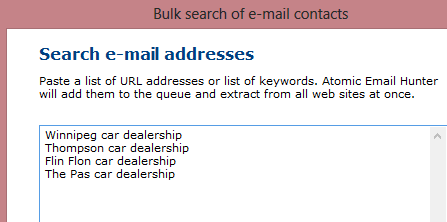 In order to get bulk search of email contents, make use of Search in list option. Enter or paste a list of the links and/or keywords in a dialog window. Atomic Email Hunter will extract e-mail addresses from all listed pages.
And the bonus tip runs like "Use the Built-in Plugins"
. There are 5 plugins in Atomic Email Hunter:
Mailbox plugin – fast search within your mailbox to get a list of email addresses of your correspondents and even more.
Craigslist plugin – special plugin to collect emails from the categorized website www.craigslist.org so you can get a list of target and relevant contacts at once.
Yelp plugin – effective email addresses scraping from www.yelp.com. The email addresses extraction process will run according to this keyword in the chosen region, state and city.
Facebook plugin – your easy way to search on the social network by a keyword or to specify a list of URLs of target groups, company profiles, etc. Email Hunter will extract emails from Facebook.
Additional plugins technology is a good way to increase Atomic Email Hunter capabilities and expand its functionality. This helps to make the search faster, more effective and target. And just in case you are happy with a free trial and willing to get a paid copy  –
here is the link.
Written by:
Boost your business
with AtomPark
Try our software and evaluate it in action