"Email bounce" stands for an undelivered email message returned by a recipient mail server. No email campaign could be done without bounces as there could be temporarily unavailable or nonexistent email addresses on your mailing list. Note, please take into account a high bounce percentage (high bounce rate).
A bounce could be hard and soft:
a hard bounce is a result of a nonexistent email address (invalid domain or invalid username)
a soft bounce is a result of temporarily unavailable user email (mailbox full, server down, etc.)
Why should you pay great attention to email bounces? First, because your newsletters aren't delivered to the recipients. Second, because your sender reputation will suffer, you'll become a spammer for ISP and mail servers, as a result, you could be blacklisted.
What are the reasons for high email bounce rate?
The list of email addresses you wish to import into the email sender (soft or service) is invalid, written error or those that don't exist. Before importing, you must make sure your list has only good data – use a verification tool to clean the bad and invalid emails.
Your list is clean but too old with stale contacts. The only solution to get over it is to send regular newsletters to subscribers. Make up your marketing plan and schedule email campaigns. You mustn't be sure in clients engagement if they heard nothing from you during, say, 6 months. Such kind of six-months-old list is a 'dead' list, you can't organize successful email marketing with it.
You use a free email service as your "from" address. It's not forbidden to use a free email service as 'From address', but the prerogative will have contacts with corporate emails. Both ISP and mail servers trust companies because they (companies) do need mass mailings. But the occasions with personal bulk sending is quite rare.
Tip 1.  Use double opt-in
Double opt-in means that you ask a subscriber to confirm his email address and ask his consent to receive emails from you. This helps you to keep mailing list clean, you won't have invalid contacts. Instead, you'll get the healthy permission-based list with active and engaged subscribers. Got it! In order to add one more step to the sign-up process and organize double opt-in, please read the manual of the mail sender you chose or ask a customer support for help. This tip guarantees you a higher quality and more engaged list.
Tip 2. Make it a rule to email subscribers in regular intervals
In such a way, you will train readers to look forward to your newsletters and digests.
Vice versa, if you email seldom without marketing plan and schedule, you risk of being out of their memory so they can mark your email as a spam. Therefore, this will affect your future campaigns ability to deliver– subscribers simply won't receive as it would be rejected by mail servers as a spam. Both email providers and anti-spam networks monitor bounce rates for every campaign you send. They analyze the results and decide if to accept your future campaigns or not.
Agree that the worst point is to become blacklisted.
Tip 3. Send emails to recently engaged subscribers
If you have a two-years-old mailing list and you successfully made email marketing with it two years ago, this doesn't mean it will work today. It goes without saying, you can try to send them emails but those subscribers are not 'hot' and are not interested in your digests any more. To make good profit you should work with readers who subscribed recently, are ready to engage and communicate.
Moreover, old email contacts (that are not active more than 18 months) could be used as spam traps. Wish you not to get hooked on – do not use old email lists!
Of course, we should avoid any spam content in digest, newsletter or notification. This is absolutely paramount! We guess you fully realize this fact.
If you are not sure whether your email has spam content or not, you can use a spam checker. For example, in Atomic bulk mailer, this spam-checking could be done with the help of the Spam Assassin filter.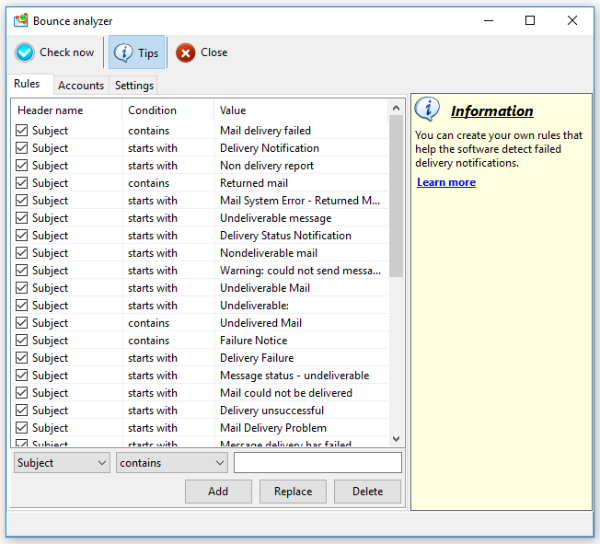 One more useful Mail Sender tool is Bounce Analyzer. Using our bulk mailing software you may rely upon the fact that there are no invalid email addresses in your mailing list. The bounce analyzer function helps to keep mailing lists current by removing non-existent addresses and avoid blocking by spam-filters. The process is rather simple: after your first mailing the software will connect to your mail server, find failed delivery notifications, extract the recipients contact emails from them and add those addresses to the list of bounces.
During your next email campaign via Mail Sender, the program automatically avoids sending emails to hard bounced email addresses.
Web-based mail servers work in the same way – they do not send the newsletter to the bounced emails anymore.
Summarize, the best way to get rid of a high email bounce rate is to keep your mailing list clean and you subscribers active. Never send newsletters to stale, bought or rented email list and organize a periodic addresses verification to remove invalid contacts.
Wish you a very successful email marketing!
Written by: