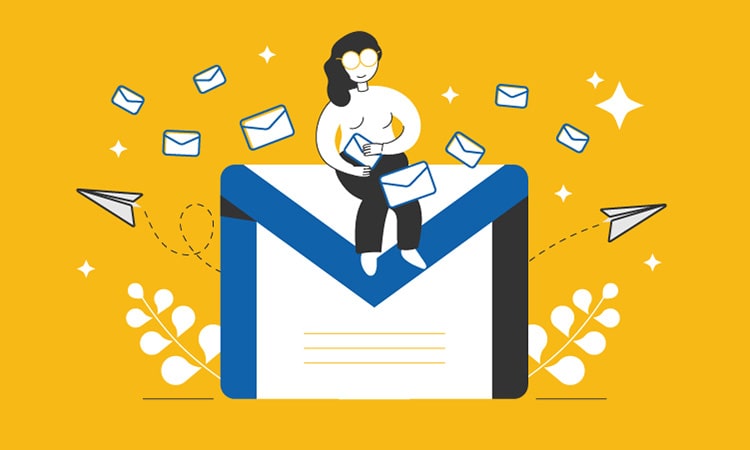 In the case you use a new domain where no mailings have been ever launched previously, or a domain that has not been used for a long time, you need to warm it up.
The truth is that when you start sending email campaigns with a new domain or new IP addresses, email services consider you to be an untrustworthy sender. That's why you need to warm up email domain to improve your reputation and avoid getting into spam.
What's warming up email domain
Warming up email domain means a gradual (within 4-6 weeks) increase in the power of mailings, that is, the number of letters sent. When warming up, you may start by sending dozens of letters per day and then build up a strategy of hundreds and thousands of letters sent daily.
If you neglect domain warming up & start sending a large volume of emails from a domain with zero reputation, the probability of all sent emails getting into spam will raise up to 100%. So, it's wise to prepare your IP before launch.
You may stick to an approximate domain warming up schedule: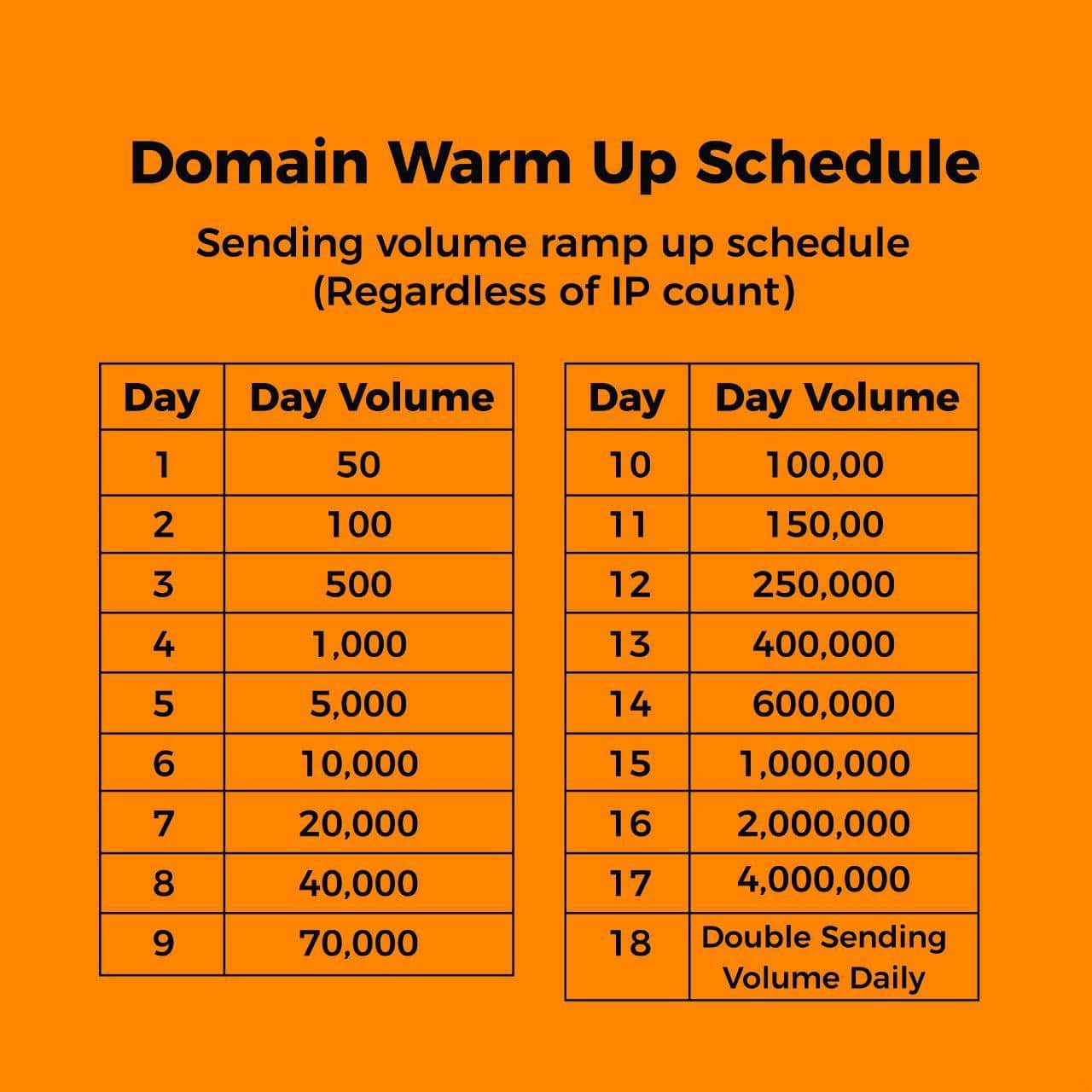 Here's what Business2Community recommends to do:
The key to domain warming is to spread out your initial sends over multiple days. For example, if you plan on sending 50,000 emails a week, we recommend that you split your lists into at least five groups of no more than 10,000 recipients in each list. Email only one group per day over the first five days.
Also, they recommend keeping an eye on your bounce rates. It's advised to monitor them throughout all of your mailing lists. When the bounce rate of your first one or several targets exceeds 10% – just stop sending.
How to warm up your domain
Before starting your domain warmup plan, it is also necessary to take into account several extremely important points.
Integrate CRM & domain

Before starting the warm-up, make sure that the integration has been carried out - the SPF record, DKIM key and CNAME records have been added correctly. Carefully read about the integration with the chosen ESP. With the help of a guide it will be easier to switch to the system you're using in your business.

Mind that DKIM, SPF, and DMARC digital signatures are a prerequisite. Check the correctness of digital signatures — settings for them are provided by the service from which you send mailings.

• DKIM key — guarantees that the letter was sent from your domain and is not spoofed by fraudsters. On the recipient's side, the message is authenticated using the key.

• SPF — protects against sending letters with fake addresses from your domain. Use the key to indicate which services are allowed to send letters on your behalf.

• DMARC is the setting of the behavior policy when the message does not pass the DKIM and SPF checks. There are two possible scenarios — send an unverified email to spam or reject it immediately.

DKIM and SPF digital signatures are generated by the mailing service, and the DMARC policy is service independent. You may check digital signatures in the service by specifying the domain name in appropriate fields.

Use only relevant contacts

Send warm-up emails to relevant addresses only. They are more likely to positively access your content. Otherwise, low open rates and possible spam complaints will reduce deliverability.

Prepare your list

It's good if the base for warm-up consists of loyal customers. Those who actively read letters and go to the site are more likely to open mails even from new domains. The likelihood of receiving complaints from such users is lower, and this is extremely important when warming up the sender's domain.

If the newsletter is sent from the service for the first time, use the unloading of a loyal audience from the previous service. If there is no such data, just send your letters to valid addresses. With Atomic Software, you may check the correctness of the address before adding them and optimize your lists processing.

If you have already made mailings from the service, use segmentation by activity when adding and warming up a new domain.

Take care of your content

Do not use spam words, caps locks, broken links, or other triggers that can make the mail system automatically consider your email as another spam.

Warm up new domain addresses for each mail server separately

It is necessary to constantly monitor how many addresses from which you use. Otherwise, you may warm up, for example, the wrong domain for mailings even after an email finder provides you with the updated results.

Then the first mass mailing will go to spam, as well.

Also, prepare digital signatures for the domain, set up the postmaster and letters

Configure your postmaster for safe & quality mailing. Familiarize yourself with instructions on how to warm up your domain that you prefer to choose for work.

Postmasters help to track the status of mailings in specific mail services: estimate the deliverability percentage, the number of complaints and rejections for spam.

With the help of effective postmasters, you may quickly respond to changes in deliverability. At the start of the warm-up procedure, choose the most convenient postmaster.

If you want to track statistics on the deliverability of your mailings faster, set up the postmaster of the main mail services or a mail checker online. Or you may use the top-notch mailing platform with the necessary features plus analytics integrated, etc.
Sending a first newsletter to new domain addresses
The quality of the letter is important both for warm-up and for further mailings. Check out if:
The letter contains an unsubscribe link.

A broken unsubscribe link leads to spam. Do not try to hide or make invisible the unsubscribe link - then the client will quickly find the Spam button.

Make the weight and length of the letter normal.

A recommended size is up to 100 Kb, the length of the letter so that there is no clipping. Gmail may cut a letter that is too long, along with an unsubscribe link.

Make the layout correct and clean.

Apply adjustable layouts which are displayed correctly on any device, especially mobile for your email bulk sending. Codes copied from a third-party visual designer with unnecessary styles are not a good idea.

Avoid stop words and other.

There should not be any obvious spam words in the subject line and the text of the message. Again, avoid abuse of caps, the letter should not consist of pictures only, etc.
What message is better for warming up? Neutral, useful and interesting for clients. So that there will be no reason for complaints.
Also, do not forget to limit the sending hours: the client is unlikely to expect the email notification at three in the morning or even worse. So, mind the right time & place.
Conclusion
Why domain warm up is needed? Domain warming up is a gradual increase in the number of submissions from a new domain or new IP addresses to increase the reputation. After the digital signatures have been verified, the base has been selected & the letters have been created, determining the warming up scheme – your ideal principle of increasing the number of deliveries. And Voila!
Feel free to ask for professional assistance here in the case you experience any difficulties. Good luck!
Written by: