COVID-19 has greatly affected the world of business. It caused a huge wave of digitalization among offline enterprises, and additionally emphasized the need for improvements in communication among the digital ones.
The life of every company & customers during the pandemic underwent certain necessary changes like employees switching to remote work, working more productively from their homes, turning to website-based purchases only, changing CRMs or the whole marketing models, etc. Many enterprises tried it online and realized that it suits almost every segment.
Global traffic to e-commerce sites grew by almost 12% from January to March, 2020.
They also started experimenting and using new marketing channels, including mails as a brand new way to advertise, communicate & sales.
AppDynamics, a representative in the market for monitoring and control of the health of services and applications as part of Cisco, admitted:
In 2020, organizations were forced to move quickly to digital rails of business development, placing IT staff in leadership positions to cope with critical changes and minimize the impact of the COVID-19 pandemic on their financial performance. According to the study, this led to 3-time acceleration in the implementation of digital transformation projects, including pandemic marketing.
What's pandemic marketing?
Normally, in marketing, we use a mix of activities. Only this symbiosis of different channels & tools works. If previously, the main ones could be outbound, now the situation has changed and inbound marketing channels tend to be included by all business models with no exceptions. If earlier certain businesses had no reason to think of going virtual, or even sending mails on a regular basis or using social media, nowadays it's a must for them & the only way to survive in a fast changing market environment, for sure.
Customer-centered approach with valuable publications, contests, social network messages, PPC advertising, personalized emails with cases (as experience shows, for the B2B sphere, cases are a cool tool to show up and tell about successful solutions) – are being successfully implemented during the pandemic.
Also, a lot of effort has been invested in education. In cooperation with the leading online providers, or with the top-notch bulk mailer, full-fledged courses on mobile development, UI/UX, email marketing and other areas of pandemic marketing are organized and successfully held. and here there's no way without quality mailings.
Plus, online events are periodically organized worldwide. Now lots of channels have been added, where you can place your ads, promote on favorable terms, and every company is trying to enter the online market using them.
Newer ways to promote the same old things have also emerged or been popularized of late.
A new way to advertise
In the context of coronavirus communications, the customer comes first. User-centered marketing models are in vanguard today. Personalised emails with powerful design have become a real marketing weapon of mass promotion.
In the context of the pandemic, relevance and empathy has become important in communications. Make sure that all campaigns and communications launched are addressed personally to your company clients and take into account the conditions of the crisis.
The COVID-19 alerts via instant messengers have become a trend. The same with the email notifications to all customers. With the emails verification, you may quickly and easily check out your contact lists, add banners that load real-time data into existing email campaigns. There are services that place pixels in templates, so that even after sending a letter and receiving it, it has become possible to display relevant information in a real-time regime.
Accenture admits several steps a business may take to achieve successful transformation & stabilize marketing performance:
Promote ecosystem business models based on SMART goals, resilience and technology enablement - more than 10% of the top companies' revenues are already generated through this approach.
It also admits that due to COVID-19, the click rate in email marketing has been admitted to increase significantly. Such an increase in click rates is not a surprise. As consumers all over the world became more and more forced to move into their homes and shopping in stores was largely unavailable, they were forced to turn to online.
Users continue spending more time online for retail purposes and not only, marketing emails naturally became an affordable resource for finding products and potential discounts.
Here's some Click-Through rate statistics found: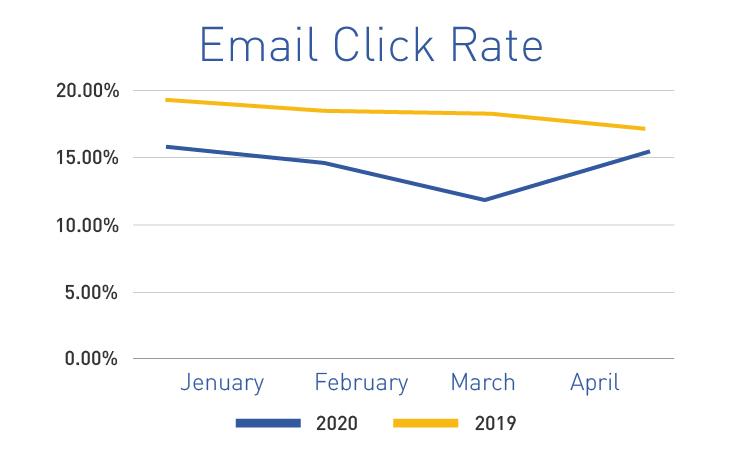 CTR as compared before & post-pandemic
Also, the current situation has become a great reason for a quality audit. Evaluate your existing ad activities and triggers and create guidelines for your next email launches with a focus on automation, efficiency, and personalization. More data- driven solutions like contacts extractor, intuitive mailers & data mining tools will also come in handy.
Cloud based apps, Internet of things & other innovation technologies have also gained momentum and became new ways to promote your business.
On this basis, there is an urge to coordinate your interaction with your business partners on a higher level and so much more. It's high time to consolidate and merge. That's what modern marketing is all about after the pandemic shifts.
Do not forget about effective tools for success analysis, measurement and scaling your business processes, including email marketing.
Written by: