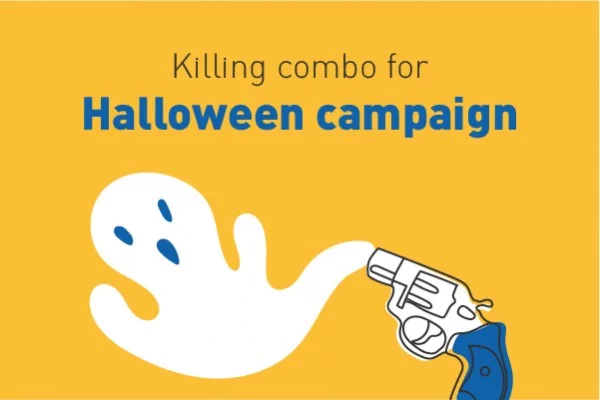 The most mysterious holiday is coming, and all the stores start to wrack brains on how to impress customers and increase profit.
American shoppers spent $9.1 billion on buying Halloween products last year.
This year we propose you to impress shoppers and to get higher ROI by the dual power of thematic bulk text messages and emails.
Read the article and know how to make a multichannel marketing campaign before the holiday.
SMS + Email as part of multichannel marketing
Multichannel marketing is a strategy that combines different types of marketing ― text, messengers, email, push notification, social media, and others.
This way of marketing helps potential customers to choose their way of purchasing.
There are so many methods to engage clients. Having chosen the only one, you waste a chance of getting higher ROI. If you use all channels together, there is a risk of losing budget and irritate users by many notifications. So, you should find your golden mean, and we help with it.
We advise you to pay attention to the cascade campaign, which is a part of multichannel marketing. The difference between multichannel and cascade campaign lies in the fact that the second can save money and don't irritate clients. It works like a strainer, that keeps bigger particles and leave smaller. Using cascade campaign you should also give preference to the cheaper method before a more expensive one.
Top 3 rules of multichannel marketing
Like other types of marketing, this one has its principles and regulations. Open your notebooks, take pens, and write down these points.
Don't overdo it. If you have chosen multichannel marketing, you will have control. The abundance of channels for communication with the target audience can lead to developing paranoia and fear of mentions of your brand. Save the subscriber psyche and your budget. Talented marketer prefers a cascade campaign when it is chosen two channels. For example, bulk SMS + Viber/WhatsApp.
Remember about the time. There are no particular time and period for sending messages. It depends on brands and events. Marketers say that the optimal frequency of sending email newsletters 1-2 times per week or 2-3 emails. It means if you have chosen email + text, the number of texts should be equal to email.
Chose the order of using channels. For example, your shop plans a party for Halloween. Send an email with all details about the event a week before, and one-two days before the party send a text message to remind customers about it. It is possible to use such schemes: Email → SMS SMS → Email Viber/WhatsApp → SMS
These are the most popular rules that each entrepreneur should remember. Furthermore, in the process of work, each one is making their principles and improving the skills of communicating with users.
Halloween marketing ideas for cascade campaign
Cascade campaign is a method of consistent using different marketing channels. It means sending the same message through various channels. For example, firstly, you send a text message and tell a customer about a discount. You say about it in Viber/WhatsApp message too. After that, you chase users with advertising on social media or push notifications.
This method of multichannel marketing reduces the cost and increases the per cent of delivery messages.
As a part of multichannel marketing, the cascade campaign differs by the fact that in most cases, marketers prefer only two marketing channels and one optional, because such way is the most optimal.
The formula of a cascade campaign is next:
Viber/WhatsApp ⟶ Text message ⟶ push notification
Email newsletter ⟶ Viber/WhatsApp ⟶ social media
Text message ⟶ Push ⟶ social media
Email newsletter ⟶ Text message ⟶ push notification
Text message ⟶ Email newsletter ⟶ social media
Viber/WhatsApp + Text message + push notification Firstly the user gets a message in Viber/WhatsApp. The benefit of Viber/WhatsApp among the official channels is payment only for transported messages. Furthermore, the system gives information about users' numbers that don't get the message or don't open it. At this stage, the messages that haven't been delivered will send through text. The advantage of the combination of these marketing channels lies in fact, that message in Viber/WhatsApp contains more info, and text gives short reminders of public information. To complete the set, marketers advise using push notifications. If the user has doubts to follow the proposition, push notification allays them.

Email newsletter + Viber/WhatsApp + social media This set of channels is similar to previous ones. Firstly, the customer gets an email with details of the event or personal proposition. Email allows impressing subscribers with a good design. After that, you send the same message in Viber/WhatsApp with coloured design to remind them about the proposition.
If your customer is a flint, make a kill shot with advertising on social media.

Text message + push + social media Text is one of the most effective methods to communicate with customers, because of the absence of other marketing channels in some clients. The delivery of the text is very high. In the case, if the client wasn't available, push notification and advertising in social media give the last chance for purchasing.
Email newsletter + Text message + push notification These two binding marketing channels are the most popular and effective. That's why this set is the cheapest and has the highest open rate. In a colourful and well-designed email, you explain the event, then in a text, you remind about it, and if clients lost the message, you show them the advertising on the websites.


Text message + Email newsletter + social media This combination works well if you are planning a promotion. You can send a text message and say that an event is coming and the customer gets a discount. Then you send an email with a link to the store. It increases the chance of making a purchase. If it doesn't work, the customer will see advertising on social media.

There aren't all sets, you can combine different marketing channels, but you should analyze the campaign to choose the most effective and profitable.


How to create Halloween email and text message
The practice shows that combining two or more marketing channels gets higher traffic and Open Rate. We tell you how to create a Halloween campaign using two of the most popular channels ─ email newsletter and text messages.
The successful Halloween campaign includes 3 points:
A set of two marketing channels (email+SMS)
Eye-catching Halloween email subject lines and SMS
Inspiration
Halloween marketing ideas for text message and email
According to previous experience, the pre-Halloween campaign consists of one marketing channel or all together. Both ways are a failure. Using the first one you decrease the possibilities for getting profit, the second will irritate customers, and they will hardly purchase in the store. The order of sending text message rides on offer type. For example, if you are planning a Halloween party, firstly send an email with details ─ when, where the party will be, the dress code details, entertainment that is offered for clients.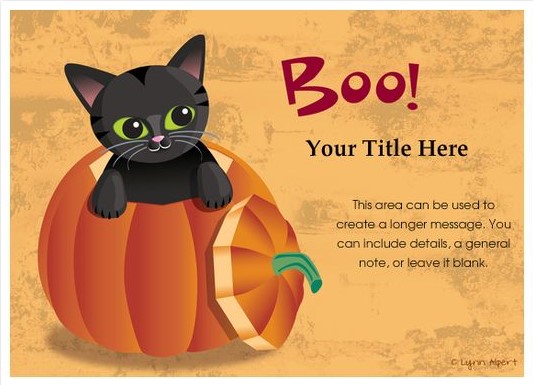 You can use this template for invitation email. Write all the need information for customers
A day before the party, you will remind the guests about it in a text message. For example: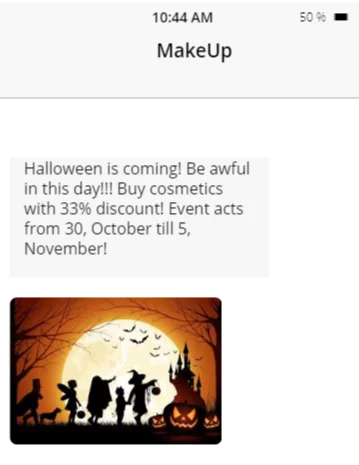 Blue Apron sends the best email in the customer's life.
Unfortunately, it forgets about the text messages. It has the sense to strengthen email by such SMS.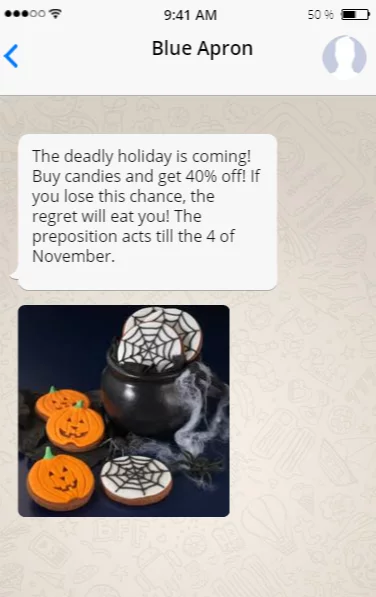 There is an email with good animation that tells customers about the free Halloween email template.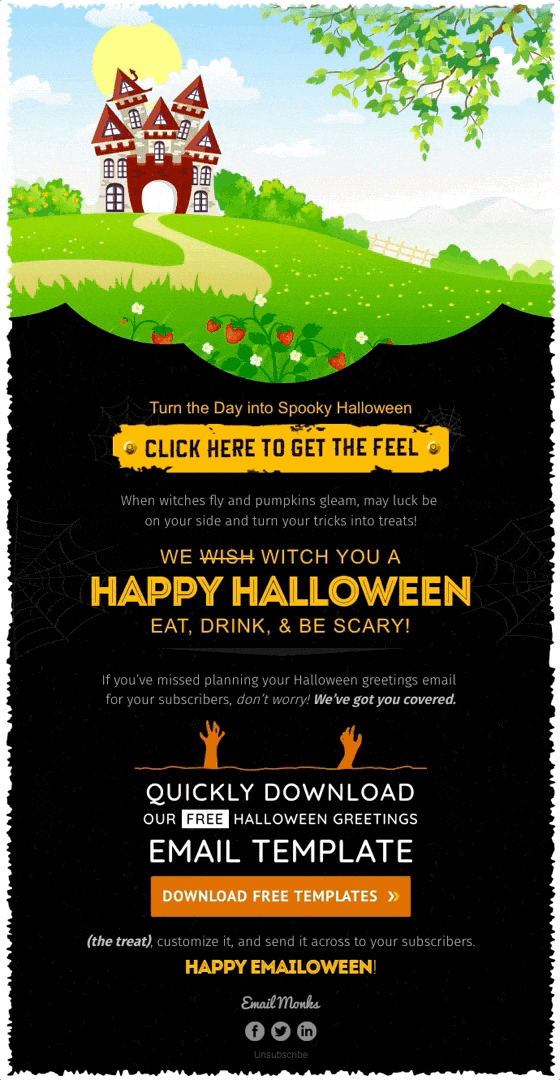 It could be better to send a text message before an email and remind them that they should congratulate subscribers on this holiday.
For example, with such text: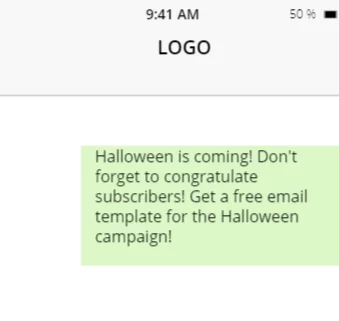 Preparing your Halloween campaign, think about how you can improve it with SMS and adverts on social media. The examples above will help you.
How to create Halloween subject lines
The subject line is the first element that the customer sees. This detail depends on whether the user opens an email or not. The previous years there are subject lines like Trick or Treat. B-o-r-i-n-g!
Be creative and make a title that ensures opening emails.

This subject line stands out with all emails, and there is a high likelihood of opening Halloween newsletter.
Catch some other examples for Halloween campaign:
Halloween sale waits for you
Awe-inspiring evil
Wickedly tasty
Your guide for Halloween
Horrors that you want to know right now
Get your gift before it disappeared
Deadly beautiful suit for Halloween party
I believe that you have just got ideas for Halloween subject lines.
Awe-inspiring Halloween email templates
Last but not least, point. We have collected for you breathtaking templates and email examples, that awoke your creativity for making Halloween campaign.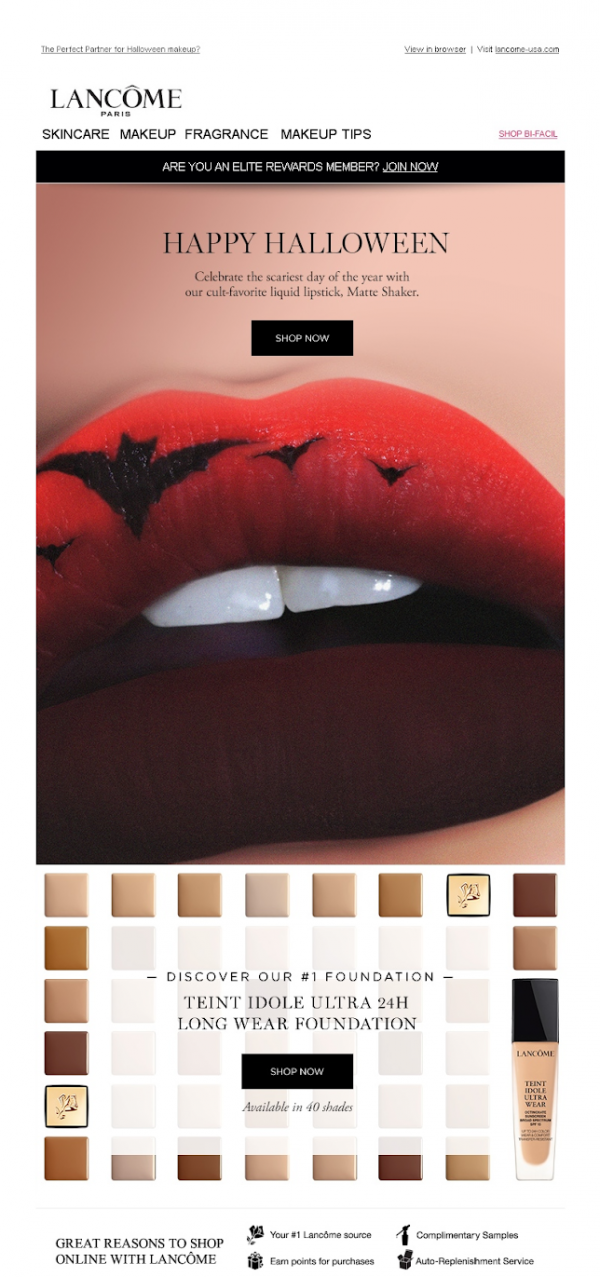 Lancome promotes red lipstick that is suitable for the holiday. It's designed to model's lips by bats.

Create&Barrel designed the cups in Halloween style. It gives prices of goods in email. Furthermore, there is a CTA button at the beginning of the email.
Bettys have made special candies for Halloween and propose subscribers to make the party with their sweets in style of mysterious holiday.

LandOLakes send emails with Halloween sweets. It gives a detailed guide on how to cook candies, how much time you need. The design is in the brand's style, but sweets in Halloween style don't give to forget about the reason for the email.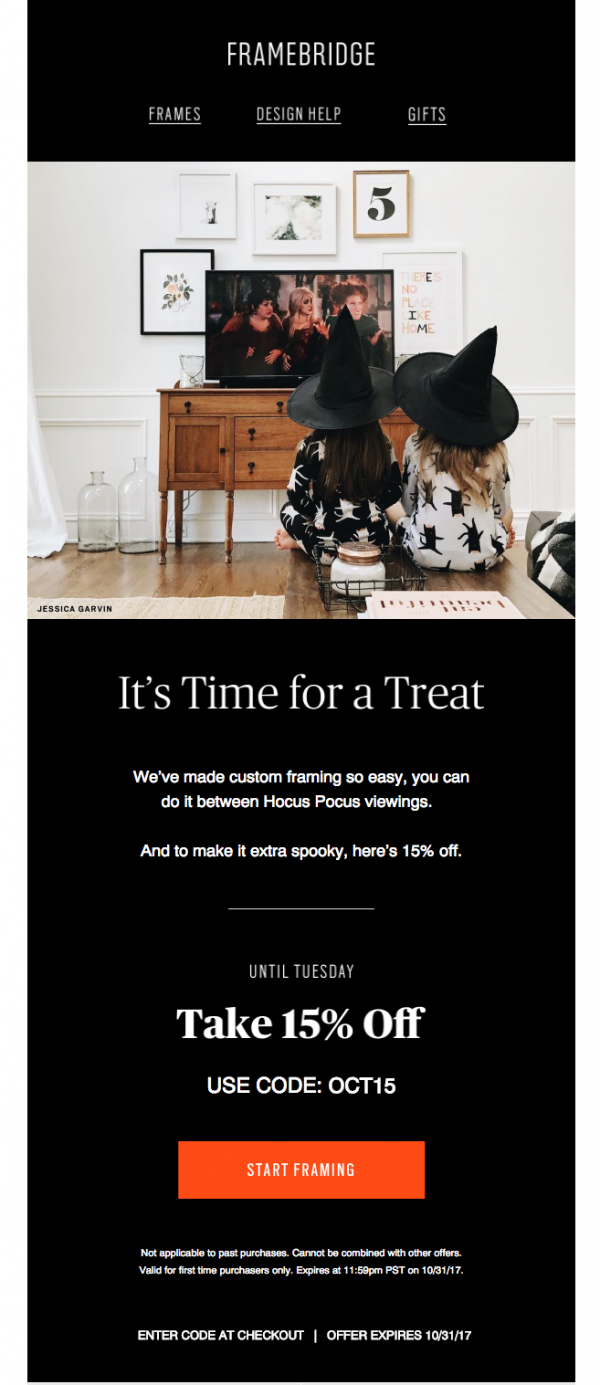 Framebridge proposes discount for customers. It makes the design in black&white colours, and insert images of witches. The brand also makes an accent on the CTA button by orange colour.
Don't forget to strengthen email by text message and adverts of your proposition in social media.
Conclusion
Halloween campaign is a good reason to get higher ROI and to demonstrate subscribers your carry. Moreover, combining SMS and email, you save the advertising budget. I believe that this article helps to get the highest open rate and ROI.
I'm sure, you have your own amazing ideas for the Halloween campaign, haven't you?
Written by: