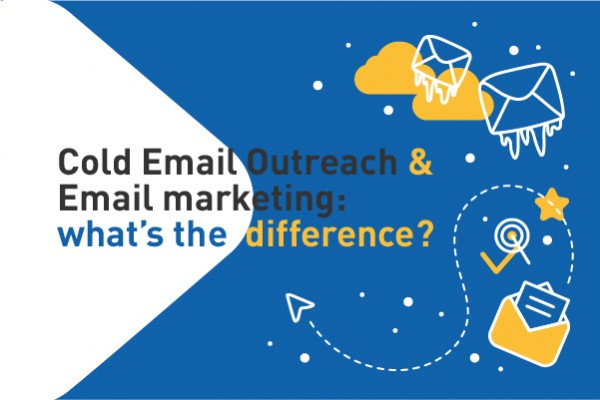 Email marketing and outreach are both powerful instruments for business promotion. You can reach a big success using them. In this article, we will tell you what they are, what are the similarities and differences between these methods, and how to use them properly. So, which one to choose for a business promotion, SEO and PR?
What are email marketing and outreach
These are instruments for business promotion. Let's discuss what are both of them.
What is email outreach?
This is the process of searching for prospects, creating and sending messages to them. An entrepreneur sends messages to people who can help him/her to promote business or to some representatives of the target audience who do not know about the company yet.
The global aim of such a campaign is to get new clients. The short-term goals can be:
increasing of the website visitors number (for example with the help of posting links to your website on some external resources);
getting more popular with the target audience;
getting people more interested in your products and more loyal to your company.
What is email marketing?
This is the process of crafting and sending messages to warm leads. These are the people who:
passed the registration on your website;
left their contacts via lead magnet or in another way;
has already used your services.
This advertising method is effective in motivating people, who are already interested in your offer, to make a purchase. Also, it can help you to convert one-time buyers into regular customers and keep them.
The pluses and minuses of email marketing and outreach
Email outreach has some significant advantages. The main reason for choosing this method is that it gives a great opportunity to spread the word about your brand around the Web and enlarge your client base. To send outreach messages, you do not need permission from an addressee to receive messages from you.
The disadvantage is that sometimes it can be difficult to find the contacts for sending emails. In order to choose the right receivers, you should thoroughly explore your target audience, the influencers who are popular with your target audience and respected by them, and know the places where to get their electronic addresses.
As for email marketing, it also has pluses and minuses. The main advantage is that this method helps you to enlarge your sales by keeping in touch with old clients and with "warm" target audience. The process of collecting contacts is not so difficult. All you need to do is to create an attractive lead-magnet, and people will give you their electronic addresses by themselves. This variant is very effective in increasing sales. But it is less strong in getting new clients and relationships than outreach. It will not make you more popular.
Also, this is very important not to break the law while holding an email marketing campaign. Make sure that all of the receivers of your advertising newsletters, has passed the double opt-in procedure.
The similarities and differences between email marketing and outreach
The processes of holding both marketing and outreach campaigns have a lot of similarities. The common stages of them are:
writing of the EMAIL;
template design developing (but in outreach design is not so important than the meaning of the message, it should be plain);
the creation of receivers list (but the sources of getting addresses will be different);
sending emails;
analyzing of results.
Though the steps are common, the specific of their accomplishing has some differences. Let's discuss all the stages more detailed and find the distinctions between email marketing and email outreach campaigns holding.
Finding of receivers' contacts for email outreach and email marketing campaigns
As for email marketing, there is a compulsory condition — double opt-in procedure. It consists of 2 steps:
Giving an address to you (for example, via the form of registration on your website or lead-magnet). There should necessarily be a writing "I agree to the processing of personal data", where a person should put a tick.
Confirmation of the subscription to your email newsletter. There should be a specific link in the first message. Clicking on it means the agreement to receive newsletters.
Also, you should develop an efficient lead magnet. In order to make people give you their contact data, you should offer something favorable to them. Some ideas what to offer in exchange for email:
As for outreach, you can use some automatic tools for collecting emails. One of such instruments is Atomic Email Hunter. This is the part of Atomic Email Studio — a 6 in 1 tool for email outreach and marketing designed by AtomPark Software. Atomic Email Hunter is a powerful instrument for collecting emails from the Internet. It is able to extract emails from any websites which require a login and password. This method of collecting contact data for outreach has recently become absolutely legal.
On the 9th of September, the Court of Appeal decided, that public websites scraping is not contrary to the Computer Fraud and Abuse Act.
Using this software you can search for emails by keyword.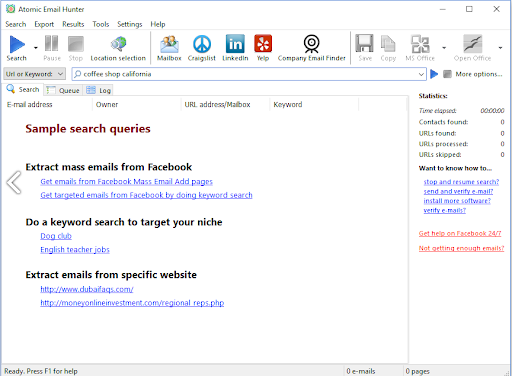 Searching for emails by keyword with the help of Atomic Email Hunter
Don't forget to check their validity by Atomic Mail Verifier.
Remember that sending emails to people who haven't given their permission is legal only within outreach (here are no sales). Sending marketing email to people who haven't opted in is spam.
The specific of texts
To personalize the messages correctly and reach the best result, you should learn the peculiarities of writing emails for outreach and marketing.
While writing an outreach message (popular blogger or influencer outreach email), you should first make a research and learn as much information about your receivers as it is possible. Then show your awareness with the help of:
complimenting them on their labour;
congratulating their latest success.
Then in order to earn the trust, try to:
share some unique information;
give some advice on how to optimize and improve their work.
mention the similarities in their and your work;
point out common acquaintances;
To increase the chances that a person will comply with your request (for example, to post a link to your blog on their blog), show them some benefits from collaboration with you (e. g. offer link exchange or another compensation).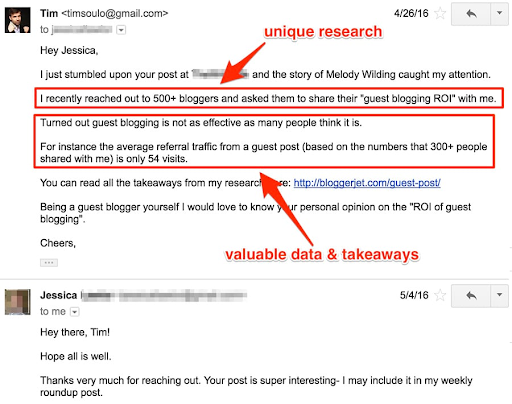 Here you can see a blogger outreach email example. A sender has made his best to get the addressee's loyalty by giving her the results of the unique research and valuable data. The aim of the letter is to attract more readers to the website and get their feedback. As you can see, the message turned out to be successful, because it has led to a positive reply.
As for marketing emails, you should also personalize messages, but it will take you less time and effort. The first obligatory rule is to call a receiver by name. Furthermore, in order not to send irrelevant information to a person, you should segment your contact list by:
age;
sex;
sphere of interests.
To enlarge the chances of positive reaction make your best to propose something favorable and relevant. Give as many details about the offer, as it is possible. To make a person react emotionally, affect their pains and needs. Complement the text with graphics to show a person what you propose.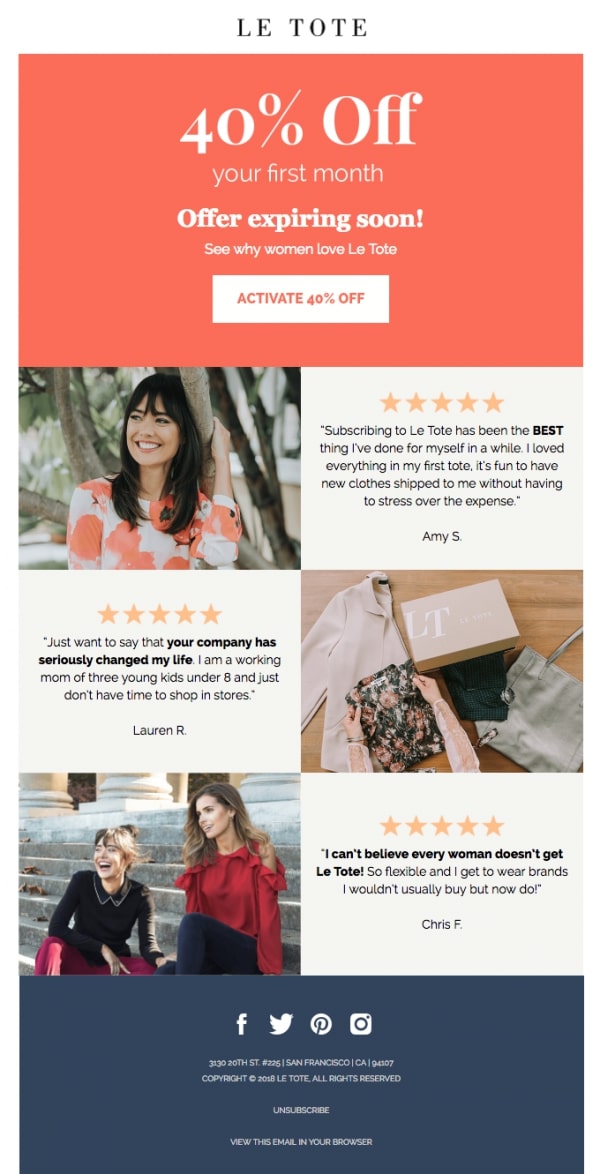 A certain benefit (40% discount) is offered to a client as a welcome bonus for the first month of being a customer. The offer is described clearly and laconic. In order to earn loyalty, the reviews are posted. The text is complemented with colorful images that can make an impact on an addressee. Taking into account the personalization, the newsletter was sent only to women, because a company offers women's clothes.
Effectiveness analysis
As for marketing, it is rationally to monitor such metrics as:
email open rate;
click rate;
conversion of clicks into sales.
Talking about outreach, it is more rightly to look at the final result. You should define, how much profit has the campaign brought to you. It can be measured in:
the level of traffic increasing;
the number of new customers.
These are final goals. The transitional metrics are Open Rate and Response Rate.
The feature of monitoring the results should be foreseen by a program for mass mailing. Atomic Email Sender — a component of Atomic Email Studio — gives you such an opportunity. It can be easily integrated with Google Analytics. Also, there is the Atomic Email Tracker — a service for email campaign effectiveness monitoring developed by Atompark Software.
The table of differences
| | |
| --- | --- |
| Outreach | Marketing |
| Cold email outreach does not require the approval from addressees. | You are not supposed to send messages to people, who have not permitted you to do this. |
| Does not need a double opt-in process | Requires a double opt-in procedure. |
| Makes your brand more popular, helps to get new clients | It is the best method to keep regular customers |
| Addressees are some bloggers, influencers and other people that can help you to promote your business | Receivers are people from your target audience |
| The messages are more personalized. You should know a lot of details about an addressee and their activity | The messages also should be personalized, but the general knowledge of the name of an addressee and their sphere of interests will be enough |
Which method to choose in different situations
Email outreach will be the variant of your choice if you want to:
attract the traffic to your website;
promote your social networks account;
become more popular with your target audience;
enlarge your client base.
Email marketing should be the second step to use after outreach if you want to:
boost sales;
convert one time clients into regular;
keep in touch with the regular purchasers.
The comparison of results of email outreach and email marketing campaigns
We have found some interesting cases for you. Learn them and you will understand what results you can reach using these methods.
An example of successful outreach campaign
Email conversion strategist Laura Lopuch has decided to try holding an email outreach campaign.
What she has done: sent only 328 strongly personalized cold emails.
What she has got:
The short-term results:
The open rate was 56%. This was an awesome result because the average open rate for cold emails is 26%,
The conversion of positive replies was 9%.
The final effect — 1400% business growth in 4 months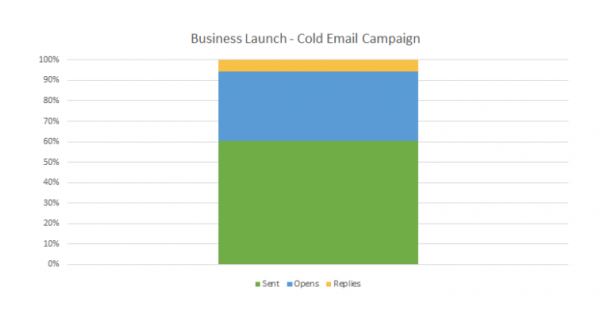 The results of the held campaign
Some more examples as a bonus
Now that you know the main similarities and differences between email outreach and marketing, just look at some more examples, that will help you to create your own campaign.
Best cold outreach emails
Blogger outreach examples: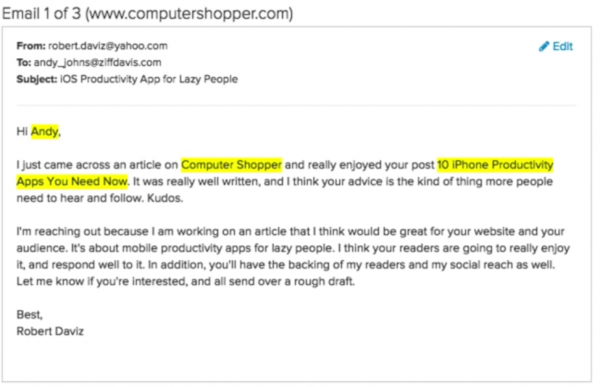 The email with the request for guest posting. The message is personalized and contains the gratitude for the receiver's job.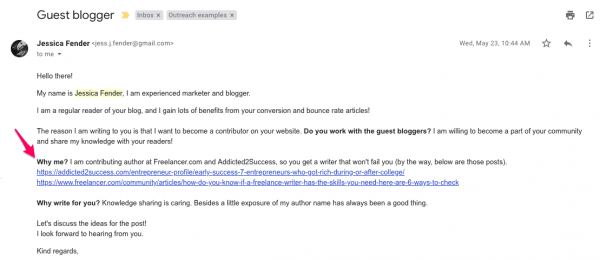 The aim of the message is to get an acceptance for a guest post. The email contains the reasons to choose this author.

The email is written in order to attract traffic to the web-page and promote the article in a social network. Here you can see personalization and the reasons why a person should comply with the request. The message turned out to be successful. Here is the answer:

Influencer outreach examples: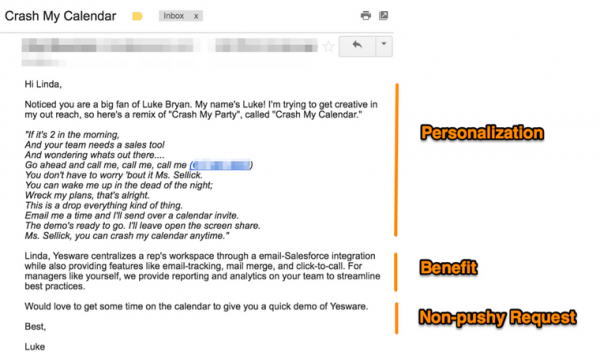 Correctly formed text with strong personalization, the description of benefits and an unobtrusive request.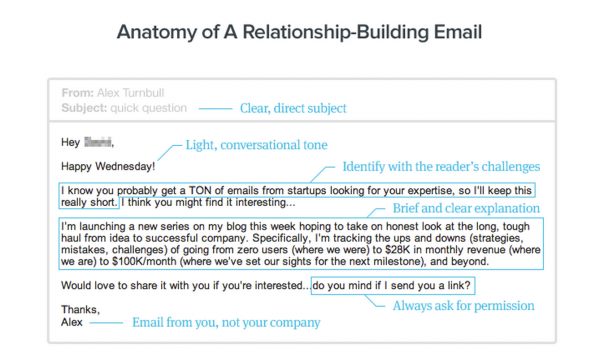 One more example of a perfect structure of an outreach message text.
Best marketing emails examples

A great example of complementing text with images. Bright and juicy photos perfectly illustrate the offer.

A sample of a laconic newsletter about discounts. There is nothing extra. Only the sizes of discounts on purchases of different amounts and promo codes.

A combination of wonderful design and strong text with the description of advantages.
Hope you enjoyed reading this article, and it was really useful for you. Try to make your own outreach or marketing campaign and share your results in comments. Good luck!
Written by: