Choosing the best tool for your email campaigns can be a real challenge. You can spend hours and days looking for the best option. But time is money, so don't waste it and read our presentation, where we've analyzed the top 5 mass mailing software for you:
Atomic Mail Sender
Mass Email Sender
Bulk Mailer Pro
SendBlaster Pro 4
G-Lock Easymail 7
There is a list of features that are a must for a successful email campaign. We've checked its availability in these programs, and here is what we have.
Program compatibility with popular OS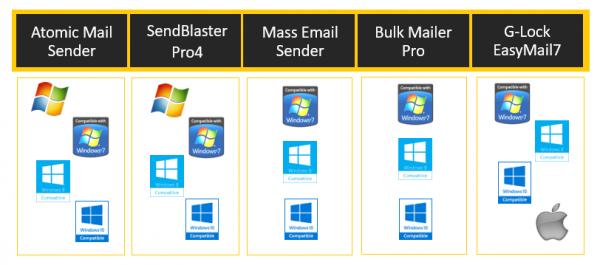 Simple Mail Transfer Protocol helps to deliver bulk email campaigns without getting them marked as SPAM.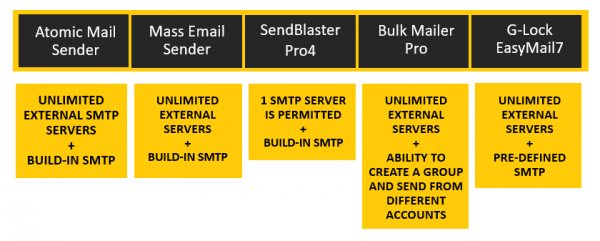 Sending bulk emails directly with your ISP may cause some issues for your IP. Proxy servers help you to hide your IP and avoid getting blacklisted.

Unsubscribe Link Insertion
Clicking an unsubscribe link in the newsletter, users automatically remove their emails from the mailing list and you don't have to do it manually.

Newsletter Personalization
This feature allows you to insert personal data into the email template:
Subscribers name
Address
Company name
Discount size
Favorite product, etc.

This feature automatically adds social media icons to the newsletter content. Thus, your subscribers can easily follow your company on social just clicking on it.

Spin text option provides you with alternative words or lines that will systematically rotate or spin for each recipient. It makes a newsletter more personalized and helps to pass spam filters easily.

With its help, you can find the weak places of your newsletter content and change it to avoid Spam Filters attention.

Allows you to crop, change colors, resize and rotate the images of your newsletter without leaving the program.

This feature helps to review the statistics of the emails you've sent:
most clickable links
CTR, etc.

Schedule the time of your email campaigns automatic sending. It's very useful when your email subscribers are from different time zones.

Adding subscribers emails to the blacklist excludes these addresses from the mailing list, so you don't have to do this manually.

Using one of the free.
email templates you can make your newsletter brighter even without coding skills.

Track clicks, sales, conversions generated by your newsletter.

Based on the first connection to the mail server, it automatically adds hard bounced emails to the blacklist of the program.

Helps to test your email campaign on what folder it will be placed in (inbox or spam) and how the newsletter design elements will be displayed.

---
Keep in mind the criteria we've mentioned above because they are essential to the success of your campaigns. Choose the tool that perfectly fits all these requirements.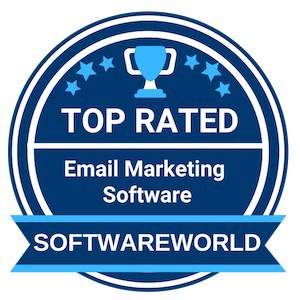 Want to expand your marketing capabilities? Try the best email marketing software in 2020! Such tools not only allow you to send newsletters, but also completely organize your mass mailing campaign.
Written by: