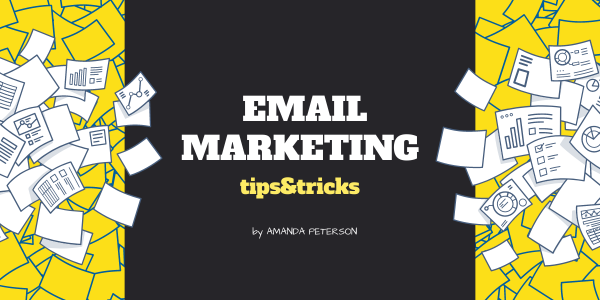 When it comes to customer engagement, email marketing can serve as a major source of growth and is crucial in customer acquisition and retention. It serves as a quick and simple method to connect with consumers while providing exclusive content or promotions. Email marketing is one of the most successful marketing mediums on the web and has even been shown to outperform social media platforms like Facebook and Twitter: In order to get the most value out of your email marketing efforts, however, it's necessary to go beyond just sending emails to your
contact list
. With
205 billion emails sent every day
, it can be difficult to stand out amidst the sea of promotions, social media notifications and correspondences found in just a single inbox. While mass emailing can reach a great deal of your audience in a short amount of time, getting customers to open and interact with the email can be a major challenge. Check out our three tips below to encourage your audience to boost customer engagement with your marketing emails:
Create an Enticing Subject Line
The first place to start when crafting an engaging email is the subject line. Perfecting the subject line can be the difference between recipients opening your email, deleting it or, even worse, reporting it as spam. In fact,
almost half of all email recipients
decide to open an email based on the subject line alone. Clear and concise subject lines are often a reliable method, as time is of the essence when customers are considering opening an email. Subject lines that are short and to the point convey the email's message within seconds and are most likely to be opened. On the other hand, witty or controversial subject lines can be attention-grabbing tactics, but it's important to keep your brand's tone in mind. While sites like Buzzfeed or Thrillist might utilize a humorous subject line, it would seem out of place if used by a national news source. There are endless strategies for creating an eye-catching subject line, so check out some of these examples from real businesses:
Email marketing is a great platform to create a unique experience for your prospect or customer. By leveraging the power of
personalization
, you can make them feel exclusive or special, which increases that chance of them doing business with you. Your audience wants to read content that is most relevant to them and their interests, and personalization ensures that they are directly connected to your message. As a matter of fact,
personalized emails have been shown to lift transaction rates and revenue per email six times higher than non-personalized emails
, though 70 percent of brands have yet to do so. If you have access to the first name of your email recipients, be sure to include it in the subject line or within the body of the email. Utilizing segmented lists allows you to
create targeted and personalized email campaigns
, which appeal to various demographics and behaviors.
Keep Your Email Short and Sweet
Your customers and prospects are busy people. Even if they find the time to open your email, it's unlikely that they'll spend more than a few seconds reading it in full detail. 
Salesforce estimates
that the average time spent reading an email is just 11 seconds. In this short period of time, your audience is giving you their attention. They should be able to understand "the ask," or what you're hoping to achieve by sending the email. Your emails should be short, but also scannable. Keep your paragraphs brief, use subheadings and add bullet points wherever applicable. Dividing your email into digestible blocks ensures that your audience understands the value behind the email without putting forth much effort. For businesses who have yet to believe in the power of
email marketing
, try reevaluating your email strategy. Though the tips above might seem like common sense to the digitally-connected marketer, when applied effectively, they will yield positive results. Once you start using these tactics, remember to constantly re-evaluate each one— customer profiles may change over time. As their needs and interests evolve, your content and email engagement tactics will need to evolve along with them.
Written by: