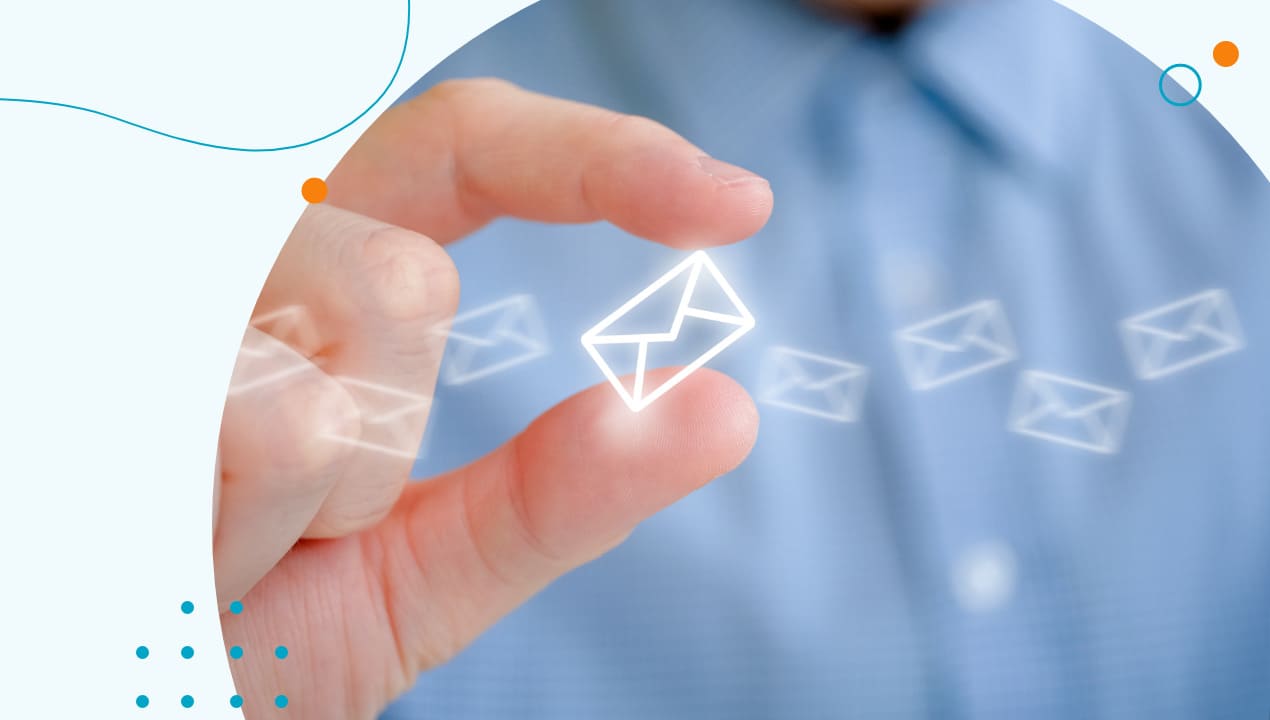 Emails arguably make the best channel for running intense marketing campaigns. In fact, 81% of small businesses leverage them as their primary channel for acquiring customers, given that a typical welcome email has an average open rate of 8%. Besides customer acquisition for sales generation, email marketing can also be critical when building brand awareness or retaining existing clients. 
However, you might need to integrate an email deliverability tool into your strategy, especially if you are going to get the most out of this marketing channel. Here is a definitive guide to email deliverability tools, why they are important, and the best market options out there. Keep reading to learn more.
Why Do You Need an Email Deliverability Tool for Your Outreach Campaign?
Any marketer who relies on a bulk email sender program understands the importance of clarity, on whether the message was read or diverted into the prospect's spam folder. A deliverability tool comes in handy when gauging this, and can as well as help you understand the chances of your messages landing in the prospects' primary inbox. 
Deliverability testing tools also come in handy when generating engagement before nurturing leads. At this stage, you are most likely sending cold emails in bulk, which puts you at risk of being blocked by service providers, especially if the marketing campaigns spur low engagement. If you're lucky to avoid getting blocked, you might need to purchase new domains regularly for sending them in bulk. 
Businesses also need email deliverability tools to:
Get timely suggestions that can optimize their campaign deliverability
Tweak campaigns and match the expectations of service providers
Get insights into actions that trigger a spam filter 
How Can This Software Improve Email Deliverability?
Email deliverability software can help you check the quality of your campaigns and improve the overall strategy to ensure that it is a success. Typically, integrating this software into your marketing strategy enables you to understand the mistakes or factors that downplay your outreach efforts. Most importantly, you can use this tool to improve your sender score and increase the chances of email service providers (ESPs) delivering your messages to the recipients. 
While deliverability tools can significantly boost your outreach campaigns, it's worth understanding that they won't prevent unhappy recipients from deleting your emails. Moreover, these tools don't give insights into the quality of the prospect in question; neither does it prevent recipients from reporting your messages as spam.
7 Great Email Deliverability Tools & Software 
Now that you understand the importance of email deliverability tools, what options do you have if you want to leverage the right software to increase email deliverability? Well, our definitive guide got you from the start to the end. Check out these: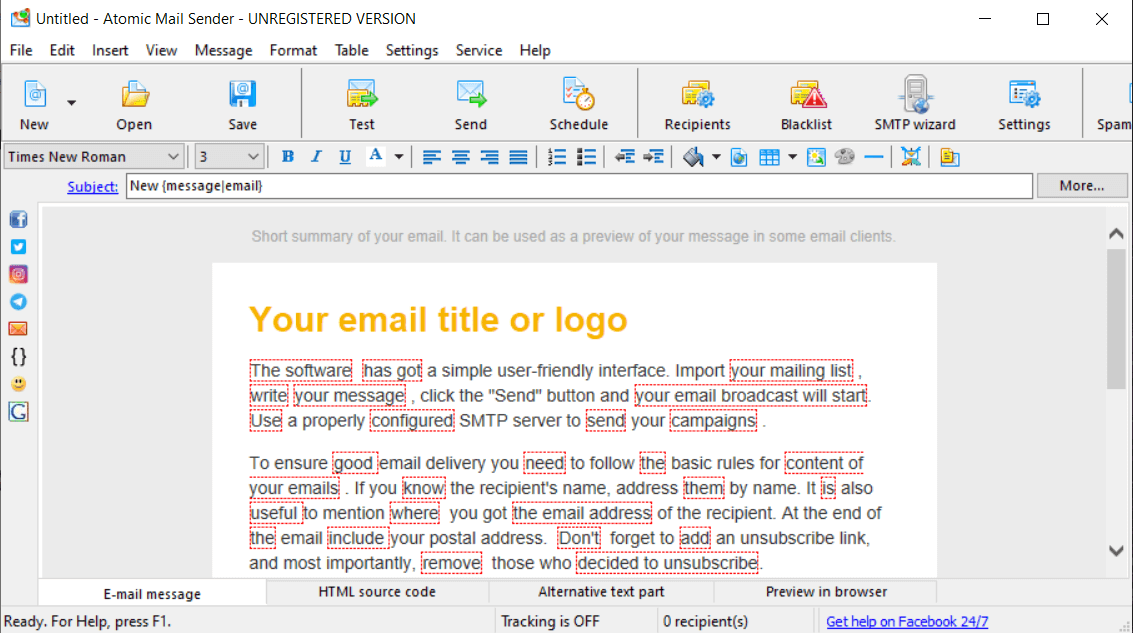 Atomic Mail Sender is an email deliverability software that is bulk outreach campaigns. As a tool that is geared toward optimizing email marketing. Atomic Mail Sender can help your team craft high-quality, easy-to-create messages and deliver the same to the recipient at optimal speeds. This tool can help you optimize email deliverability through in-built or external SMTP servers. 
Moreover, the tool comes with a spam check feature, known as Spam Assasin. As the name suggests this feature hunts and reveals the reasons why your emails have a higher spam grade and most likely end up in spam folders. Ideally, the tool should help you achieve a lower grade that drive email campaigns right into recipients' inboxes. However, some users may encounter a warning window when launching Spam Assasin. Don't fret. All you need to do is check whether your firewall has inbound traffic rules for Spam Assasin, and allow it to connect to the internet. . 
Other features that businesses will most likely find useful on Atomic Mail Sender include:
Customer Support: Atomic Mail Sender features a professional team of specialists, offering around-the-clock technical support to customers. Whether you want to know about improving sender score or getting rid of invalid email addresses from your database, the customer service team will be there to address your concerns. 
Personal Domain Name: Users can specify their domain name within the tool, especially if they opt for an integrated SMTP server. With this capability, marketers can monitor their account and generate real-time statistics in the SMTP service account.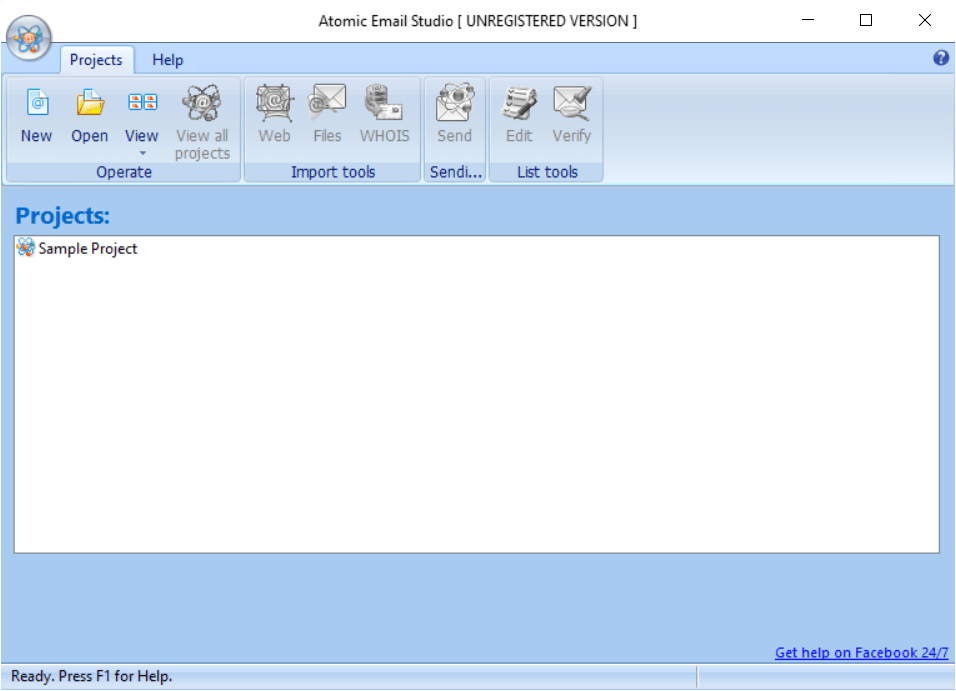 Atomic Email Studio is a 6-in-1 tool that can help you get the most out of your outreach campaigns. The tool allows you to do everything that is needed to succeed with modern email marketing—from ensuring the validity of email addresses, to optimizing their deliverability, and tracking performance. 
This tool has 6 programs that make your email marketing work easier. For instance, you can collect relevant email addresses from trusted sources, such as Facebook, Yelp, Twitter, and Mailbox by searching them using a simple key phrase. Even better, you can customize your search to omit hidden email addresses that will most likely hurt your sender reputation and deliverability.
Other features that make Atomic Email Studio worth a try include:
A lifetime purchase license that allows users to pay once and leverage the software non-stop
24/7 technical support for all levels of users
Three-step database for list validity and authentication
Compatibility with third-party SMTP servers 
Unlimited access to targeted email addresses 
Users can get started with Atomic Email Studio is five easy steps:
Email addresses importation
Email database editing 
Email list confirmation–check the quality of the database 
Drafting and sending of messages
Performance monitoring 
Pricing for Atomic Email Studio starts at $229 per PC for the lowest plan and $183.20 per PC for the highest plan. The software comes with regular upgrades to boost performance at no additional costs.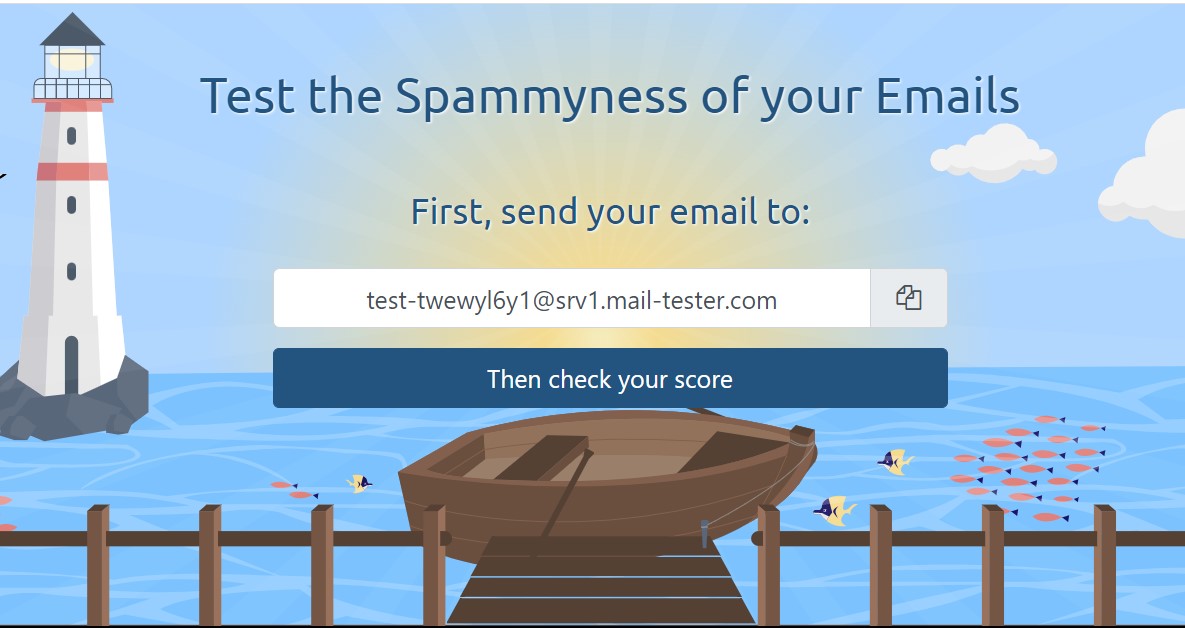 As the name suggests, Mail Tester is a deliverability testing tool that helps you understand whether your emails are spam before sending them to ESPs. This tool can complement intense cold marketing campaigns intended for new customer acquisition. Typically, the tool provides a unique address where marketers can send emails and check individual scores. 
Even better, Mail Tester gives insights into various factors that may affect your sender score, such as the accuracy of your DMARC, DKIM, or SPF, broken links inside the email, and whether your address is listed in blocklists. 
However, it's worth noting that MailTester doesn't improve the overall deliverability. But rather points out factors needed to boost your sender reputation. For instance, the tool can review your cold pitching templates and highlight words that will most likely trigger spamming. MailTester comes with a host of innovative features, all for free. 
Check MX is Google's free tool that can help you assess the technical setup of your emails and set them up to enhance overall deliverability. Marketers that often ignore the technical fundamentals of their campaigns taint their domain authority and most likely get caught up in spam filters. Check MX is available to ensure that this doesn't happen, especially for businesses that have just acquired a new domain.
The software has a simple design and functionality. All you need to do is copy and paste your domain to the tool, run it, and generate a report on various factors that will likely downplay your email deliverability. Moreover, the tool gives details on whether the factors are set correctly in your domain. Running your new domain through this tool is highly encouraged, even if you don't intend to send marketing emails with the bulk email sender program.
Check MX is popular among G Suite users as it redirects you to a resourceful Help Centre, which features free articles with further guidance on every issue flagged. The tool is free to use and doesn't require a sign-up process to get started.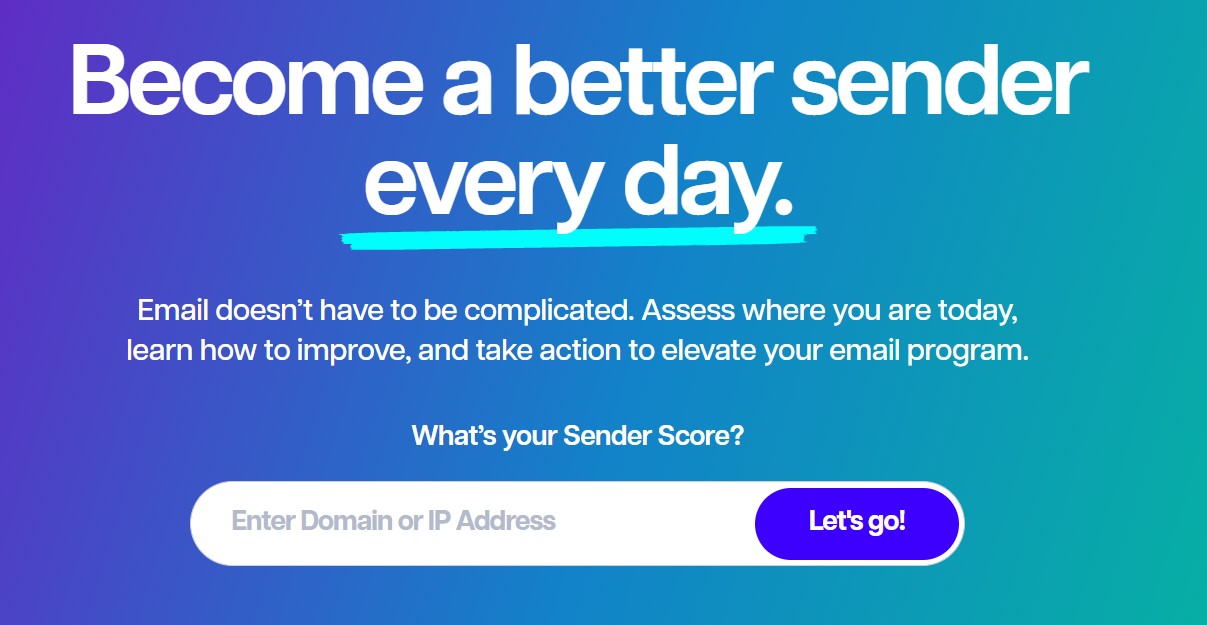 Sender Score is a free tool that can help you build a healthy relationship with email service providers. As the name suggests, this software can reveal your sender score and even highlight some of the factors affecting it. A sender score measures the quality of your overall email program on a scale of 0 to 100. This score can help reveal intricate details on how various mail providers view your IP address. 
Look at this software like a tool that helps you understand your creditworthiness, but now from an email perspective in terms of IP. As a primary function, the tool reveals whether the IP you are sending emails from is listed on any known blocklists. It also reveals if any of your target audience is reporting you for spam, or whether mailbox providers are blocking your IP and the reason behind the same. 
Although the tool doesn't directly improve your email deliverability, it gives you insights into crucial metrics that can help optimize the same. All in all, it's a free tool that's worth giving a try, especially if recipients keep on listing you as spam.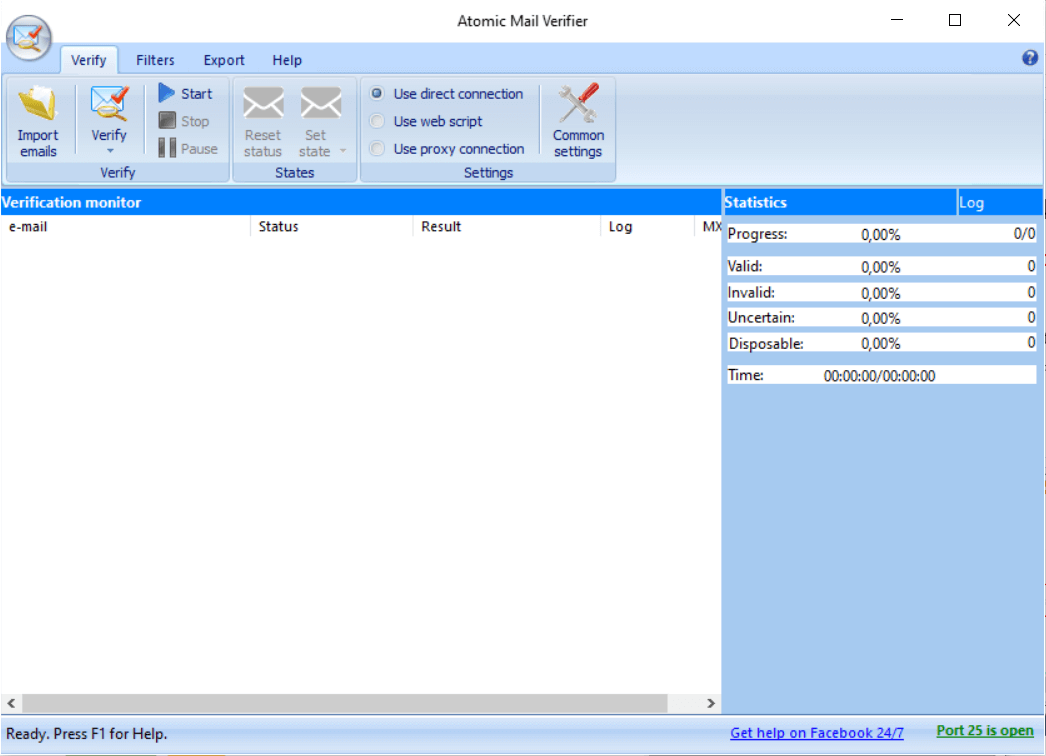 99% of Atomic Mail Verifier users recommend it to email marketers for good reasons. The tool authenticates your email list in a three-step verification process, getting rid of invalid email addresses go ensure that you target qualified leads only. And if you suspect that the reason behind your bad experience with email deliverability is a result of typos in addresses, the tool's Syntax Check will help fix that immediately. 
Atomic Mail Verifier also comes with a domain check feature for authenticating valid email addresses. At its core, the tool is compatible with Windows 7 to 11, and comes with an-around protection against virus and malware. Also, it comes with a 7-day free trial, helping you bridge the learning gap before you subscribe to a paid plan.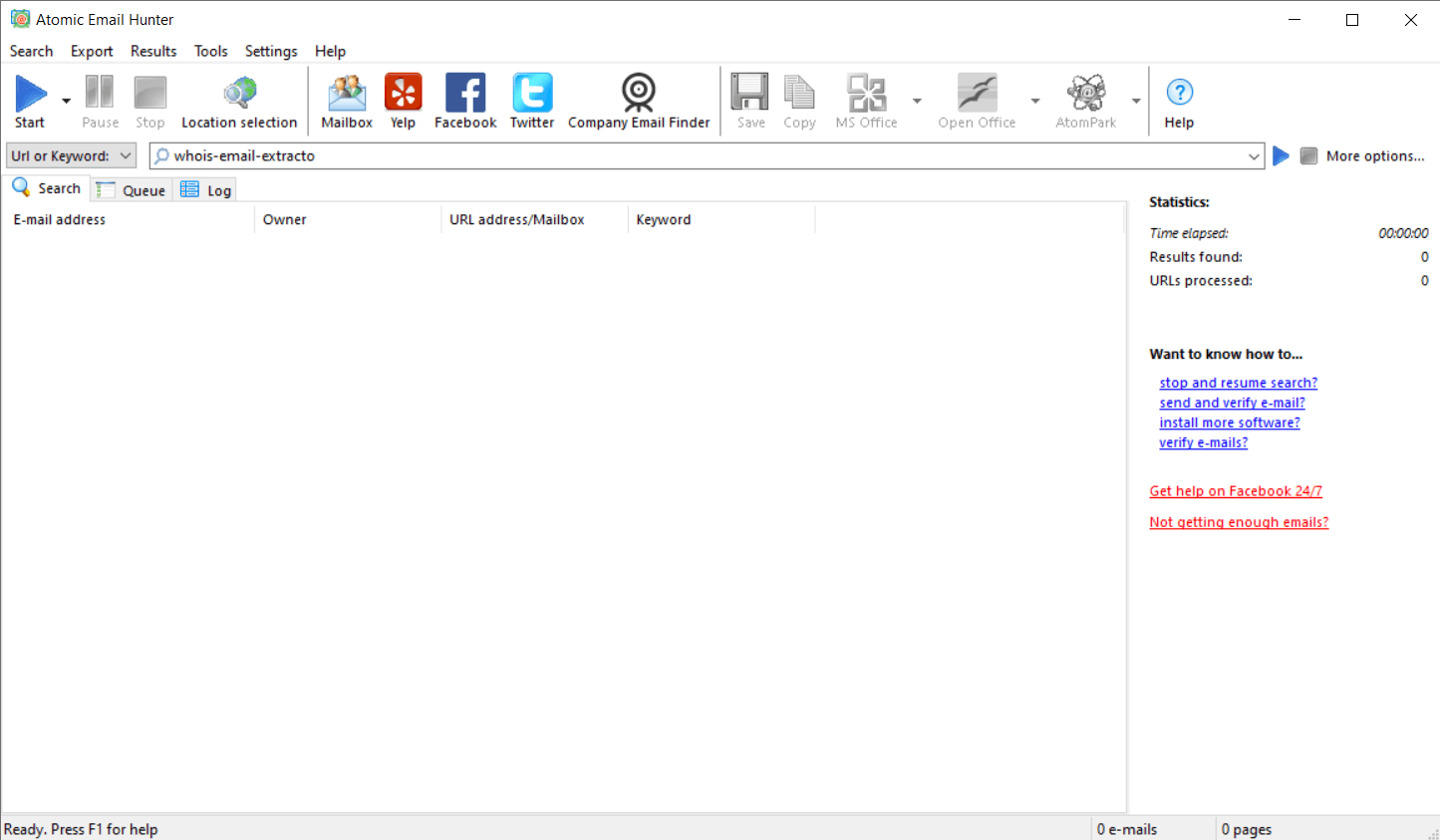 Do you want to stimulate sales by targeting a high-quality, matching mail list? You would want to try out Atomic Email Hunter. Email deliverability, as well as sender reputation only improves if you are targeting the right people with your sales campaign—people who won't blacklist your domain because they are genuinely interested in products or services similar to yours. This tool does just that to give you a competitive edge. 
All a user needs is to enter a keyword that is relevant to their target audience, and the email extraction tool will scan matching websites, find email addresses, and collect them. Creating a personalized email list with Atomic Email Hunter can help you optimize deliverability and increase open rate by up to 25%. On top of that, the tool comes with a unique configuration that allows users to control email extraction speeds and minimize the chances of having their IP blocked. 
Pricing for Atomic Email Hunter starts at $89.9 per PC for the lowest package, and $67.43 for the highest package. Nonetheless, users in all service plans can extract up to 2,500 targeted emails in under 5 minutes at no recurring fees. 
Get Started with the Right Email Deliverability Tool Today 
There are various ways and hacks for enhancing your email outreach campaigns. However, getting started with free or paid plan software to increase email deliverability can accelerate the success of your strategy. It also boosts your sender reputation among service providers and minimizes the chances of your IP getting blocked. Explore the options above and choose a tool that gives you the most without hassle.
Written by: