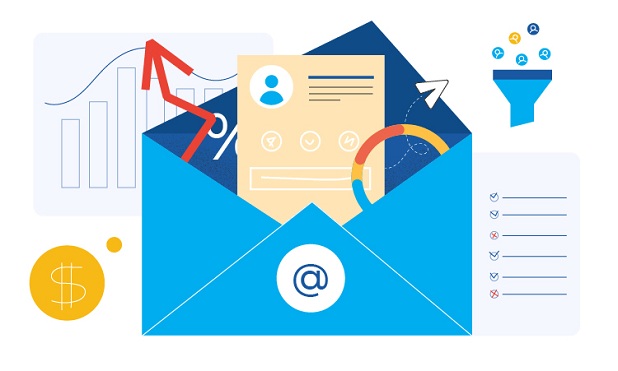 We all know how hard it is to be an email marketer, primarily if you have not gathered a team and have to do everything at once by yourself. It's good that there is a helpful email marketing software that can make your work easier. We've come up with a list of at least 15 of them that may optimize your routine.
Even if you haven't heard about them yet or didn't consider them necessary to use, feel free to try them out first and decide on whether to use them or not for better results. Let's go!
15 Email marketing tools to try for effective email marketing
Here's a selection of email marketing tools that you may use in your everyday routine with a brief description given and the complexity of interaction assessed. Enjoy it.
Atomic Email Verifier

This is the first tool you need in your work in the role of an email marketer. This excellent service checks if the mail server is configured correctly or if the mailboxes you launch your email marketing campaigns to are actually valid.

With the email checker, you just send the emails you plan to send the information to all your subscribers and test them for good. Mail verifier will analyze the message, SPF, DKIM and DMARC, DNS records and check if your IP is in the spam or not. It's a user-friendly and easy tool to apply both as a program and an online service.

It helps to check if everything is in order with your mailings and if they will not end up in spam, which is extremely important for the click-through rate of your campaigns.



Atomic Email Verifier official website shot
Email on Acid

This is software for emails that checks the layout of the mailing list before sending it. All you need to do is to upload the letter. Email on Acid will show you how it will be displayed on all devices, even with the most non-standard screens. Please note: the program is paid.
It is easy to use and configure.

How it helps: you don't have to worry about the broken layouts - you will know for sure that your letters are displayed correctly on all devices.



A pre-deployment email checklist from Email on Acid
Freepik

You will surely need a huge photo bank of free vector pictures, icons, photographs, backgrounds, and everything you need to design a letter or page on the site. This tool enables you to diversify mailings and save your budget.



Freepik website look
Flaticon

Flaticon has more than 3.3 million free images in SVG, PSD, PNG, EPS formats at its disposal. Unlike Freepik, the photobank is based on icons in different styles.
User-friendly interface which is nice to work with more than just will do with the service that enables to diversify mailing lists with stylish icons.



Welcome to Flaticon
Stripo

Stripo is quite a popular drag-n-drop editor for creating email newsletters. Like many other similar tools, it is suitable for those who do not understand HTML. We recommend using Stripo if you want to use AMP elements in your emails.

Simplify testing emails with AMP, rollover, and other interactive elements, which is more than easy to apply.



Email design platform for free
Figma

Figma is an excellent service for more or less professional marketers who create things from scratch and like good UX. This will be a fantastic service for creating interfaces and prototypes for them. Designers and marketers love Figma for being so more straightforward than Photoshop.

And several more people can work together in real-time: for example, a marketer has created a layout, a copywriter fills in the text, and a designer adds margins, brings beauty & improves UX, etc.

Figma integrates with corporate messengers like Slack and other tools to further simplify your work. How it helps: it simplifies the creation of web layouts and work on the layout of letters in a more professional manner.



One of Figma main page views
Grammarly

It is one of the most specific services that will make the text beautiful: it will place dashes, articles, commas; replace quotes and correctly put indirect speech add spaces before and after punctuation marks, etc. There is a section on Plagiarism where you may check your texts all-in-one. It will surely help to refine the texts, show how it will be better to rephrase. Upon request, it will provide plagiarism analysis with the references. Generally, it helps avoid typos and minor grammar mistakes, but it needs to be revised to make the material more human.



Looks familiar, right?
CRMs

Of course, there is no way without a set of tools to help you manage your business. CRM segments the customer base, build a sales funnel, monitors employees' work, collects statistics, sends reminders of calls and meetings, etc.

For example, in Pipedrive, you may manage leads and deals, track calls, emails, and contact history, check work efficiency using automatically generated reports, etc.

The difficulty to use depends on the system. On average, customer relations management systems are no more complicated than Figma, you already know.

CRM of your choice will free up time for other tasks, help you not forget about essential duties, keep your loyal customers close and attract new customers faster.



Pipedrive - a multilanguage CRM
Messengers

Both desktop and mobile applications with which you can keep in touch with your colleagues or clients throughout the working day will be of particular use. The most popular are Telegram, Viber, WhatsApp, and Slack. However, you may use it even more, depending on the geography.

Telegram is convenient and most popular in former CIS areas having 100,500 stickers and good chats, for example, for marketers, designers, copywriters, or layout designers. You may create or join any professional channel.

WhatsApp is the favorite one for partners overseas.

Slack is a popular working chat, there are chatbot commands allowed, integrations, there also are boxes with memes, and it's a number one tool alongside Asana for corporate communications in agile environments.

All of them help you to maintain operational communication with colleagues, partners, and so much more.



WhatsApp starting page
Video conference tools

Applications, where you can communicate with video, are your second in a row. They may allow to share and show a screen, hold meetings or presentations from anywhere in the world. They've gained maximum popularity during the recent global business digitalization trend.
Now that many have remained at a distance, everyone is just as helpful as they used to be. The most famous is Zoom and Skype, Google Hangouts, Microsoft, etc.

They will maintain eye contact and retain colleagues' attention, which will allow telling and showing the material and gather faster whenever needed, even on the go.



Everyone's invited!
Tilda

In the marketing world, website and landing page builders have been sought after. They're suitable for those who do not know how to code and generally are far from programming but still need to create something (website forms, landings, etc.) There are many blocks in Tilda that you can use to make your website beautiful and highly functional. You can create a landing page in an hour and a half!

Tilda is used to save your budget and allow you to quickly create a beautiful one-page for a webinar, online store, or even media.



One of the simplest website constructors
Zapier

Zapier is still in vogue. It is an automation constructor that allows you to synchronize services with each other without any coding. There are more than 2000 applications in the database, which makes it a great integration tool. For example, you can use it to sync your analytics and Tilda, etc.

Your data from several services will now go to one at once - you don't have to check all of them separately.



That's how Zapier page looks like
Kwork

Here you may add services to your cart and order them with just a couple of clicks. Kwork is a freelance services exchange, where you may find a contractor who, according to the terms of your marketing brief, will perform the work you need: write a text or code, typeset a letter, draw a banner, etc.

It may save time for other tasks, while you find a remote contractor.



That's how Kwork starts
Emails Fresh

A site that contains examples of good email newsletters will be at hand as a back-up. It is possible to process emails in HTML.

This platform is created to inspire you to make your own beautiful newsletters. Seek for insights there.



An incredible place for inspiration
Bulk Email Sender

Finally, how can you survive without a professional tool for launching email campaigns to your client database? Atomic Mail Sender will be one of the well-adjusted tools to try both for small and large email campaigns for any business. Here you will find flexible SMTP settings, proxy server support, detailed statistics, spam check, unsubscribe wizard, free templates, and many opportunities to personalize your letters and create high conversion campaigns.



Bulk mail tool review
The bottom line
As you can see, email marketers can make their work a lot easier and even survive without a designer or copywriter, and all due to a wide range of valuable tools at their disposal. And if these specialists are in demand for organizing your email marketing campaigns, you can find them on the freelance platforms from the list, as well. Hope these services are familiar to you and will be helpful in your work. And if you have any difficulties, you run out of ideas for mailings, or just want to entrust email marketing to specialists with a year of expertise, you are welcome with your requests here!
Written by: