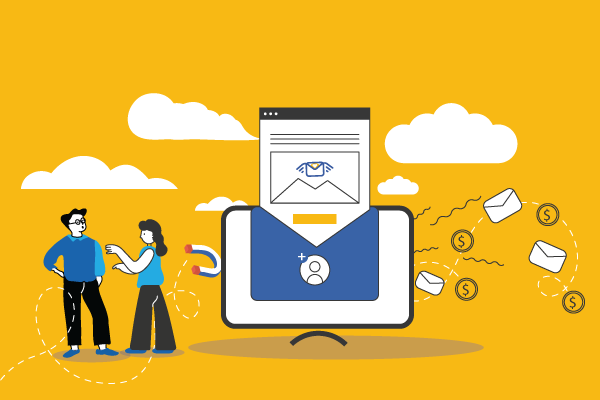 On average, a user may spend up to 5 hours a day checking both personal and professional emails. Having a valuable presence in your customers or potential customers' inboxes helps you building brand awareness and keeps you updated. Collecting and maintaining an email list is an effective form of lead generation and support that may help you influence your users' behavior.
In this article, we'll explain how to convert website visitors into customers by getting an email address from your website subscribers using about seven proven methods. We'll also go over a few guidelines for collecting emails in a bets possible way. Here we go.
7 proven ways to get your website visitors' emails & convert them to customers
There are, of course, multiple ways to engage when customers find your website, such as by clicking on a paid SEO ad or by seeing an interesting post on social media and clicking on a CTA, etc. Once there, the best way to onboard & retain your visitors to increase sales, however, is to collect email addresses, grow your subscriber list & convert visitors to customers.
1. CTA
A call to action (CTA) is primarily used to collect emails. It may be as simple as a button on a landing page that says "Join Our Mailing List". However, calls to action that imply value have a higher likelihood of being clicked.
For example, "Request a free trial" tells the customer that they will receive something in return for what they are going to give away. Users also see thousands of ads every day, so your call to action will perform better if it serves as a motivated value to get attention and subscribe.
2. Lead Magnets
That's another effective way how to convert website visitors to customers. Lead Magnet empowers you to showcase your best content, prove credibility, and become a thoughtful leader in your industry. Lead magnets often take the form of e-books, brand reports, white papers, webinars, podcasts, case studies, videos, or free trials.
3. Creatives like quizzes or games.
Quizzes and games are variations on traditional lead magnets. They benefit the buyer through entertainment (although some quizzes can be serious in nature).
Creating a quiz or a game that converts starts with knowing your target audience. What do they want to know about themselves? Personality tests, quizzes, and arcade games appeal to different demographic groups, so it's important to understand what motivates your ideal buyer.
You may insert an email invitation before, during, or immediately after the final result of the quiz. You may also provide it in a follow-up email, etc. This may be an A / B testing that determines the most effective game placement on your home page.
4. Offers
Incentive offers are just like lead magnets because they may provide a compelling reason to enter your email address. However, unlike lead magnets, incentives do not necessarily have to be a digital product.
Examples include early access to content, a valuable email newsletter, or exclusive sales, early-bird tickets and so on. Users should feel like they receive special treatment by subscribing to your mailing list. Such VIP treatment may satisfy the most painful experience, whether it's an opportunity to save money or receive targeted support that seems to have been specifically designed for their needs.
Eri Vee relies on delivering exclusive offer content "straight" to its target customer's inbox at scheduled intervals. This speaks to their needs for information and consistency, as well as respect for their busy lives.
5. Effective pop-ups
Over 82% of visitors hate them.
But don't be too hasty to jump to conclusions. Effective pop-ups have one thing in common: they alert users of valuable information. The nature of this information will vary depending on your target audience and may include anything from a discount code to a free course or e-book. Despite the fact that email pop-ups are a controversial method for capturing email addresses, it is widely used to turn traffic into sales.
6. Landings
A custom page or landing as you know it well is a type of landing page the sole purpose of which is to collect email addresses. They are designed to deliver this mission with the best UX. Each line of text should gradually convince the reader to subscribe to receive emails & convert website visitors into customers systematically.
That is why each such page should include:
Captivating headline that grabs attention
Compelling reasons to sign up (incentives and lead magnets work well here, etc.)
Attractive design and images
Great UX form
Clear CTA
This condensed page from MeetEdgar, for instance, meets all five criteria accordingly: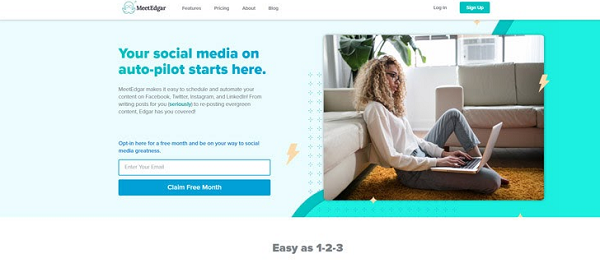 Having a dedicated page to invite readers to sign up demonstrates your email marketing efforts and reassures users that your emails are worthy of receiving.
7. Option to choose from
Once you have clearly defined customer segments, you may provide them the ability to choose which emails they would like to subscribe to. For example, some users may only be interested in offers, promotions or giveaways, while others may want to receive your regular newsletter.
In these terms, the consent form from ASOS perfectly includes a "change my preferences" option that allows the users to choose which updates they receive. Instead of having to choose between subscribing and unsubscribing, users get a chance to flexibly choose the content they prefer. That's all: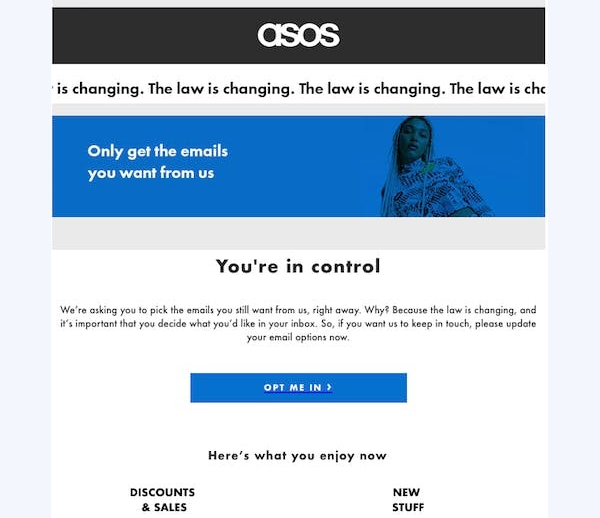 Why turning visitors into customers is so important?
The best practices described above are more likely to be incorporated into any list-building strategy. Failure to follow them may lead to low open and click rates, blacklisted email addresses, and even legal consequences, etc. Turning visitors into customers will be impossible without a clear vision of your onboarding and the following activities. Once again while using mails take care that:
You have a clear signature

A subscription can be as simple as a box that users check to confirm that they want to receive emails from your company. Having a subscription that explicitly asks the user if they want to be added to the mailing list clearly indicates consent. You can go even further and specify the type of content they will receive. For example, "Would you like to receive email sales and promotions?"
You comply with the law

Mind that user consent is the basis of several data privacy laws and regulations, such as the GDPR in Europe. As such, best practices for your email list revolve around confirming consent and building your brand trust.
Converting traffic to sales with email software
Also, do not forget to use the help of automated tools for email processing & effective email bulk sending.
Automate processes

If you manually enter email addresses, there is a risk of entering an incorrect address. Small mistakes, such as forgetting to add numbers to the end of an email, can result in the wrong person being added to your list and so on To avoid this, use systems like mail checker online to ensure that every email is associated with the intended user.
Regularly clean lists.

If a user stops opening your emails, it is best to remove them from your list. Pick the active ones via email finder. This will increase your open rates as the percentage of unopened emails will decrease. High open rates are a positive signal for email service providers, and they are more likely to send your emails directly to their inboxes rather than placing them in the promotion or spam folders.
Conclusion
Collecting email addresses from your website visitors may turn out to be equal to converting traffic to sales. All you need is to increase website traffic and expand your loyal customer base with the top seven effective onboarding email activities. There are many ways to choose, indeed.
If you have an extensive email list, it is important to reach leads and customers with strategic email marketing initiatives. Start with a welcome email template to attract new customers, and then make sure you're consistently engaging leads with strategic email marketing campaigns over your landing forms with great CTAs, etc. If you haven't invested in email automation yet, the easiest way to create, send and automate email is to use Atomic Software. Good luck!
Written by: