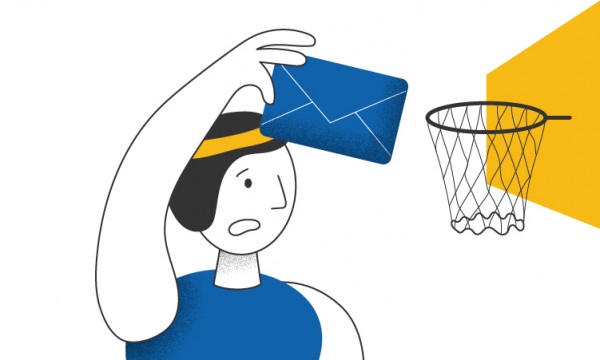 The answer is: There are three primary ways to do this. The first is to buy a good SMTP server. This will ensure that your emails are sent through a reputable server that is less likely to get blacklisted. The second way is to do a domain warm-up. This involves sending a few emails initially and gradually increasing the volume over time. This gives the receiving servers time to adjust to the increased volume of emails. Finally, consider sending from a domain rather than from a Gmail account. This will show recipients that you're a legitimate sender and increases the chances that your emails will be delivered successfully.
Spam filters toughen the requirements for filtering SPAM. And this is the main reason why it is more and more difficult for email marketers to avoid their campaigns being blacklisted. That is why you can see the low open rates in your email campaign statistics – some email newsletters were flagged by spam filters.
According to the Dataprot statistics, only 85% of all marketing emails sent worldwide bypass the spam filters. So, 15% of them never reach the Inbox folder.
It's a rather great percent, isn't it? Yeah, the spam filters are not absolutely accurate and even valid emails can go to spam. Here we are going to tell you some tips on how to send bulk emails without spamming.
For convenient management of emails use email studio. We also have a great mailing list software for managing email lists. Using the email finder tool, you can collect email addresses for sending letters.
Reasons why your emails going to spam and how to send bulk email without getting blacklisted
You haven't got a permission to send mass emails to your clients

Advice: For avoiding spam filters while bulk email sending pay much attention to subscriber engagement. Your email marketing should be a permission-based marketing. Place the opt-in form to your website to get the clients consent before sending them any email.

Your mailing list contains bad email addresses

Advice: Verify the mailing list regularly to detect and delete nonexistent and invalid emails with the help of Email Verification Services. Otherwise, here is the risk for your domain or IP address to be penalized by your email service provider.

You have low open rate and you are not the sender to trust

Advice: Never send spammy email newsletters. Ask subscribers to add your address to their contact lists. Almost every ESP has a list of approved senders. When your email messages are read, when people show that they trust you as a sender you have a chance to go into the inbox.

The one more reason for the low open rate may be the rare and irregular sending campaigns. If so, subscribers can just forget you, your company, the reason they've subscribed and mark email as spam. Work out a marketing strategy and keep up the sending plan.

Your IP address is blacklisted because it was used for spamming (even if it wasn't you who sent spam)

Advice: Choose a reputable email service provider for sending out bulk emails. Because spam filters usually monitor and control IP addresses their clients use. So, mass mailing provider should be trustworthy. If a bulk email service is credible Gmail and other email providers won't ever consider your emails to be spam.

There isn't an unsubscribe link in your email message

Advice: Create and place a noticeable unsubscribe link. And immediately stop bulk mailings to the persons who don't want to receive your messages.

Add unsubscribe link into your newsletters with the Atomic Mail Sender in two clicks

Make a clear way to unsubscribe in one or two clicks. Do not be afraid of losing readers – it's better for your sender reputation if they opt out of the email campaign than mark it as spam.

Are you interested in the reasons they unsubscribe? Create a special unsubscribe page.

Source: J.Crew

Such kind of page includes a form the client fill in with the explanation of why he decided to leave and unsubscribe. Moreover, the unsubscribe link absence at once indicates the email as a spammy one. Adding it helps a sender to improve the campaigns and decrease the number of unsubscribers.

You're using untrustworthy links

Advice: Never use a generic short URL (like short.ly/24u93jf) in your mass mailing, as they're renowned for being associated with spam. Email clients will often filter out and block any emails containing these types of links because they could be masking malicious content, and the chances of the domains being blacklisted are very high. Instead, you should consider using a branded URL shortener that enables you to create links with a custom domain that you own (like YourBrand.is/Better), meaning your links aren't at risk of being blocked and your newsletter deliverability rate will skyrocket.

Your email is all one big image

Advice: Create an HTML template that includes both types of contents – text and images. Do not use large background images. Spam filters easily detect image-based newsletters and 'kill them with no regret'.

Email message template contains bad HTML code

Advice: Use professional ready-made templates or a special HTML coder. Some email service providers have a WYSIWYG editor that helps users to make an email template themselves.

Email content contains spam words

Advice: Avoid ALL CAPSLOCK and too many colored fonts; do not use spam-like text. You can analyze your own spam folder, find out the mistakes and avoid them in your campaigns. There is software that allows checking email messages for spam before sending. Such a check is made with the help of Spam Assassin tool that will help you launch email marketing campaigns without spam words and other risky elements.

Run the test and check whether your email will pass the spam filter

Moreover, you can see the list of mistakes you've made while preparing the email campaign, and the advice on how to improve email messages.

You do not test emails before sending

Advice: Send spam email test! We recommend you to create accounts on different email services like Gmail, Hotmail, Yahoo, etc., and send the email message to them first. Check if the message goes to the inbox folder, check if images display correctly in different browsers and on mobile phones.

Prepare a web-version of your email if necessary.

You send boring newsletters

Advice: Take care of your subscribers. Offer them only valuable and relevant content. Try yourself with re-engaging the inactive readers. Make a marketing plan, mind the holidays and events, personal birthdays (if you collect such information). Be interesting for people.
For example, read these Halloween email ideas: Grab your treats with the spooky newsletter!
To make your work on email campaigns even more effective, we have developed software for files email extractor on your computer. Then, using an automatic email bulk sender, you can make mass mailings. When all emails are sent, track them conveniently with the email tracker software.
Conclusion: how to send massive emails without getting blacklisted
Unfortunately, there is no guarantee that your email will never go into the spam folder after you follow all these steps. Anti-spam battle never ends… Spam filters criteria changes from day to day… ISPs as well as ESPs apply a lot of efforts to stop spam messages… There are even issues you, as a sender, cannot influence to… Just develop your own email marketing tactics…
Send emails you'd love to get and protect your good sender reputation;

Keep clean mailing lists and delete bounces;

Avoid spam trigger words and pay attention to technical issues.
FAQ
What is mass mailing meaning?

This is sending promotional or content email newsletters to thousands of recipients.
How many emails can you send before considered spam?

If a person doesn't read your newsletters, spam filters will suspect that this is spam if there are more than three unopened emails.
How to send thousands of emails without getting blacklisted?

Stick to the following rules:
- Get new addresses for mailings with the help of an opt-in form on your website.
- Verify emails before launching campaigns.
- Delete bounce addresses.
- Create the text for email without spam words.
- Insert an opt-out link and don't send the newsletters to those who don't want to receive them.
How to send bulk email without spamming?

For your newsletters not to look like spam, create it taking into account these tips on how to send bulk emails without spamming:
- Avoid spam words.
- Keep the balance between images and text.
- Use only hyperlinks, not just links not connected to text.
- Keep the address list clean and relevant.
How to send mass emails without showing addresses?

You can use proxy servers and send emails from a fake sender's address. But we don't recommend using such a strategy. It is always used for bulk spamming. So, such mass email campaigns are often blacklisted for spam.
In our list of software there are also web scraper for lead generation for collecting phone numbers, whois email address to find information about the owner of the email and an email email verification tool for checking the email address, to do it online use online email checker.
Exclude the possibility for an email provider to think you send spam and enjoy your inbox campaigns with Atomic Mail Sender! Download the program and test it for free for 7 days!
Written by: