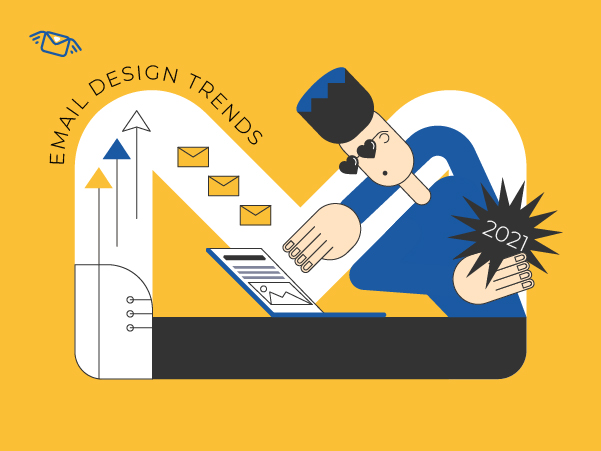 It's December, and email marketers' clocks are ticking for Christmas holidays and outlining the strategy to harness 2023 email design trends. If you are an email developer or a branding person, it is a great idea to give your email design strategy a fresh makeover. I have also included a few facts and figures to make your efforts research-backed and result-driven. Wait no more and see what trends await your CRO game in 2023:
Tucking Typography Into The Hero Images
2023 will be a high voltage competition between brands as they plan to increase the mailing frequency, and one way to make the most out of your email design efforts is to make it accessible. A majority of people are visual learners. Others find a combination of text and visuals as the best way to understand a concept. Tucking typography into your hero images will help you to catch the attention of all types of learners. This trend has been gaining traction lately as you can find some of the big brands adopting it as 2023 comes to an end, finally. Have a quick look at this example:
(Credits)
People Want Dark Knight And Dark Mode
Many people actually liked the trailer of the upcoming addition to The Dark Knight franchise, and this skates equally true for the Dark Mode. Dark mode friendly email templates are a great way of improving your deliverability rate as most platforms like Facebook, WhatsApp, Slack, and Twitter have rolled out Dark themes. Combining this with the dark UI support by email clients, you can give a consistent user experience to your subscribers. The improved user experience will reflect on your open rates, CTR, and cost per campaign as people keep up with their habits of reading emails late at night and early in the morning. Less strain on the eyes is more conversion opportunities.
(Credits)
Textured Illustrations, Neumorphism, Collages, and Gradients: Back To The Future
2D images are long hailed as the core component of HTML email templates, but here is what you can do new: Add textures, contrast, shades, filters, and pretty much anything that helps you add a depth to the image. Neumorphism sounds futuristic, right? It is the use of shadows and texture differences that help differentiate different items within a content block. It's a retro analogue inspired design language, and gradients are too, re-entering the trends in 2023. Another thing that caught my attention is Phantasmagoric collages. This term refers to collaging various images in a single image file to give a cinematic experience. We can say that a bar is only going up when it comes to design language.
Monochrome, Animations, 3D Images, Empathy: Making Conversion A Natural Outcome
Monochrome is yet another blast from the past, but this new avatar is about decluttering. It helps the user focus on the content more easily and gives a beautiful UI to your emails. GIFs and APNGs are making the email designs more conversational and engaging as they illustrate ideas through animation. The same goes with 3D images, but you should use all of them to extend empathy instead of persuasion. I have found that empathetic messages are doing a great job of connecting with the subscribers and building a user-centric brand image. You can use empathy in your copy as well to stand out from the crowd in the inbox. (After all, 120 emails apart from yours get delivered to a person's inbox every day on average.)
(Credits)
Wrapping Up: This Email Design Trends Infographic Is The Secret Sauce To 2023's Successes
2023 will be about volume reinforced with quality. If you are looking forward to improving your email design game, just head to this insightful infographic by our friends at Email Uplers and show some love: 11 Email Design Trends that will reign supreme in 2023.
Download Atomic Mail Sender to follow the trends & improve your email marketing campaigns in 2023!
Written by: