Brands email newsletters you have to subscribe to for an inspiration
I'm done with these boring email campaigns! I need something new and bright just right now. I want to surprise my subscribers, but my creativity is sleeping and idea bank is almost empty.
Sounds familiar?
Where to find an inspiration, fresh and creative ideas for the newsletter? Where to see the implementation of new email techniques and trends?
We found the new sources of world email creativity for you - best brands newsletters for your mailbox collection.
In this article, we've created a list of the brands with the brightest email campaigns to subscribe. Enjoy and make your choice!
Where to find an inspiration for an Email Marketer?
There are 3 ways to get the new email ideas. You may:
Subscribe to the top brands' newsletters to read their email masterpieces in your mailbox.
Watch the updates of the website-galleries collects the best email newsletter examples.
Time-to-time read the articles, like this one?.
But, as for me, the best way of getting a regular dose of inspiration is to subscribe on brands famous with their bright email campaigns.
What to look for?
Design
Conversion style (text elements, CTAs, etc.)
Technical moments of managing e-commerce process via the email promotion.
But enough theory, It's time to see the examples.
First-hand inspiration: Top 7 brands with the outstanding email campaigns
Domino's Pizza newsletters
Some of their emails are really cool. These guys make tasty emails campaigns. In their newsletters, you can see the practical use of some top email marketing trends.
Be careful about reading their emails without having a nice dinner before:)   
Here is an example of their interactive email:
Flutter - animation agency
The Jacky Winter Group of talented animation specialists. They practice customer engagement elements that may be interesting for an email marketer.
InVision
Who can be the best in email newsletters design?
Of course, people who're in love with a design creation. For example, talents working at  InVision - the company, specializing in developing graphic design tools.
Almost each of their emails is a piece of a masterpiece (but there are exceptions?).


Lenny - online magazine
It's a blog specializing in storytelling.
Lenny loves email long-reads. Believe me, you will be surprised by the size of some of their stories.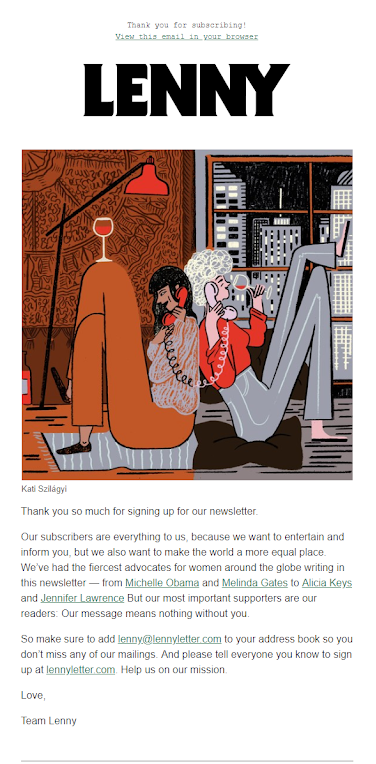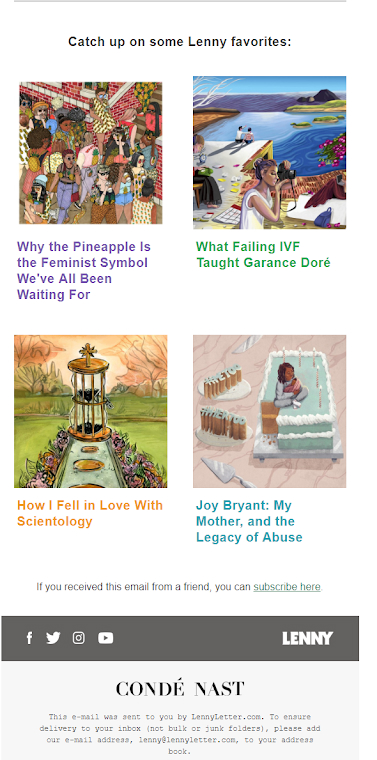 Herschel Supply Co
An example of minimalistic design in e-commerce. This is an online store with a quite unusual view on the style of email promotion.
I think their emails are worth your attention:

PrettyLittleThing - clothing and cosmetics brand
It's an online store of women beauty & style. An example of keeping the unique corporate style in designing email campaigns. They are good at creating interactive newsletters, typography, using web-fonts and gifs.




J.Crew
One more example from the fashion world. J. Crew - famous among marketers masters of intrigue. From time to time this fashion brand can surprise you with unusual ideas of email letter design.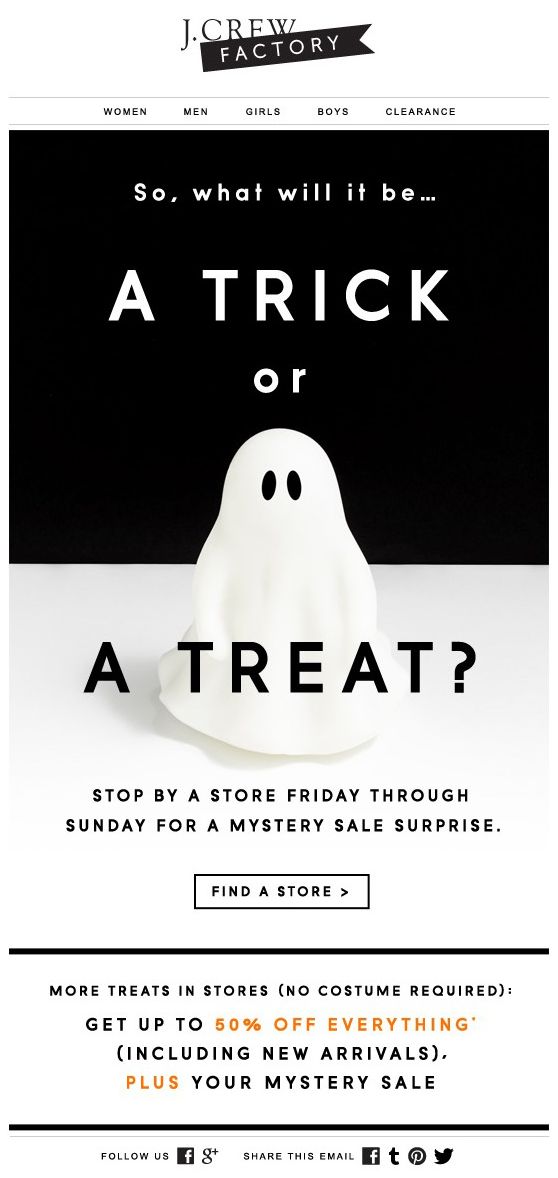 Want more? Watch the Litmus list of top brands they offer to subscribe: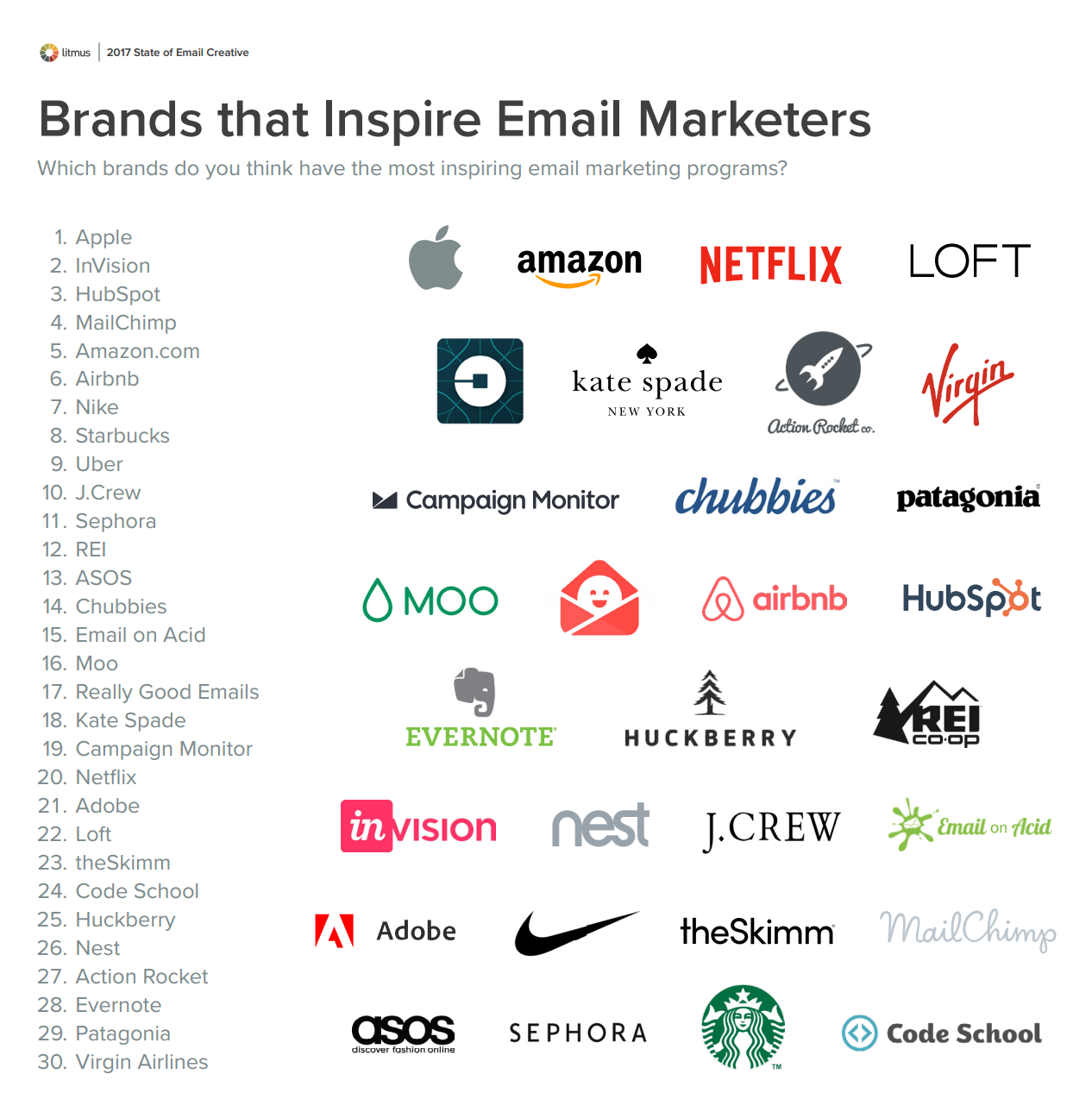 Websites for an Email Marketing Specialist inspiration
Of course Pinterest. It's the first place, after my personal mailbox, where I go to refresh the reserve of email campaign ideas.

I think you know how to use it. Just type the keywords and enjoy the result. Here is the list of some keywords for the newbies: E-Commerce Welcome Email Inspiration, E-Commerce Win-Back Emails, Sale Emails, Abandoned Cart Emails, smart emails.
Really Good Emails - is a website with thousands of email templates marked by categories. You can look through the list and open the one you like, edit and copy its code, or save it for your collection.

There is also an email subscription in case you would lack time for visiting this resource.
For the lazy marketers, I found a special website that sends a newsletter with the examples of the best brands email marketing campaigns.
To get such an email you have only to subscribe on THE BEST OF EMAILS: 
The bright collection of free email templates is a must have for an email marketer any level of experience. If you don't have the one, it's time to start working on its creation!
---
Hope this article was useful for you. Want more? Rate this post or write in comments what kind of newsletters selection you'd like to read next!
Written by: