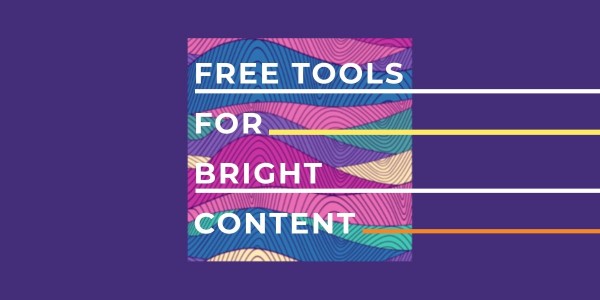 Content is a titled king of digital marketing. This is the major element of the marketing campaign which affects how many people will be interested in your publications. Moreover, marketers claim that in 2018 about 80% of the content will be visualized. Even today, the use of "naked" text and stock images is considered to be a "mauvais ton". Therefore, it is very important to insert not only high-quality but also original graphics in newsletters. But how to create it?
Not everyone has a web-design wizard who will quickly realize any of your ideas. That's why for many entrepreneurs, the stage of visualization becomes a big problem.
To prevent such situations, we have decided to share our personal experience with you. Atompark Software prepared a list of best free tools that will help to create bright content for your email marketing campaigns.
The power of templates: how to create a perfect image
One of the most beloved tools among content marketers is the legendary Canva.

I think, there is even no need to say anything else. The brand name speaks for itself — a lot of features, free templates, and beautiful fonts.
Crello - a young, but no less promising alternative of the previous online-service.

It is a perfect online tool for creating colorful graphics of different formats using thousands of free templates.31 picture formats, many customizable settings and the ability to save images even with a basic free account.For example, creation of this animation took me less than 5 minutes.
Pablo
If you need to create an illustration quickly, without registration and any difficulties dilute the text with certain illustrations — this tool is for you. The interface of the online service is the most simple one: enter the keyword you are interested in in the search bar, get a list of pictures, choose your favorite ones, apply one of the ten filters, and put your text or logo.
Read more info about How to Use Images in Email Marketing.
Animation Gif: wanna be trendy — move
Animation — stands a good chance to become an obligatory element of interactive newsletters.
If you are not a professional web designer, it will be the easiest way to create a GIF from an already existing video, a set of pictures, or use animation templates.
The following tools can easily help you with this task:
Giphy
The great mission:

Online service is designed to help people create cool gifs.

Main features:

Here you can create animations from your own images or use already existing materials. Using the search bar, you can specify a keyword and select a GIF from a huge list of results.

If you need to make an animation with a short video, just specify URL of the video or upload it from the computer, and process the file following the program instructions.

Peculiar properties: The tool is suitable for making comic gifs and very short, not detailed product illustrations, as the size of the final GIF is only

— 

480 x 314 px.

Gifcam

The great mission:

This application allows you to create and edit various GIF files directly from your desktop. The best solution for creating step-by-step instructions.

Main features:

GifCam will help you record the screen and take screenshots with a text description. It is the best way to show a certain function of a service or program. The animation is saved in .gif and .avi format and will not overload your email.

Makeagif
The great mission:

A totally free tool for creating animated images.

Main features:

The tool allows you to make a basic GIF from:

YouTube videos
Facebook videos
Video from your PC
Set of pictures.

You can adjust the speed and size of the illustrations. The final materials are free to download without any watermarks.
The big problem: How to insert a gif in the body of an email message
Our email marketer Sofia knows how hard it is sometimes to find the right size animation for emailing. Not to waste your time on this, we would like to share tools we use for compression, cropping and for the other manipulation of themes.
Stock photos: where to find background
If you are not satisfied with the images offered in the templates of the services above, the only place to find smth unique will be at photo-stocks. We offer you a list of free resources that we use ourselves from time to time.
Pexels

Pexels - is thousands of free and quality illustrations to download. I would not say that all the pictures there are unique, but I often come across some quite interesting photos that I often used for our blog.
Features: 

This resource attracts me by the fact that it offers the visitor not only the search for pictures by a particular keyword.  Pexels also shows the rating of photographers and their works, among which you can also find something special to illustrate your offer in the email newsletter.

Unsplash



The service is clear even for a novice. The tool's interface is based on the already familiar to you keyword image search. Personally, I love Unsplash for the variety of choice it gives to the user. Results of the search are not limited by a specific keyword. For example, on the top bar menu, you will see a list of related categories.

Newsletter subscription for the collections of unique photos.

Death to stock

is a free online service that sends its subscribers a monthly collection of unique high-quality photos.




On the site "cemetery", you can find a selection of already sent pictures, all of which are available for download.
Preparing videos for email newsletters
The video is an essential element of Internet marketing in 2018. This is a perfect way for briefly presenting the essence of your proposal, without long boring sheets of text in the body of the email.
Do you believe that even a novice can create a colorful video without the help of a web designer?  Yes, it is possible, everything that you need is a good tool.
One of the simplest and most affordable basic tools to work with video is Animaker. The free version allows you to create an unlimited number of videos spanning up to 2 minutes. Suitable for descriptions of individual program features,  events, products, etc.


Need to crop or reduce the length of the video? With

Clipchamp

, this task will not be difficult for you.

Another way - is to record a video screen. For this, you can use the simplest  Google Chrome extension or specialized programs.

Want to create a bright video, but don't know how to design? Create epic videos using ready-made and highly customizable templates for use in your content marketing with Biteable - time-saving video maker. It's perfect for slideshows, ads, explainers, etc.

Guiding easy to use service interface, choose the template from the gallery (or create from the sketch), add your text, logo, brand colors, and share ready video on social.
The free plan offers to create 5 high quality videos per month. Want more? Choose premium.
---
We hope that our selection will help vary your email marketing with new colors. Know more effective tools for creating visual content? Write your examples in the comments and we will gladly complete this list with it.
Written by: