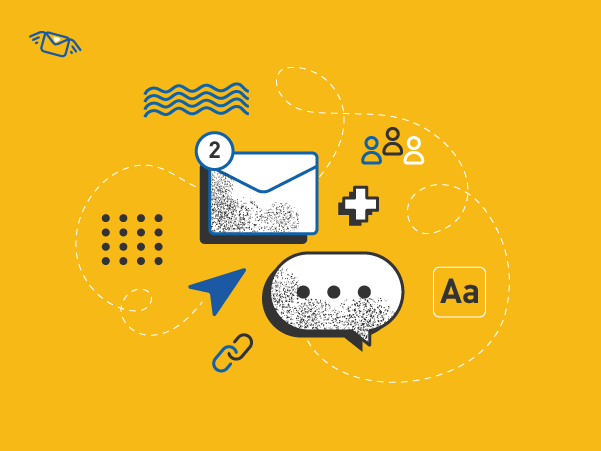 All the world is gripped by crisis because of COVID-19. And it's very important to do your best to save the loyalty of the old clients and attract the new ones in these difficult times. So, make the most from the marketing by using email and SMS together. Read this article to find out how to combine several channels for boosting sales.
What is omnichannel marketing?
This is the strategy of using 2 or more marketing channels together. Let's look at the pluses of it.
The advantages of omnichannel marketing
Such a strategy has several pluses in comparison with one-channel marketing. Here they are:
More chances to attract attention of the clients. It is especially important if the sphere is highly competitive.

More chances to reach the target audience. There are different situations, and sometimes it's hard to reach all the representatives of the target audience with the help of one marketing channel. For instance, some people prefer email, but others check the mailbox very seldom because SMS is faster to read. Some people, vice versa, prefer emails because they contain more details and visuals, but ignore promo SMS because they are short and without images. And if you use all these channels you will definitely reach all the representatives of the target audience.

The ability to combine the advantages of different channels. Such a strategy will give you a possibility to enjoy the strengths of various ways of communication. SMS quick and has an enormous open rate, but is short and without visuals. Viber is fast and accepts images, but is also short. An email allows you to put much more text and visuals for describing all the details, but is read by the receivers not so quickly. Combine the channels for reaping the benefit from various advantages of all of them.
Have you become interested in omnichannel marketing? So, read further and find out how to prepare for your first campaign with a combination of channels.
How to prepare for an omnichannel campaign?
1. Learn more about your audience
Make research on their pains, needs, and preferences. Analyze their behavior to choose the combination of marketing channels. For launching a campaign, you need to have clients' phone numbers, emails, and names.
2. Select the channels for an omnichannel campaign
Typical combination is Email + SMS. It gives a possibility to enjoy the advantages of both marketing channels. SMS is very fast, email contains many details and images. Sometimes, WhatsApp is added to email and SMS. Sending notifications to this messenger is quick and many people use it.
3. Collect contact data
Create a lead magnet on your website or use extracting software to gather emails, phone numbers, and names for personalization.
4. Develop a strategy
It's not enough just to send promos via all the channels. It's important to know when to do this and what is the right sequence of the different channels for getting the best results.
The most common examples of the strategy are:
A company sends an SMS to grab the audience's attention quickly. Then sends an email with more details. And after this, reaches the hot leads via WhatsApp by sending them reminders.

A brand sends an email with the detailed description of the offer. Then they send WhatsApp messages to the people who haven't reacted on email. And then send reminders or ask for feedback via SMS.

Email, WhatsApp, and SMS are sent not to the same people, but to different segments of the target audience. For example, a company creates a lead magnet where a person can enter either phone number or email and specify whether he/she uses WhatsApp or not. The people who have given their phone numbers and noted that they use Viber receive the information in this messenger. Those who've entered the mobile number but don't use WhatsApp receive SMS. And those who have entered email receive the newsletters to their mailbox.
Choose one of these strategies that is the most appropriate for you and let's pass to the examples.
How to launch an omnichannel campaign
Let's overview it on the example of a beauty salon:
A beauty salon sends an email. This is the first interaction with the audience. It contains many images and details to attract attention:

Then reaches out to the clients who haven't reacted on email via WhatsApp. Some people don't check their inbox, so the company hopes that they will see the information if they receive a WhatsApp message:

And then they send reminders to those who have already booked an appointment. It helps the clients not to forget about the procedures:
Here is how Email + WhatsApp+ SMS can be combined successfully in the beauty sphere.
Now let's look at the example of combining email + SMS by a restaurant:
First, they send an email with visuals to all the potential clients:

And then reach the receivers who haven't reacted on email with an SMS that contains the same offer:
And one more example of omnichannel marketing by medical industry:
Take into account our tips, get inspired by the successful examples, and start acting!
Atomic Mail Sender will help you to set up emailing, and Atomic SMS Sender — to reach the target audience via mobile messages. Download an emailing program to use it for free for 7 days, and register in the SMS service to get 10 test free messages.
Written by:
Boost your business
with AtomPark
Try our software and evaluate it in action