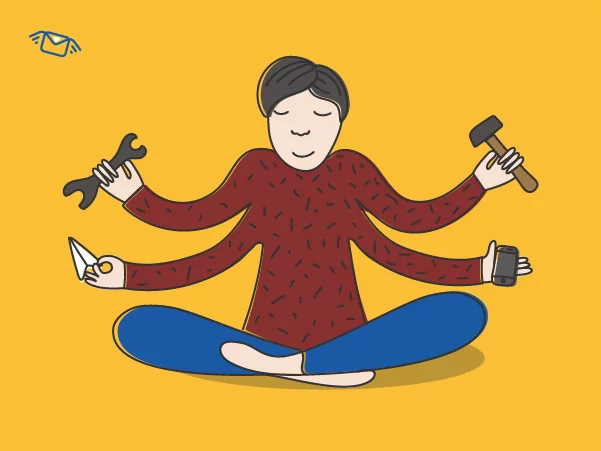 If you want the most effective way to build relationships with your customers, sell your products and services, and share your message, excel in email marketing. In fact,
a study by the Content Marketing Institute
found that
93% of B2B marketers use email to distribute content
. Undoubtedly, this communication tool is a big deal, and if you're someone responsible for customer engagement, you need email marketing software to help you in managing campaigns, connects, and lists. Also, you will definitely need a special tool to
manage your files online
. Email marketing is not about sending
promo emails
to random individuals, hoping they'd turn out profitable conversations in an instant. It involves a humanized approach in communicating with people through targeted content. Having said that, the use of Outlook and Excel spreadsheets to send emails and manage your lists no longer works. You need an advanced tool that is far more efficient in the modern era. You need
software for email marketing
. Now, what is email marketing software? In a nutshell, it's a tool that can automate processes, and allow you to deliver your message to the right people at the right time. However, as more and more email service providers (ESP) are emerging and promising to 'do it all…better,' sifting through the available options can be quite overwhelming. Below are a few tips on how to choose the best email marketing software for your business:
1. Identify your goals
What exactly are you striving to achieve with your email marketing campaign? Are you looking to…
Promote launches, deals, or sales?
Build a loyal brand following?
Retain customers?
Educate your audience?
Boost brand recognition and awareness?
Convert leads?
Acquire more customers?
When choosing email marketing software, make sure it can help you achieve your objectives and measure relevant metrics. For instance, you should focus on finding a tool that can monitor
the number of click-throughs converted to sales
if you are looking to convert leads into customers. In case your marketing goals have changed, evaluate if there may be a need to change software too. After all, you need a system that will meet your current and projected future objectives.
2. Determine the number of people you want to reach
Various email marketing platforms are designed for different sizes and bandwidths. This makes it essential for you to consider the type of audience you have, the number of emails you are looking to send out, and the actual range a particular tool offers. These factors are also crucial in determining the pricing as your ESP may charge you based on how many emails were delivered. Other ESPs offer unlimited emails, which could be your best option if you want to boost your email marketing campaign.
3. Opt for software that enables segmentation
Make sure your ESP allows customer segmentation based on previous purchase, geographical area, gender, age, interests, and more. This method will enable you to engage with your customers on a personal level. It's an effective means to improve customer interaction and conversion.
4. Pick an ESP that has a reliable reputation
Never take your chances when it comes to email marketing, as it is a vital business element. Create an email platforms list and research to find out what clients have to say about each of them. You may take them all in, but remember to exercise caution and don't forget other essential considerations. For instance, a vendor may have good reviews, but some customers complaining about its limited email option should not be missed. This is of course not a concern to you if unlimited emails aren't that important to your business. You may also need to inquire about open and deliverability rates. Some email marketing services boast about higher open rates, meaning recipients will be more likely to open your emails. This has something to do with how the system formats your emails and helps you create interesting headlines. Reliable vendors also come with high deliverability rates, which means that most of their emails make it to the
inbox folders
of customers and not end up in spam folders or totally disappear into cyberspace Check out FinancesOnline's
compilation of the best website builder platforms
.
5. Make sure its customer service support aligns with your marketing efforts
Customer service is an essential business aspect, and so with your email marketing software. You need a platform that provides you with technical support whenever you need it. There are ESPs that require you to get a ticket through email while some offer 24/7 support via
live chat
or phone. Remember that just because an ESP offers more support, it does not automatically mean that it is better. You need to find the right mix of customer support that will work well with your tech and marketing team and your business as a whole. For instance, you may need to let go of weekend support if you opt for an online chat over the phone.
6. Inspect the auto-response function
When customers email you, make sure you respond as fast as you can. You also need to answer their queries and issues systematically without having to exhaust your resources in manually responding to those emails. The best email marketing software enables you to customize responses to various types of requests so that you can respond to their inquiries automatically and comprehensively. The efficiency of the autoresponder will reflect well with your brand. It also saves you time and resources in replying to emails while you maintain a high level of audience interaction and customer service.
7. Check the software's templates
Among the many advantages of email marketing software is the capability to create responsive email messages quickly and exquisitely. Hence, to make it easier for you to find and customize your emails, you need to look for one with a large variety of pre-designed templates. For instance, you may
create an email newsletter
template that will go out weekly or have another one to promote exclusive deals. You may also design a welcome email sequence template to attract long-term customers. Note:
Make sure the templates come with a responsive design, one that is accessible and mobile-friendly.
8. Stay on budget
Various email marketing softwares have varying costs. We don't suggest you skimp here, but we don't want you to break the bank as well. Strike a balance between price and value. Make sure to factor all essential costs like additional fees, cost per email, and monthly expenses. Keep in mind though that cost does not always equate value. Many of the best email marketing software available are inexpensive as the premium services that attract a large client base enable them to minimize cost. In fact, there are even free email marketing software tools available.
Why it's important to choose the right software
Investing in email marketing software requires careful evaluation of its advantages and disadvantages. You have to keep in mind the kind of experience you want to provide your customers and the personalization you believe they want to use especially in this modern era. Knowing your specific needs is crucial when choosing what email marketing software is best for your business. A study by DMA Insights found that
99% of consumers check their email every day
. It's a vast market potential you don't want to miss. An email marketing tool in place will help you save valuable time in creating winning email marketing sequences. If you take the tips mentioned above by heart, you're all set to make the best decision in your software purchase. Choosing the right email marketing software is the first step to successful implementation and
growth marketing
. You may check out
what AtomPark Software can offer you
.
Written by: