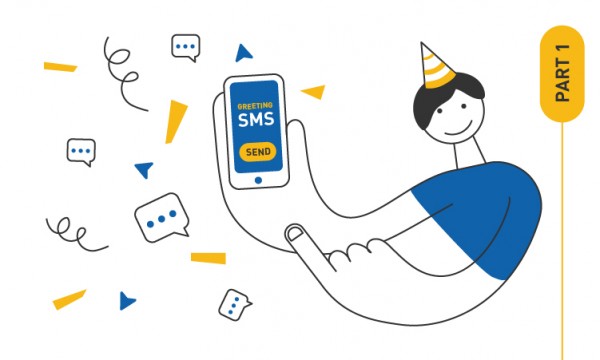 The holidays are approaching and this is a good reason
to increase sales
and customer loyalty. SMS is an excellent solution because this tool does not require a lot of costs and has a great response. So we decided to create a series of articles that will help you create an SMS campaign before the holidays. As we know, a new wave of holidays is coming, such as Veterans Day (November 11), Thanksgiving Day (November 26), Black Friday (November 27), Christmas (December 25), New Year's Eve (December 31), etc.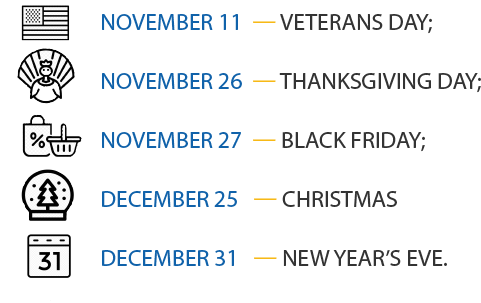 All of these are great reasons to remind the audience about yourself and motivate them to buy. This article should be read by both aspiring marketers to learn how to do this, and experienced ones to refresh their knowledge.
Importance of sending holiday SMS
Bulk texting is more suitable for holiday campaigns because it has some features that are affordable for this period:
It is easy to prepare and cheaper rather than other forms of advertisement. Ordinary texting SMS in sender services cost a few cents. On the contrary, targeted advertising in social networks "eats up" a lot of the budget, since the money for it is withdrawn for each click. In addition, in order not to "drain" the budget to no avail, you need to delve into and study for a long time. And if there is no time for this, then you have to hire a specialist who will correctly set up advertising and take a large sum for it.
You determine the holiday and appropriate congratulations to the right person, then you find out the ways to send a lot of messages to your clients. It does not take a lot of time. When you run an advertising campaign with the help of a mass texting service, you have to click just a few times for uploading a database, choosing the configuration, and schedule the time of the sending.
A high open rate: a person will immediately read the SMS, just because in our modern world a person has a smartphone nearby to themselves every time. The type of information in the form of texting messages stays on mobile devices, that's why the open rate is higher than 90%.
Customer focus is higher above all for every business. When a customer not only gets a great deal but also realizes that they are being taken care of, it makes them come back again and again. Ordinary congratulations on Christmas, Thanksgiving, and so on with a nice bonus in the form of a discount or an additional product will bring the company good capital. Do you have a lot of consumers, clients, or any other customers who need congratulations, but you just don't have time to do it yourself? Let us help you! Advertising that a person receives on his own mobile phone is perceived by the user differently from advertising from other sources because a mobile phone is a very personal thing. Nowadays, people store a lot of personal information on their mobile phones, so any introduction into their personal space should be accurate and professional. Let's revise the rules on how to create good texting SMS for Bulk message sending!
Creation of SMS for holiday: step-by-step
The texting SMS must be brief. One SMS in Latin can hold up to 160 characters. If you want to send a long message in 2 parts or more, then 1 part of the SMS in Latin can contain up to 153 characters. Do not forget that spaces are counted along with other characters!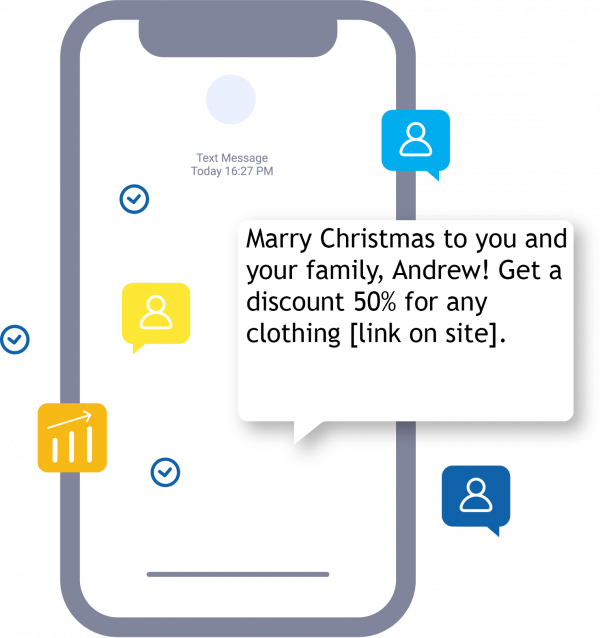 This example has 99 characters, including the spaces.
Personalize the texting SMS. Personal holidays are dear to us because they care about us. And people are also pleased to know that someone remembers their memorable dates. When a company remembers its customers' holidays, it increases loyalty.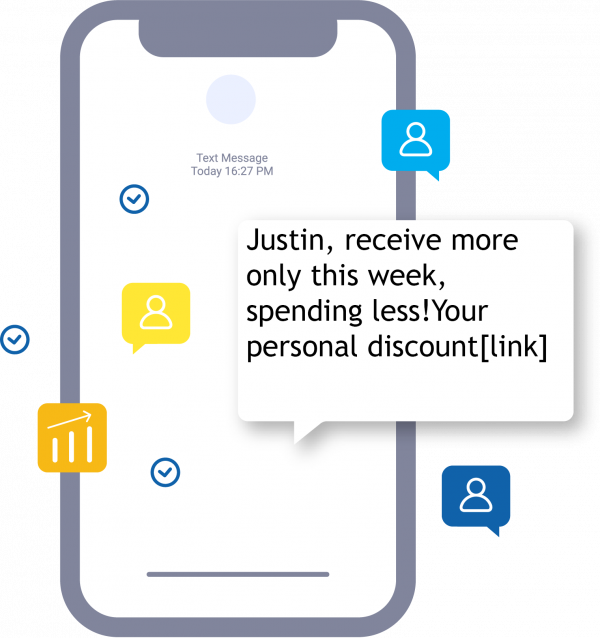 In this example, you use personalization twice: the name of the client and the personal suggestion.
SMS texting has to consist of some gifts. It is natural to expect gifts on a holiday, and people are already used to receiving certificates, discounts, and bonuses from companies these days. Therefore, such letters are more readily opened.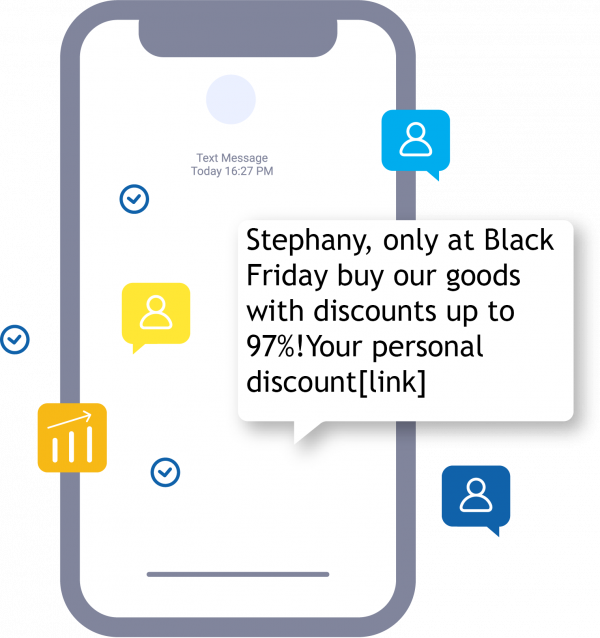 Here you see a great gift in the form of payment for goods up to 97%.
It has to consist of contact information. When you write the texting SMS with a coupon or with some discount just add a link on your website, phone number, etc. The customer has the possibility to connect with you.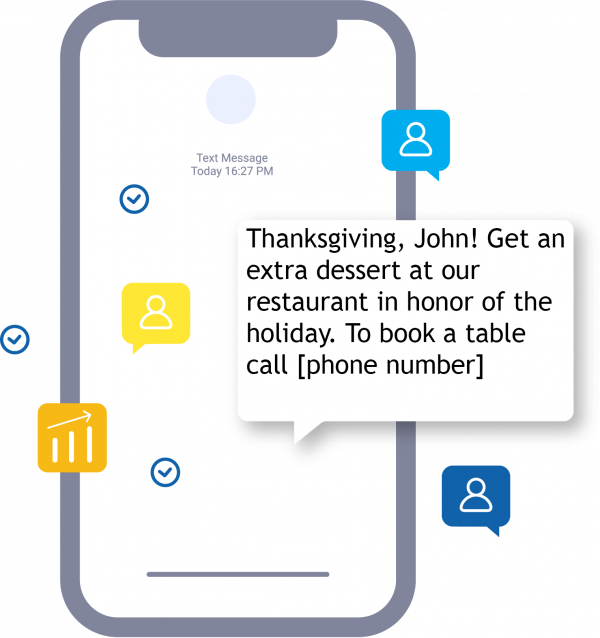 Add some links on your website or use a phone number to keep in touch with the customer.
How to create a holiday SMS?
Business productivity largely depends on the level of interaction between the client and the organization. If you take this business seriously, showing concern for partners and employees will largely determine the success of your business. And the pleasant part of this process is congratulations, it is better to provide with the help of
bulk SMS sending
.
Create the mood of the right people at the right time with the help of bulk SMS. People like holidays, as they dilute everyday life and give joy. That is why we celebrate name days, Christmas, New Year, and various anniversaries. First, you have to understand the correspondence between congratulations and the holiday.
Messages should be short, clean, and meaningful. On a consumer's birthday, you shouldn't talk about other holidays and vice versa.
Of course, manually entering data and sending SMS from the phone by yourself is a rather painstaking and time-consuming task. In this case, you can use convenient services for sending SMS by specifying the necessary contacts or loading the contact database in your personal account, set up personalized customer data, and specify the time frame for sending a particular message with congratulations.
Choosing a Bulk SMS service
A good tool should combine the following qualities:
Favorable pricing policy. We have brought this point to the first place since now there is a crisis associated with the coronavirus epidemic. It is unprofitable for any business to run expensive advertising campaigns. SMS sending shouldn't hit your budget hard.
Intuitive interface. If, in order to start SMS sending, you need to rummage through the settings for three hours and look for the necessary functions in the depths of the site, immediately bypass such services. All the necessary features should be visible and accessible in 1-3 clicks. Then it won't take you a lot of time to just figure out the service.
High-quality round-the-clock technical support. Even if the interface is simple and straightforward, you still need to take into account that you are visiting the site for the first time. You may not see something or misunderstand. What to do in this case? Looking for help and digging there for a long time in the hope of finding the information you need? Of course not. It's easier to call or write to support to get help in a couple of minutes.
Our SMS service from AtomPark
can solve your task in a few clicks. Firstly, you should register for your account on AtomPark, then you have to upload a database of your contacts. After these steps, you can create a scheme for your Bulk SMS sending, including personal information of the customers, and set the sending time using the calendar. The first
10 messages can be sent for free
, you even have no need to fill in any numbers and your credit card. That's all you need to do for sending mass texting 一 only a few clicks.
Conclusion
Holidays make people believe in miracles, and we try to make a bit happier our relatives. Gifts are the best way for it and in holiday time stores are providers between people and happy. Make a good proposition for the customers to help them feel better.
Register in our Bulk SMS Service and become a magician that helps others.
Stay with us. Let's do life easier together!
Written by:
Boost your business
with AtomPark
Try our software and evaluate it in action