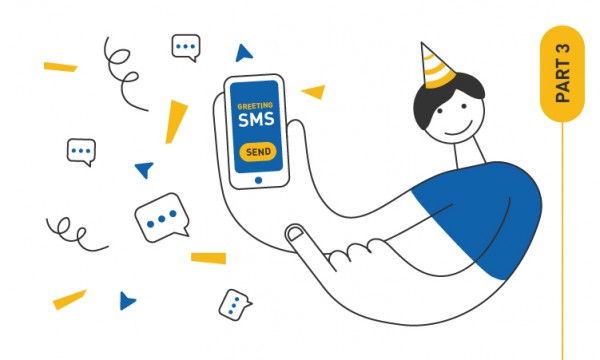 Here is the third article from our series for the holidays.
In the first article, we have already talked about such important issues as:
the importance of bulk SMS for different kinds of businesses;
benefits of these messages for holiday marketing;
correct creation of bulk sending;
how to choose the SMS service, depending on your purposes;
types of databases.
From the second article, you have learned the following information:
how to estimate your client database and what you should do with it,
how to choose what to offer to clients for the holidays.
And it's time to talk about the examples of messages for each holiday in different areas of business. Read, get inspired and grow your business. Let's start!
Birthday of client or employee
This type of congratulations is important for each big company. Reminding your employees and clients that they have not been forgotten will give you loyal and hardworking subordinates, as well as immanent clients.
You can`t remember every employee or client. For example, international corporations or companies with the number of workers more than 100 persons, travel companies, online-shops, toys shops, party creation companies, different cafes or restaurants etc.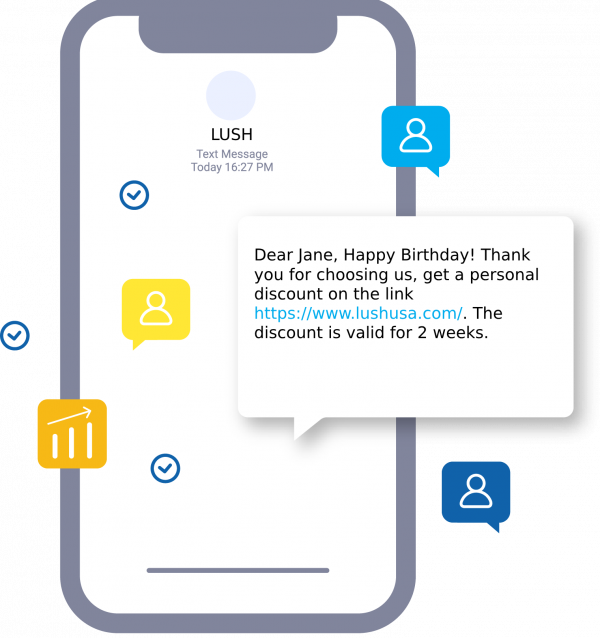 Here is the example of congrats from the online-shop to the client. It has a personalization, good offer (discount) and time limits to get the person to act over a period of time.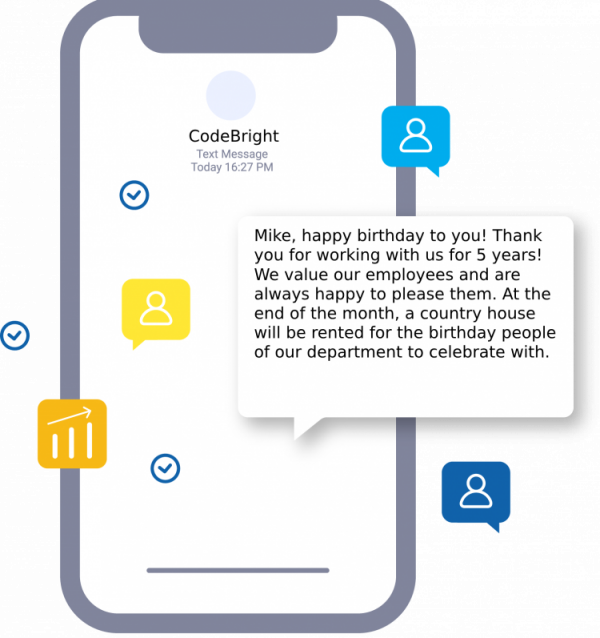 Here is an example of the congrats from the IT company to the employee. Every person adores the attention and worth from the company. It makes people more helpful.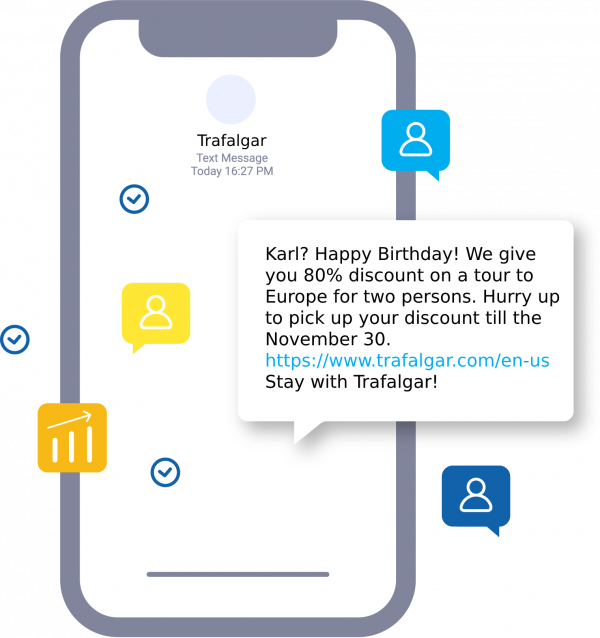 Such an advertising campaign will also be useful for travel companies, I offer a discount on my services and remind people that they show customer focus and care.
Anniversaries
A great occasion to remind of yourself is the anniversary of the client's subscription or first purchase, the anniversary of your company foundation, etc.
This holiday is associated with every industry. Starting from small shops, supermarkets, various souvenir shops, travel firms, and ending with international companies.
In a text message with congratulations, you can thank the client for staying with you all this time and provide him/her with a discount or a gift in honor of your company.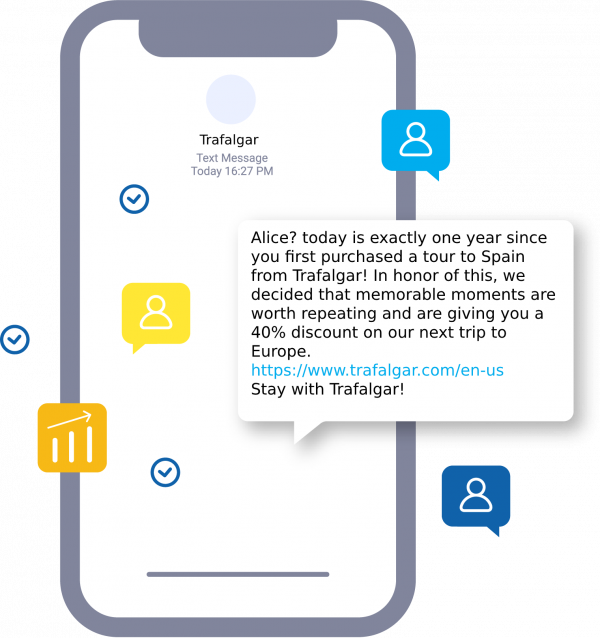 This is an example of SMS with a reminder of the first purchase. Travel companies can offer the next deal for a special price to encourage thy clients.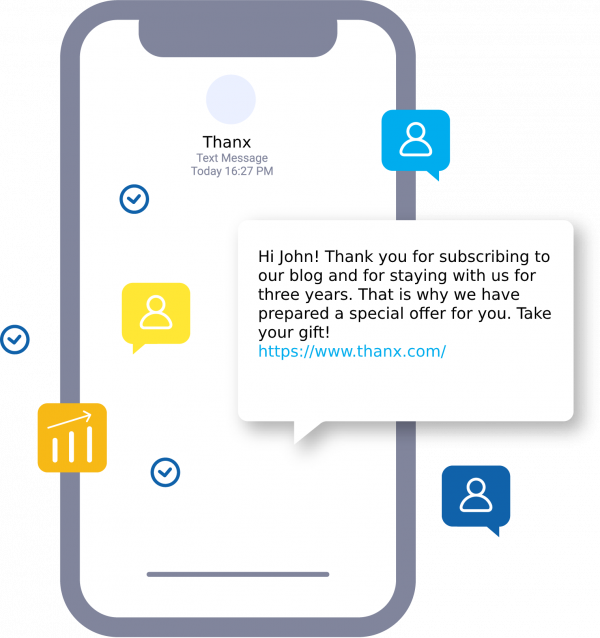 It is an example of a business platform offering the deal for their subscribers for the anniversary of the first subscription.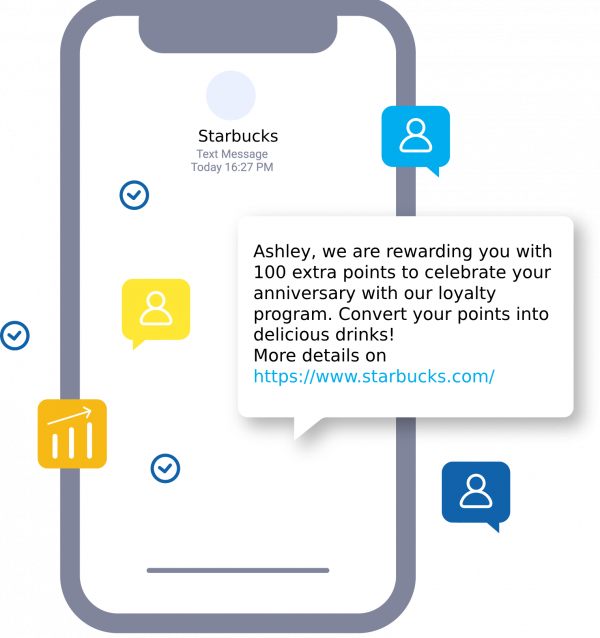 This is an example of SMS messaging in honor of the anniversary of participation in the loyalty program. Treat your customers with additional "goodies" and they will never leave you.
Veterans Day
This is a holiday for military men. It means this occasion can be a great promotional idea for businesses that are connected with "men things". Such industries as hunting shops, men`s wearing. Furthermore, the restaurants, bars and cafes can promote their businesses at this holiday with some discounts for militaries or men.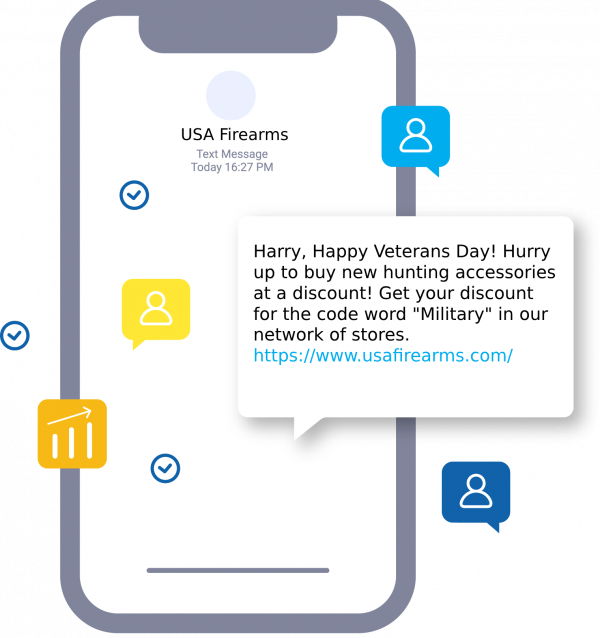 An arms store can send an SMS to its customers (usually these are males) in honor of this holiday.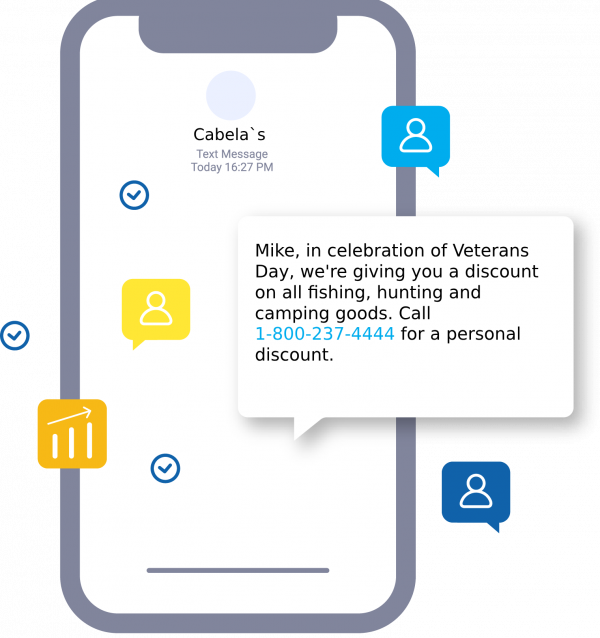 A hunting, fishing, and other activity store may offer discounts on their merchandise in honor of this celebration.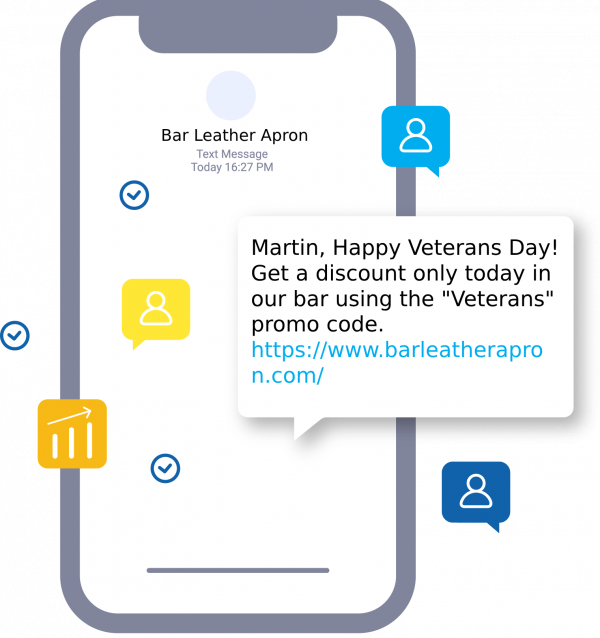 A discounted bar offer will be a good excuse to get together with friends. And limiting the time will help customers make a decision right on the same day.
Thanksgiving Day
This is a national holiday for every American person and a great time to thank for everything you have. Such conditions suit every business industry. You can provide different studying platforms, occupy the restaurant`s business, travel company or any other activity. Wherever the sphere is SMS sending will be useful for your business.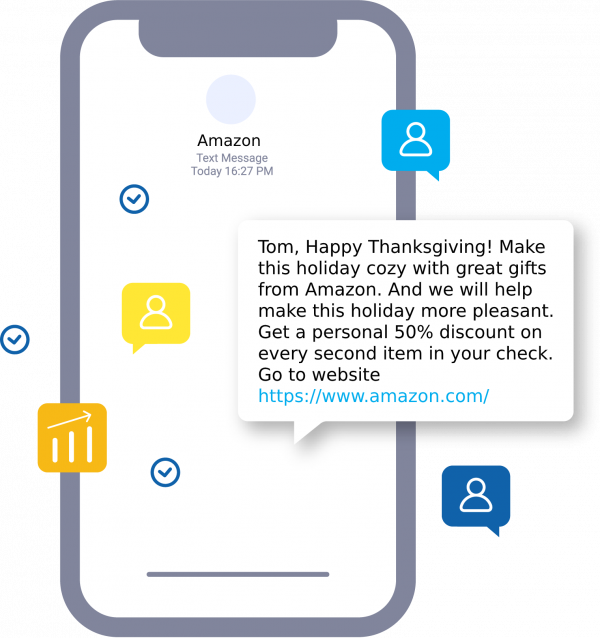 An example of a message from the largest distributor on Thanksgiving Day shows an opportunity for a person to make this holiday more enjoyable and keep his budget.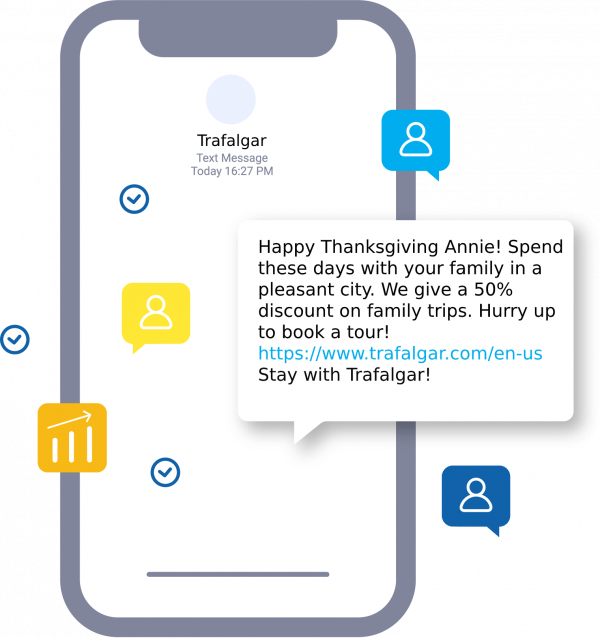 A large travel company can also earn extra money by offering discounts on joint trips during the holidays. This example shows the unity of the holiday and its main purpose.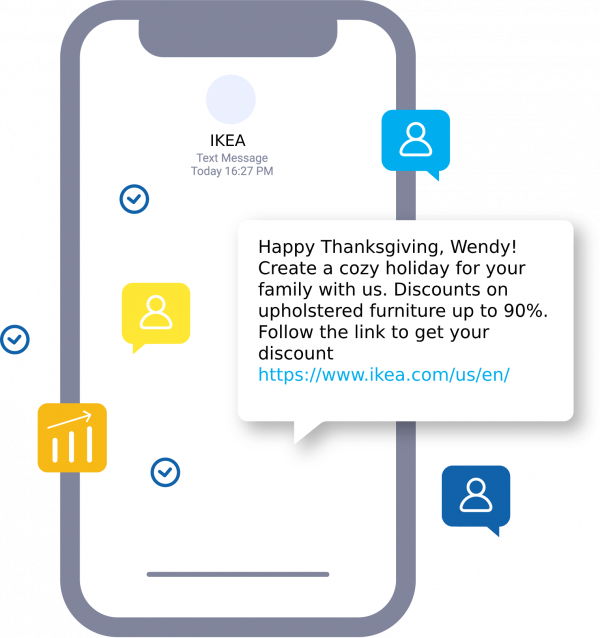 A huge furniture and accessories store can also use SMS marketing for this holiday, because furniture always reminds of home and something cozy. And you always want to create coziness for the most beloved and close people.
Black Friday
This is the time of greatest discounts of the year almost worldwide. It comes for every shop, supermarkets, online and offline businesses. Black Friday is suitable for the development of absolutely any industry, since Americans have been waiting for it all year long. Online and offline businesses will be able to offer any product at a discount.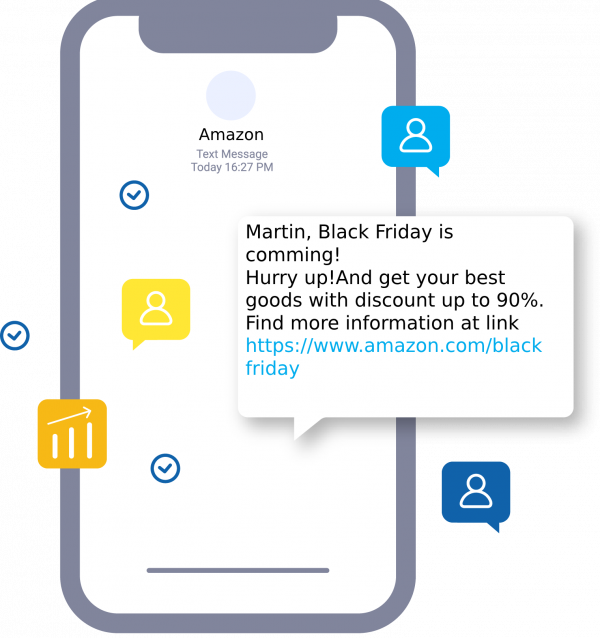 Here you can see the Black Friday sale from a huge commercial corporation. A Bulk SMS sending for such a business will bring more than one million dollars to more than one company.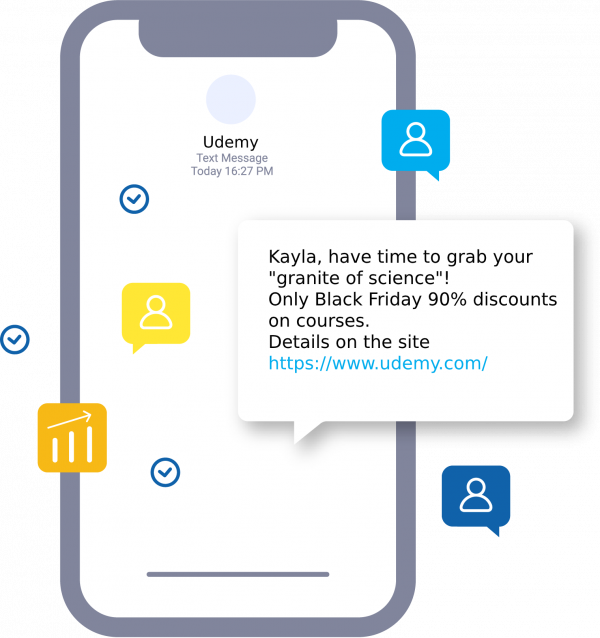 It is also a good reason to remind yourself of various educational platforms. People will like additional skills, knowledge and a discount.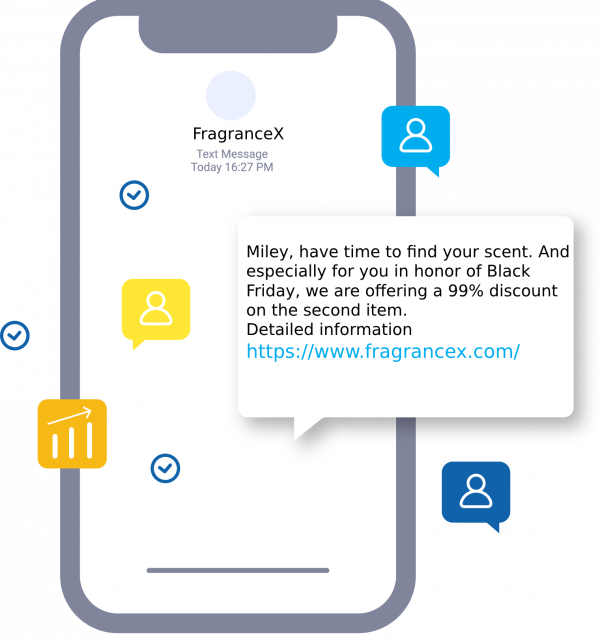 Black Friday is good for offline businesses too. With these discounts, people sweep goods off the shelves.
Christmas
As discussed in the previous article, Christmas is a universal holiday. It should be noted that this is the most suitable time for the embodiment of miracles into reality.
Promotion on this holiday is suitable for various industries: salons, gift shops, as well as charitable organizations to raise funds for good purposes.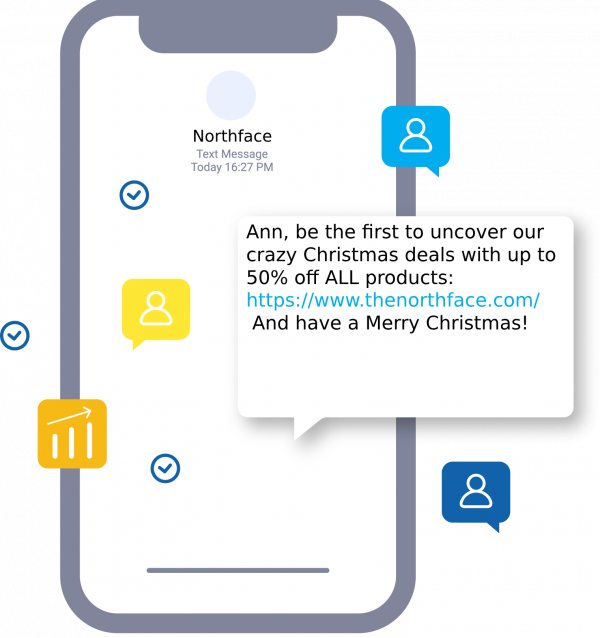 A Christmas clothing store offers discounts on all items. Providing the client with the opportunity to buy gifts for loved ones and increasing their sales.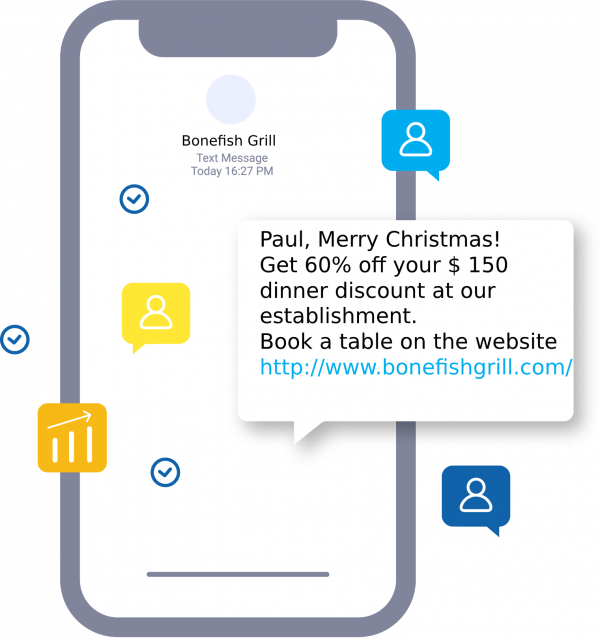 The restaurant uses mobile messages for the pre-Christmas campaign, offering a discount for fulfilling an order for a certain amount, so consumers want to spend more but save money.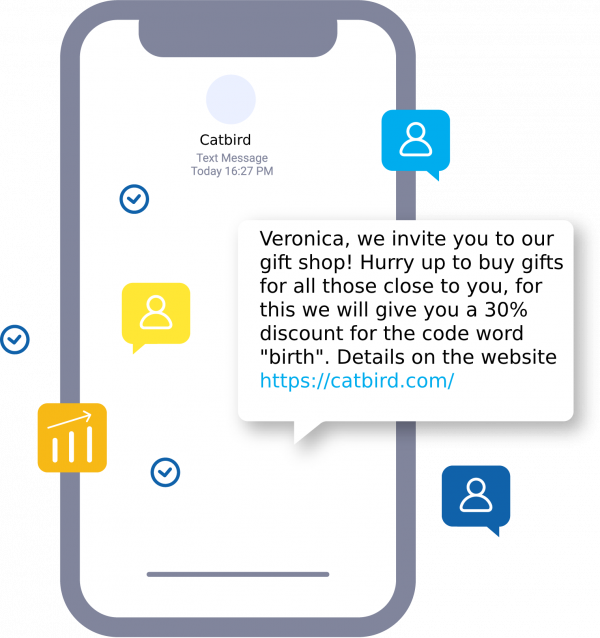 The gift shop offers to buy its goods with a significant discount in honor of Christmas with a "special" promotional word already at the location, where the consumer can choose and touch the available assortment.
New Year`s Eve
New Year is a family holiday. Everyone is waiting for a miracle. And it is suitable for promoting a business in any industry. It all depends on preferences and desired gifts.
Therefore, this holiday will be beneficial for various toy stores, large entertainment centers, travel companies, clothing, cosmetics and perfumery stores, as well as for gyms and so on.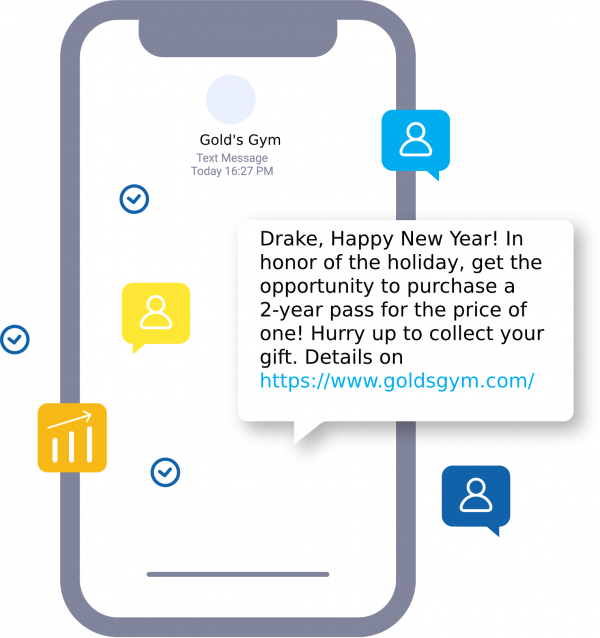 The gym is offering a huge discount ahead of the new year. Thus, it will retain existing customers and will be able to increase sales in the future.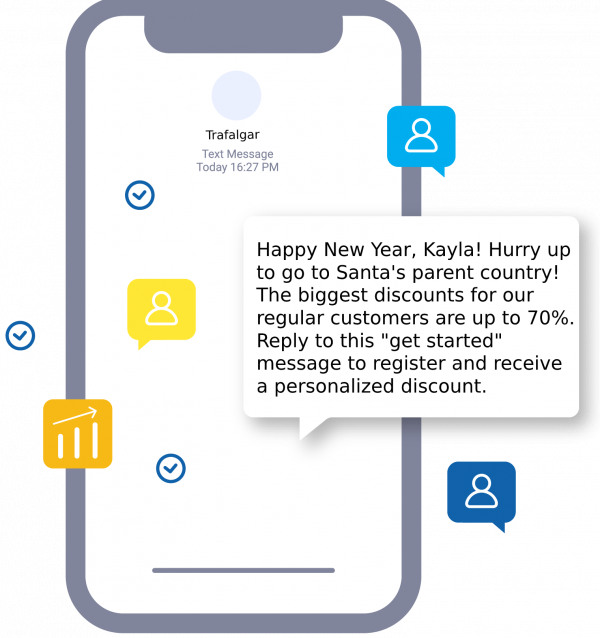 This newsletter will be useful for maintaining close relationships with your regular customers, which will make them come back again and again. And it is always pleasant to spend holidays in beautiful places.
Conclusion
Now you know how to create a holiday newsletter for different types of businesses for each holiday. Having knowledge about cleaning and replenishing your client base, how to warm up your audience and how to properly attract a client, your business will multiply significantly.
Use our tips to competently congratulate your customers and employees. Grow sales and increase loyalty together with Atomic SMS Sender!
Written by:
Boost your business
with AtomPark
Try our software and evaluate it in action