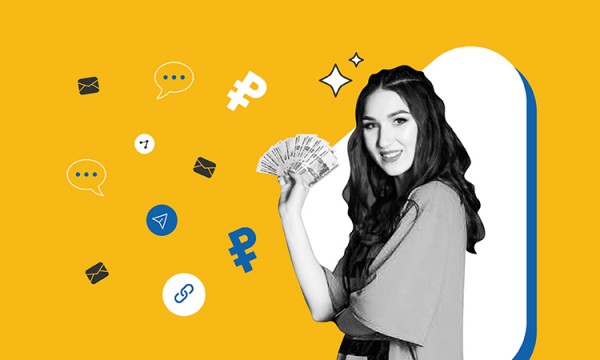 Dear readers, the time has come to meet one of the members of our team. And, perhaps, you will bring out useful knowledge in the field of marketing and open another loophole for increasing your income.
How often have you heard about the existence of affiliate programs? They are in almost every area of ​​business. And we are not an exception.
The active girl Kate, affiliate manager of AtomPark Software, has given interesting answers to questions about the functioning of the affiliate program, we hastened to share them with you.
First, let's figure out what it is and what it is all about.
Kate, please tell our readers what is affiliate marketing?
In simple terms, this is a method of promoting a product or service on the Internet.
In our case, this is software from AtomPark. The person (partner) performs certain targeted actions and in return receives a reward from the company.
More precisely: the advertiser increases his traffic, leads, and sales, and you (as an affiliate) can get additional income for completing tasks.
Based on the previous answer, the logical question "Who is an affiliate?"
An affiliate is a partner who has a personal Internet resource. For example, a blog, various groups on social networks, a YouTube channel etc. You can include in this list any other channel for informing the consumer on the Internet.
Information about affiliate programs is posted on these platforms with the addition of a company's referral link, into which a special ID is embedded. With the help of the ID, the company can track sales. By clicking on the link left, a person gets to the official website, and after purchasing the product, the partner is charged his promised commission.
What are the general types of interaction between the company and the affiliate?
There are several options for cooperation. It can be:
fixed payment for the brought client;
reward for any targeted action:

downloads (installations),
clicks,
leaving contact details, etc.

a certain percentage for the sale (we pay 30% of the total amount of the software).
Can you tell us more about the types of affiliate marketing programs?
Based on the foregoing, a commission can be received for various targeted actions. I want to tell you more about them. There are the following types of payment:
for sale — СPS (cost-per-sale) (we use this method in AtomPark);
per action — CPA (cost-per-action);
per click — CPC (cost-per-click);
per view — CPV (cost-per-view);
per installation — CPI (cost-per-install);
Each company can set its own rules for affiliate programs. In the diversity of the modern world, you can find AP to suit your preferences and tastes.
As with any business, there are certainly pitfalls in affiliate marketing. What should you be wary of while choosing a partner company?
I'll tell you about the most common threats. For example, the most common problem is the case when an advertiser does not pay money or if there is no proper tracking of targeted actions: sales, clicks, downloads, etc.
In the second case, you may simply not receive your hard-earned money. Not as critical as in the first version, but spoils the mood a little. But, in turn, partners can also wind up clicks, purchase goods in order to receive a discount, etc. But it is another story…
Now is the time to talk about the benefits of an affiliate in developing a company. Are there any such at all? Can you give us some examples?
I wouldn't call this aspect a 100% advantage, but different types of personality are their own prerogatives. This is the same job as in the office, only at home and without a boss. And all responsibility for completing the task falls on your shoulders. Success will be due to one person, just as in failure there will be only one culprit. It's you.
As for the personal experience, I can say that it is difficult only at the beginning. In this area, you acquire several functions at once. You turn into a Marketer-Designer-Salesman-Programmer in one person. But this is even an advantage because there is a field for growth as a person.
You independently build your promotion strategy. In the beginning, you will have to allocate your own budget, but the effort spent is worth it. Because it's up to you to choose the niche in which you will work, to pick up the methods of promotion (through the channels that are familiar to you). And of course, only you decide how much you earn.
How can you become a partner? What do you need to know for this?
In this industry, over-special skills are not required. It is important to have an analytical mindset because you have to calculate and understand a lot of Internet metrics without any help.
Further, it is important to have a basic level of proficiency in graphic editors in order to independently make some posters and banners. But a lot of the companies have ready-made rendered works for affiliate programs. Also, you have the right to ask to render images individually, in accordance with corporate colors and style (well, at least we do so).
I think our readers are interested in this type of earnings. Tell me what criteria are important for choosing an affiliate program? What should they pay attention to?
Remember that accepting the challenges of fate is a rather noble goal, but do not forget that you need, at least, to understand what you are doing.
Choosing an affiliate program, follow a few simple rules:
Promote the product in which you fumble.
Read reviews about the company and the industry, ask around on the forums. The more information you know about the alleged promoted product, the better for you.
Choose a convenient withdrawal option for yourself. You should take care of getting your own money in advance.
Find out if the AP works with the promotion channel you are using, or if they have any taboos.
An important component is the availability of technical support.
Why should our readers choose AP from AtomPark?
Because a number of advantages of our company are much more impressive in comparison with similar companies.
I guess that in our software market we offer the highest commission per sale, namely 30%.
You can withdraw money whenever you want, as there is no minimum withdrawal amount.
Money is transferred in any way convenient for the partner.
There are significant discounts on partner programs.
The affiliate manager is always in touch and ready to help with any question and is always opened to suggestions.
There are also regular specials for partners ONLY.
You have no need to think about the visual of your advertising campaign because updating banners and rendering of individual materials are in the hands of our designer.
Conclusion
In the era of the Internet and the huge flow of information, there are many ways of development and additional income. A good example of this is the availability of various affiliate programs from large and small companies.
What you like, you can check on your own experience. Never be afraid to try! After all, the road appears under the steps of the one walking.
Stay with AtomPark and get new knowledge with us!
Written by: