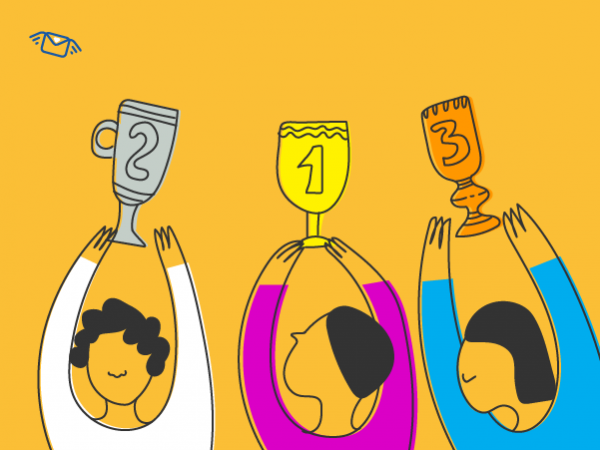 Want to know about the innovations in digital marketing? We've collected some news about it. You will find out:
what happened to the dark theme of Gmail and how to craft a universal newsletter design,
which technology will make interactive email much easier than before,
why email will replace call-centres.
Read the article to keep up with new email marketing trends.
Gmail app "lost" dark mode
Dark mode in apps has become popular, and developers are actively implementing it. So, blackness has reached Gmail too. Marketers began to chase the trend and design email campaigns for the dark mode.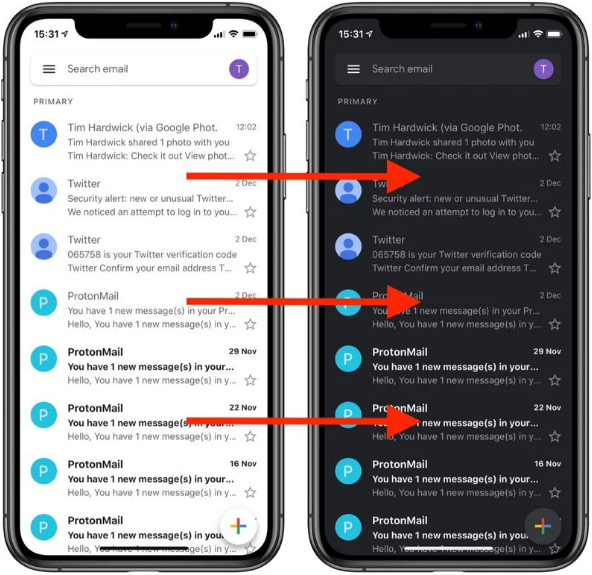 The difference between dark and light Gmail mode: dark text becomes light.
But it doesn't work as well as we want. The mobile application goes into light mode from dark, despite your actions. Moreover, the switching button disappears. It doesn't depend on a phone model, OS version or the availability of updates.
This is bad for those companies who design newsletters for black mode. Google knows about the problem and promises to fix it soon.
And what should email marketers do with this problem?
We advise updating your newsletter design according to this theme mode change. In the meantime, to avoid embarrassment:
use dark text colours,
make a prominent call to action button,
make your email background (for example, use your corporate colour or image).
The inbox revolution: AMP for Email
Get ready to see more interactive newsletters in your mailbox! Gmail announce AMP support.
AMP is an accelerated mobile page technology. You can add a carousel, purchase buttons and other interactive elements to your email newsletter using it.
What does it mean for email marketers?
Your newsletter will become more advanced and entertaining. Subscribers will be able to interact more actively with your company:
make orders,
confirm the reservation,
answer polls,
watch a video,
chat directly in a mailbox.
Interactive Email Newstetter
Interactive emails existed before. But there was a problem in displaying it. Many email clients didn't show interactive email correctly or didn't display at all. Everything is easier now!
Independent developers promotе technology actively, and Google advertises AMP in its search engine.
Gmail introduces this technology first. AMP for email is also coming to Outlook.com, Yahoo! and Mail.ru.
So, use AMP technology to:
attract new customers,
increase company recognition,
draw attention,
increase your conversion rate.
The benefits of marketing with interactive emails are obvious!
Cloud-based contact centres
Traditional call-centres fall away. People are waiting for new technologies, communication channels, and user preferences.
Research shows that 83% of customers prefer an email to contact companies. Calls lose popularity, and people will use their inboxes even more often. Therefore, they will see newsletters frequently.
What conclusion can be made?
Email marketing future should be bright. It continues to live and attract customers. So use email marketing for businesses without a doubt. Send reminders about:
events,
promotions,
account balance,
company's news.
You can start your email campaign with Atomic Mail Sender program. This tool will help you plan, create, send and monitor results of an email newsletter.
Forewarned is forearmed, so use this knowledge until your competitors do. Do you care about the quality of displaying your emails in the dark mode of Gmail apps?
Written by:
Boost your business
with AtomPark
Try our software and evaluate it in action