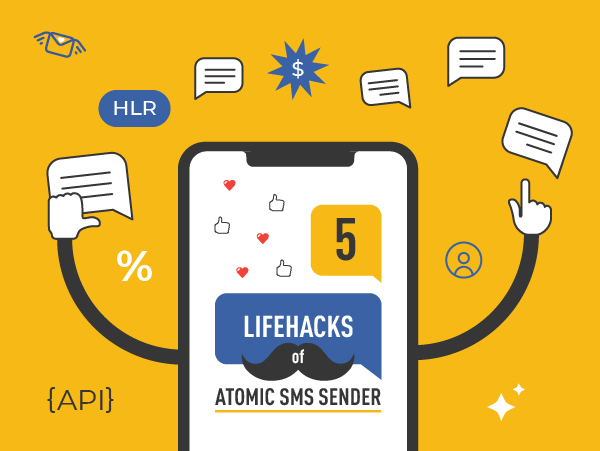 The users of SMS services often think that sending bulk SMS is all that is offered to them through professional SMS senders. Atomic SMS has been created not just for sending out mass SMS, but for building successful business communication with clients via SMS. 
In this article, we will tell you more about the service possibilities you probably might not know. So, stay with us to discover the life hacks for using SMS senders to the fullest. 
Top 5 Atomic SMS Sender life hack features to apply
Atomic SMS Sender is a service that allows you to send bulk SMS, which includes a complete set of functions for configuring messages and personalizing each SMS. 




The service allows you to create your own list of contacts to an address book and divide them into thematic groups. If you do not want to add contacts manually, you may import your client database from a text document or spreadsheet in XLS format, and so much more!
To apply the messenger to the fullest, you shouldn't forget that a seemingly common set of functions may provide you with an extraordinary way to communicate to your business clients or partners, and grow your business faster. 
HLR
Why do I need to validate phone numbers online? A separate HLR option is another way to save both time & money for effective bulk SMS campaigns. HLR lookup is a technology that helps to check if a phone number is active. By making a lookup to the Home Location Register, the SMS service gives info about the validity of mobile numbers.
It's because you don't notify clients that you won't get your SMSes, HLR lookup helps to economize money to SMS sending.To save budget of SMS campaign verify phone numbers. This technology helps to check whether a phone number is active.
HLR lookup helps to notify only those clients that will read SMS. Phone number validation with the help of SMS HLR lookup saves the budget of messages campaigns. Phone number verification software is cheaper to use to delete invalid numbers. There's no need wasting money on each campaign.
What can be easier than a phone number verification with Atomic SMS Sender?  If you want to use it, activate the phone verification function in the web form settings. All phone numbers of subscribers are saved in the address book assigned to the form (the "Settings" tab). How to effectively apply bulk phone number validation:
To clean your list from invalid numbers, check out if a mobile number active status, and then start your SMS campaign to the active users only.
Also, apply cell phone carrier lookup which allows checking the mobile number operators of the users to make sure the exact cost of the SMS campaign. 
It is also important to know that the cost per every SMS sent with a confirmation code is deducted from the user's balance. This may be either an already uploaded address book, or a newly created one, especially to the service, for the customers' contacts signed through the form integrated via the website.
Subscription forms
A new feature is the next life hack for your successful SMS campaign. The webform creation for collecting phone numbers of your subscribers that are more likely to be interested in your SMS mailing is another useful thing to do.
The webform contains the "Phone" field, by default, which should be filled in by the client when subscribing to SMS notifications. A safe opt-in is guaranteed. So, next, you just add the required number of other fields and may design the subscription form as per your website or blog design.
The integration is smooth and flawless. After that, to finish and integrate your form, the service generates an HTML-code, to copy and place on the website. Hardly every SMS sender may boast such an original solution developed to their customers.
The created web form may be a uniform for subscribing to SMS or email newsletters. This is especially convenient when you use both services - the SMS service and the Atomic Mail Sender. So, go ahead to enter the SMS service panel and see how easy and convenient it is to create subscription forms in Atomic SMS Sender!
API integration
Atomic SMS Sender provides a Gateway that allows automating bulk SMS sending and integrating SMS with Atomic SMS Sender service into various projects. You are offered the connection to an Atomic SMS gateway free of charge. The features help you without any hard coding skills. So, you may organize your SMS campaigns more professionally through the Internet, either from your platform or using Atomic Sender.
Here's 3 ways of using SMS gateway and running bulk SMS campaigns successfully:
For integration, use Atomic SMS Sender API, and check out PHP implementation example;
Also, make use of Email2SMS to send your SMS via SMTP protocol through your favorite email client;
Or apply integration via Web2SMS.
You may also choose SMPP server to send text messages through HTTP/HTTPS protocol & XML POST requests. 
Register and email your request for SMPP connection after the registration to 911@atompark.com. It will provide your Atomic SMS Sender account email with top-notch support.
Messengers
Modern business solutions include all communication channels. Atomic Sender is not an exception. It offers you more opportunities for messaging via Whatsapp instant messenger to stay mobile and talk to your customers while on the go 24/7. It's a cheap and the most interactive way to reach out to your audience. Send bulk messages free through the most convenient channels!
Loyalty programs
Loyalty program performance is always dipping. For the most loyal Atomic SMS senders, there is a loyalty program available called Cashback. Here the service returns to the client a part of the amount spent on messaging services. How is it possible? – Easy!
Under the terms of the loyalty program, they will refund 1% of the amount spent from the main account to all users of the SMS service. The money will be credited to the Bonus account, the status of which you can see next to the main Balance in your Personal Account.
All new users may receive a bonus of up to 10% from their first balance top-up! For example,  you put 100$ and get 10 dollars as an extra to your amount. To get it, you must deposit money into your account within 3 days after the date of your account activation. The conditions for spending a one-time bonus are the same as for Cashback bonuses.
Why Atomic SMS Sender?
What else can you use for our business growths while working with our SMS sender? Of course, among the greatest privileges is the price & awesome technical support. The basic SMS messaging pricing is as low as the price stated in Atomic SMS Sender account. Check it any time.
Besides, Atomic Sender offers you a worldwide SMS messaging from any corner of the world due to a great coverage. Safety and transparency go without saying, so don't hesitate with your SMS campaigns with Atomic SMS Sender solutions. 
If you have any questions about the Atomic Mail Loyalty Program, or API integration, etc. you may ask them at any time by contacting a top-notch robust Technical Support service.
Conclusion
This way our life hacking Bulk SMS Sender solutions may be useful:
For the companies in need to use texting services for business to better  communicate with their customers globally;
Organizations for sending out bulk SMS worldwide, such as event notifications, promotions or alerts;
Individuals who want to use SMS bulk solutions to stay in touch with their friends all over the world
For commerce, to launch SMS campaigns, boost sales, gather data for analysis, etc.
For non-standard marketing solutions for any of these organization strategies.
Do not hesitate to use Atomic SMS Sender to the fullest with its great arsenal of features at hand. Contact us if you have questions about Atomic text messaging online service or software, SMS gateway, SMS forms, API integration or any other function you need to find out more about. 
Written by: