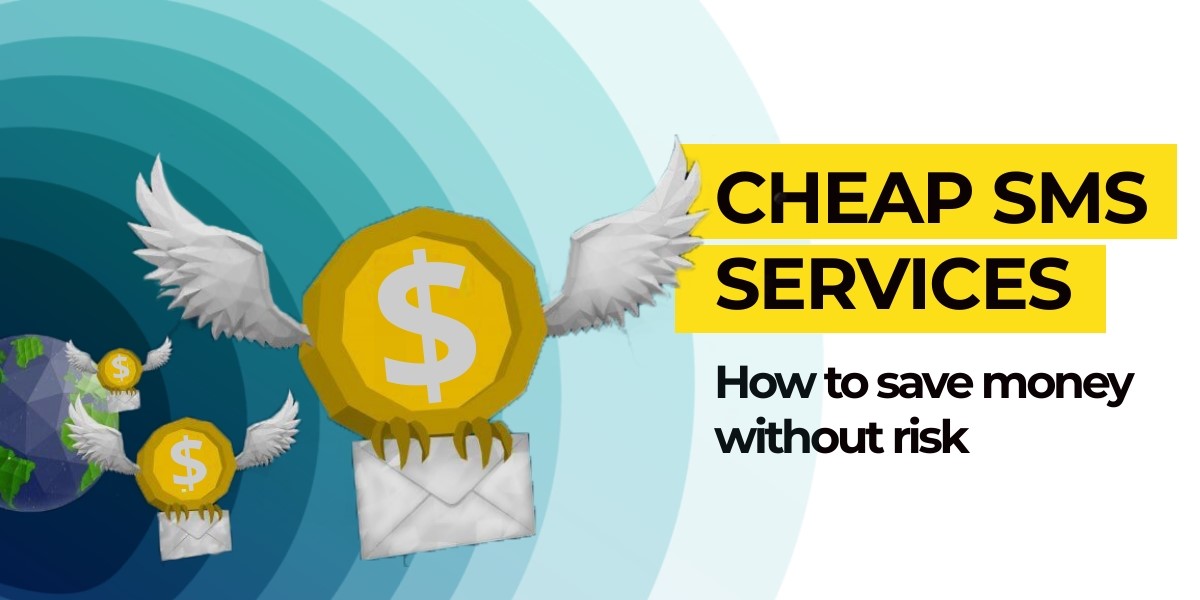 All the world is on our cellphone. We read the news, make friends, chat, work, play, buy online via mobile phone. That's why today mobile marketing is in good progress and increases at a rapid rate.
Of course as in any business, among lots of opportunities for bulk SMS features happens fraud and unlawful acts.
People who wish to send an enormous amount of text messages for peanuts are more likely to fall prey to SMS fraud.
We are going to tell you about hidden pitfalls, illusive cheap SMS and potential traps. Forewarned is Forearmed. Let's make sure that doesn't happen to you.
Cheap mass text services: What these words mean and how they fit together
Let's make clear a bit about low-cost SMS service providers.
These are kind of companies that enter into a partnership to mobile operator and buy bandwidth on their network. And then SMS aggregators re-sell that bandwidth to clients. This is a legitimate way to provide quality text message sending service. The more you send the less you pay for 1 text message generally.
Online SMS service providers allow you to spend little money and be sure your clients will receive a text message apart from the country they live and the mobile operator they use.
But dishonest suppliers often use questionable and illegal methods to offer cheaper SMS prices. If you see that 1 SMS price is too low, you should know that such price often comes with poor quality, slow delivery (even non-delivery occasions) and lots of illegal methods like grey routes, SIM farms, SMS spoofing, phishing, scamming, etc.
How the bulk SMS service pricing is formed
Usually, bulk SMS campaign price depends on the connection type and the agreement with the mobile service provider.
The total cost of the user's text campaign depends on lots of pricing factors:
the total amount of messages,
the sender name if registered,
the type of a gateway,
the mobile operator to which the SMS is being sent,
the maximum client's payment, etc.
Bulk SMS service forms own rates based on the prices offered by the SMS operators. Therefore, if you are proposed to send text messages below the average price or significantly lower than declared operator tariffs, – that should get your attention and set you on alert. Probably, these rates are not final rates and the user will have to pay extra money as a service charge or commission fee.
Always take a close look at SMS aggregator rates – be sure they are understandable for you, they contain a minimum of ambiguous information and masked footnotes.
Why the majority of cheap SMS marketing services are dangerous
The phenomenon of free-of-charge messages appeared due to an irrepressible human desire to spend minimum money and effort, and get the highest quality result. Scammers use it to play on our psychology.
How do they manage to reduce the cost of text messages?
There are two variants, but both are disappointing:
SMS phishers steal traffic from operators or legal SMS services, using mobile network vulnerabilities, phishing, etc.
Endless free messages act as a trap for users – they will pay the double price later.
Does the free SMS service exist?
The answer is NO. You'll never find absolutely free-of-charge service that allows sending bulk text campaigns to hundreds and thousands of subscribers. In the case of legal free messages, there can be 5-10 SMS for service testing offered directly by online SMS providers.
The main purpose of such test messages is to check the fast and guaranteed delivery, study up the service features, find out all the details before pay for it.
How to Choose a Perfect Bulk SMS Service Provider
There are numerous cheap SMS services for sending mass text messages which have been working for many years in mobile marketing, with a good reputation and successful experience. Nevertheless, new players constantly appear.
Beware not only the cheap price but also the complete newcomer SMS aggregators, because some of them can turn out to be shell services. Choosing an inexperienced, possibly illegal SMS service provider can have serious outcomes for your business:
Blocking the carrier due to its fraudulent activities with the loss of all your invested money and non-delivery of messages.
The lack of guarantees for the fixed SMS price, for message delivery, for your recipients list protection from spam.
Sometimes it happens that mobile providers resell text sending services to each other – that can seriously affect the quality of service.
When choosing an SMS service provider we recommend finding out all the information about it prior to picking your best cheap SMS solution. Focus on the following criteria.
Criteria for choosing the best and cheap SMS marketing service
Reliability
How long the service operates & the availability of SMS service licenses are vital criteria. Check if the company has permission to provide SMS services, even if it's bulk SMS cheap. Study the agreement and make sure that it clearly spells out the guarantees for the safety of your customer base. Find out about the success of the service: cheap SMS, expertise, number of clients and successful advertising campaigns, customer reviews, etc.
Spam check
Not every service provider checks its mobile network for spam. If you use one like this, it is a high chance that your cheapest bulk SMS messages will be rejected by mobile operators as spam, and you'll get into the senders' blacklist.
SIM farms usage
Some SMS service providers offer users to buy a SIM card and use it for sending bulk text messages. These SIM farms can:
slow down message delivery due to additional network hops between endpoints,
put at risk of blocking cards by mobile operators due to spam suspicions
These SIM cards are connected to providers' GSM modems.
Global coverage
It's very important to have the ability to send text messages all over the world in different countries. Before paying money check whether the service can send cheap SMS abroad to the clients from the country you need, make sure it is an international service with global coverage.
HLR lookup
An HLR Lookup is a real-time query of subscriber information stored in a mobile network operator's Home Location Register (HLR). Real-time HLR lookup is an important option that enables discovering the number's original and new operator networks. It helps to reduce messaging costs and improve delivery rates in real-time.
Availability of test services
Good SMS messaging services adjusted to cheap SMS marketing provide an opportunity to conduct test messaging when registering on their website. Thanks to it, you can evaluate the speed and quality of message delivery. For tests, be sure to include the numbers of your friends and acquaintances in the list of subscribers, specifically disabling some of them. After sending a test message, a notification about the sent number and unsent SMS will appear in your account. This will check the quality of your messaging.
Personalized messaging
Find out about the cheap way to have SMS text messaging through a possibility to conduct personalized messages, i.e. automatic inclusion of the client's name (including and other data) in the message. It is desirable to have an option to segment recipients by gender, location and other parameters to send messages.
Detailed reports available
Also appreciate the extensive reporting, because you want to have detailed statistics: to know exactly which messages were delivered and which were not and for what reasons. The detailed delivery reports may help analyze sent text campaigns. After sending promo cheap text messages, you need to see the real results: increased number of purchases, statistics, etc.
Bandwidth
If you plan to send a large volume of messages, be sure to check the service bandwidth, i.e. how many SMS can be sent/received per second! A perfect match is the service providing you with the ability to send an unlimited amount of SMS.
Flexible prices
Be wary if the site does not clearly describe the cost of services for sending SMS. Otherwise, you may face surprises after the campaign or even when paying it up. Also, do not rush to the lowest prices. However, the premium quality services at high rates cannot guarantee you the fullest satisfaction, as well. So, just speak for yourself.
Integration methods
What interface are you planning to use? HTTP, HTTPS, SMPP and XML protocol, JSON protocol, or 1C processing? When choosing a service, make sure it supports any of these connection types and well integrate with your platform via the SMS API cheap.
Round-the-clock technical support
Even a good cheapest SMS marketing service provides 24/7 customer support, both live chat and phone. Be sure to talk to the operators and assess their availability, competence and courtesy. Pay attention to the speed of operator's feedback after your registration on the site! The opportunity to get fast support and answer to your question at any suitable time is a priority.
Top Cheap Online SMS Services for Bulk Texting
You can certainly compare cheap SMS marketing services for your business as per the range of criteria. AtomPark Software team has provided a comparison table, where you may discover the great advantages of their services as compared to similar market competition. Here are the main characters of the most popular services for cheap way to have SMS text messaging:
Criteria 
Atomic SMS Sender
Twilio
Ez Texting
Bulk SMS 
Easy Send SMS
Integration methods 

API integration, amoCRM, Bitrics, 

39 ready modules. 

+ any client's project 

API integration

Constant Contact, MailChimp, Zendesk, 

Pie Sync, 

AWeber

ClickDimensions, LeadsBridge, Marketo, Zapier

–

HLR lookup

+

–

–

–

+

Testing services

10 free SMS 

–

14-day trial period + 100 messages 

–

15 free SMS

Interface

user-friendly interface,

quick registration

difficult to navigate,

long registration

user-friendly interface

long registration,

user-friendly interface

user-friendly interface

Bandwidth 

unlimited

unlimited

3300 SMS per month

25000 SMS per campaign 

a million SMS per month

Support

24/7 via phone, email, live chat 

24/7 via email

24/7 via chat and email 

24/7 via email

24/7 via live chat 

Reliability

19 years 

12 years

16 years

20 years

5 years

Coverage

219 countries 

The USA

The USA and Canada

220 countries

203 countries

Prices*
$0.016

per SMS

$0.0075

per SMS

$0.049

per SMS

$0.36

per SMS

$0.045

per SMS 
*Condition: SMS campaign to the 1000 US recipients
Conclusion
While choosing the SMS service provider first ask yourself about the result you want to get: to save money or to benefit with a quality and effective campaign. Whether you send once or constantly, whether your recipients are all over the world or within one country – a quality and responsible service provider is always ready to offer an individual solution to each client.
However, what should you do if you have no time or desire to explore thousands of services and choose the proper one? We recommend taking no risk and doing business with a proven leading cheapest mass texting service provider like Atomic SMS Sender. Test it for free, send text messages to any country, schedule the campaign and get the detailed statistics.
Effective SMS notifications instantly inform customers about promotions and discounts, increase sales, solve brand identity problems and increase customer loyalty. Find out about the criteria for choosing a good service for mass messaging with us.
Written by: