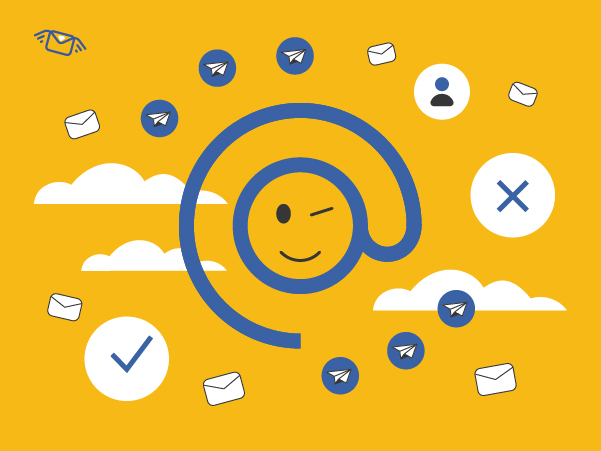 The Internet today offers more and more effective ways for marketers to reach out to their target audience. And e-mailing campaigns are still one of the most powerful tools.  However, there are always some recipients in your contact base that may mark your letters as spam. Why? In this article, we will find out why emails get into spam and how to avoid that.
Why do emails get to Spam?
There are a couple of reasons how subscribers primarily send emails from brands and online stores to spam. 
Automatically. 
It happens because somewhere has triggered a spam filter on the server (on the user side or the sender's side), which considers your message unsuitable for delivery. The filter may mistake it for unreasonable advertising or even suspect it as a threat to the recipient.  Or consider some attachments or parts of the code as unsafe.
The spam filter is an algorithm that sorts out your incoming messages according to certain criteria set and sends unwanted mail to spam automatically

.
Manually.
In this case, the user sends your letter to the appropriate folder manually or has a spam filter set up. The main reason is lost expectations or disappointment. Simply put, the recipient of the letter hoped for one thing but received something completely different. This is a human factor that must be taken into account when composing your emails.
Examples of some filtering criteria:
Email headers: the information in the email headers is checked - name, sender's address, subject of the email.
Content filter: the system searches for spam-related words in the email body: stop words, words in capital letters.
User behaviour analysis: if a client does not open emails from a brand and complains about spam, then an individual spam filter may be triggered.  If there are a lot of complaints about spam, all mails will be sent to spam.
Besides, Litmus has conducted research and defined some more reasons why users consider e-mail to be spam:
The company sends too many letters or their content is not interesting to the subscriber (57%).
The buyer has lost interest in the brand (53%).
The consumer subscribed to the newsletter unknowingly (51%).
The subscriber cannot understand how to unsubscribe from the mailing list (50%).
The subscriber got a negative impression of the company's customer service (45%).
Mailing lists do not open or are displayed incorrectly on mobile devices (43%).

Thus, you should consider several factors while coming up with your next email campaign ideas. 
How to avoid emails going to Spam?
1) Set up digital signatures
To reduce the likelihood of getting into a spam, set up digital signatures.
An SPF record is a TXT record that is part of a domain's DNS (Domain Name Service). An SPF record lists all authorized host names / IP addresses that are permitted to send an email on behalf of your domain.

 
Adding an SPF record for a domain allows you to specify which mail servers can send mail from your domain.
DKIM is an encrypted signature, used to prevent spoofing when sending emails from your domain.

Spoofing refers to an attacker modifying a message to impersonate another person.
DMARC technology allows recipients and senders to authenticate messages by defining the sender's domain, and also determines what to do with suspicious incoming messages. If the incoming message fails the DMARC check, the action specified in the DMARC rule will be taken. You can set one of three actions: put the message in spam, reject it, or do nothing.
2) Use Double Opt-In
Double Opt-In is a two-step verification of an email address. When a client subscribes to a newsletter, a letter with a special link is sent to his mail. By clicking on it, the client confirms that the mailbox is working and the client wants to receive mailings.
3) Send letters to those who want it
Send newsletters only to those who have left contacts and have clearly confirmed their desire to receive newsletters. This reduces the number of contacts for mailing, but improves the quality of the database:
Readers unsubscribe less often and report less spam;

Sending letters to non-existent addresses is excluded.
Those who did not subscribe to mailing lists may complain about letters and worsen the reputation of the domain. To prevent this from happening, send newsletters only to those who might really be interested in them:
Unsubscribe from mailings of those customers who do not read letters for a long time.

When registering or placing an order with a separate checkbox, specify the client's desire to receive mailings.

 Try to avoid the default checkboxes. 

Do not combine consent to receive the newsletter with other conditions, for example, consent to the terms of delivery or processing of personal data.

Finally, don't buy a subscriber base under any circumstances!
4) Set up postmasters
To get feedback from mail services (Gmail, Yandex, etc.) on the deliverability of letters, use postmasters. Postmasters allow you to receive information about the mail you send to users. For example, you can find out:
How often users mark your emails as spam.

Why are your emails not being delivered?

The correctness of email authentication, etc.

What is the reputation of your domain or IP address, and how does it affect the delivery rate of emails.
5) Customize your unsubscribe link
The letter should contain a working unsubscribe link. The link should unsubscribe from a specific topic of mailings or all mailings at once. Unsubscribing should not require authorization. The more difficult it is to unsubscribe, the higher the likelihood that the sender will be added to spam. Unsubscribe customers who have had several non-deliveries in a row.
6) Increase the volume of messages sent gradually
If you are just starting to send emails, Gmail recommends that you gradually increase the volume of messages sent, while monitoring the reactions of readers in the postmaster. A sharp jump in the number of messages sent can lead to an increase in the number of complaints. 
7) Check out the content of the letter before messaging
Spam filters always check email content. They don't have the human ability to parse words in context, so they basically flag any words or phrases related to spam. Here are some helpful tips to check your email content for spam:
Check out the email to contain links to existing pages.

Don't use shortened links.

Don't make your newsletter too heavy in weight. 
Gmail compress messages heavier than 102KB.
The unsubscribe link is placed in the footer of the letter. If it is too difficult to get to the footer, the client will prefer to click "This is spam" instead of unsubscribing from mailings.
If you send a newsletter with one large image, no text, spam filters will treat it as a blank email. For example, Outlook does not display images in the body of an email by default
How to use Atomic Mail Sender to avoid Spam filters?
Let's take a look at how to use Atomic Mail Sender to make spam filters adore your mailings.
Atomic Mail Sender is a program for mass mailing an unlimited number of emails.
Spin text is the ability to replace individual parts of the newsletter text with synonyms. The program will randomly select emails and replace the text with the synonyms you have written. Thanks to the spin-text function, spam filters will not perceive your mailings as mass mailings, which mean they will not be so closely monitored. 
Spam Assassin will allow you to check the email for spam, and the ability to add a variable name will allow you to make each email unique and personalized.
The program has the function of adding a third-party SMTP server. This will allow you to secure your newsletter, regardless of the provider.
If some senders forget about the priority of the customer choice, the service – doesn't. Add a link to unsubscribe from your mailing list using the program, so as not to irritate your customers or just make them avoid a spam basket.
How to start?
To use this software, download the program for mass mailing from the official website. You will have a 7 days trial period to make sure of the quality of the product.

Install the program on your PC and launch it. You will see a window with a mailing project create option. You can make your own HTML letter or use free design templates.

After you create your letter text, check it for spam content. To do this, click the "Spam test" button on the top panel.

Use SMTP function. Setting up an SMTP server will allow you to create a provider-independent and secure mailing list.
Conclusion
For a successful email marketing campaign, you should know how to avoid spam, what's spam filters and the software to use to avoid them and create awesome content. Personalize your letters, follow the registration rules, provide unsubscribe options, check the validity of the client base, use only proven and reliable tools for email campaigns & conduct full analytics of mailing. These simple rules will improve your results.  Also, feel free to try Atomic Mail Sender to produce only quality letters & boost your campaign results!
Written by: