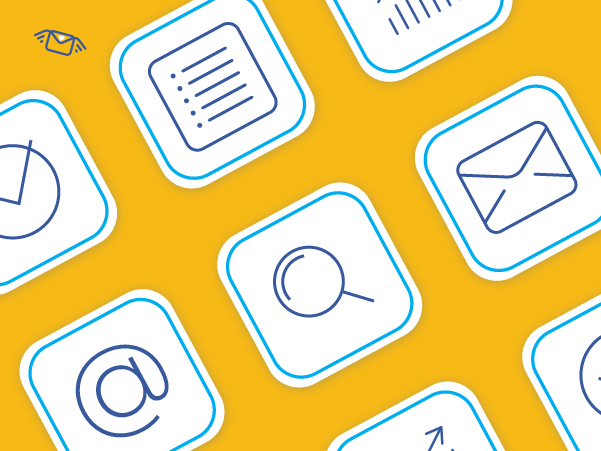 In email marketing parsing is widely applied to make it effective, and the email parsing software is widely sought after by experienced marketers. They know for sure how they help in turning emails into leads. How to choose one so that not waste money on future email campaigns? Let's check it out.
Choosing the top-notch parsing software
For those who don't quite know what an email parsing is, there is a quick explanation:
Email parsing is the process of using software to search, detect & extract specific data in an email, avoiding manual data entries. It's fast and easy to organize a mass gathering of e-mail addresses that helps to collect target bases for successful email marketing. Email parsers are the software that makes it happen.



In addition to providing a reliable list of authentic email addresses, the parser also optimizes your overall work dramatically. It saves a lot of time/effort that would be taken for manual search for emails online.
So, how to find the best email parser on the Internet that gathers addresses and turn them into potential leads from websites and social networks, etc? Our criteria will help you find that out, as well as pick the most suitable software for your marketing strategy and other needs.
Search for email addresses without restrictions
Things like order numbers, leads, contact details and more can be found in emails. The challenge with email parsing is that emails are designed for humans, not for machines. So, to choose the top-notch parser means to find a proven & highly adoptive solution with working algorithms that enable it to picks the addresses without any restrictions. It should be user-friendly, data-driven and absolutely safe to guarantee you effective work and fruitful marketing results in the end.
Today, when the Internet is full of all kinds of parsers, we realize why choosing a parser that is ideal for your business is kind of hard. Every email parser includes certain unique features and price plans. However, there are certain must-have features to seek for.
A quality tool for finding emails checklist: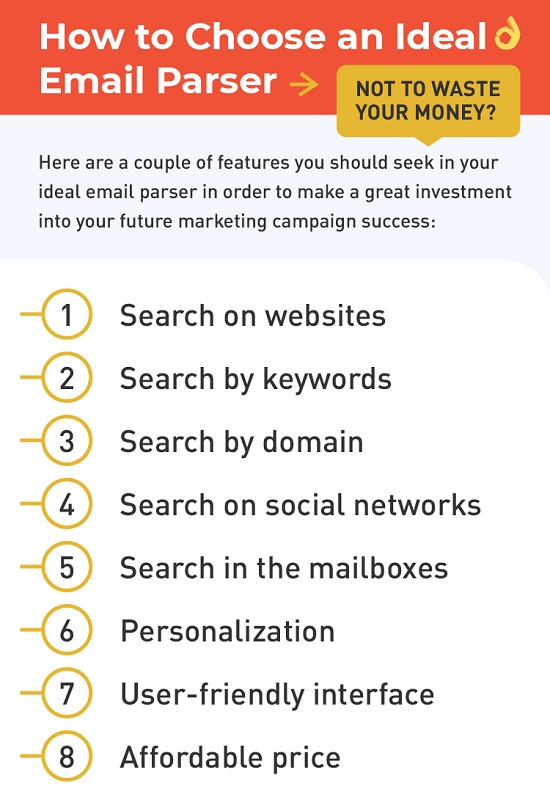 Search for emails on specific sites
The main advantage of search engines is that they do research quickly. Hundreds of addresses in a couple of minutes will already be on your base due to the parsing. All you need to do is to enter the URL of the web pages and get the customer base ready.


Search for emails by keywords
If you have not decided on the website URLs where you want to search for contacts, just enter the main keywords. The email search program will automatically find suitable pages and collect the addresses from there in no time.


Search for emails by domain
When you enter the URL you need, the email parser retrieves the addresses from the website accordingly. You may adjust the search depth. Depending on the selected settings, the program will be able to collect addresses only from the main site or follow the links provided on it, etc. This specifies the search area.


Email search on social networks
Fill in the mailing list from any social network. You may do it with the addresses of the target audience using the Twitter or Facebook plug-in. With their help, the program you choose will be able to retrieve all the contacts that were somehow mentioned by the senders of the letters.


Search in the mailboxes
As you see, if you have previously had to send emails from your email address, this data might still be stored in your profile. Of course, you can go through the entire list of sent emails and add them to the contact database. But it is much easier to do it automatically.


Personalization
Each client needs a unique approach. Why not using a personalization option? When sending letters, you will not be able to contact the recipient in the real world, so it is very important to compose a message correctly and equip it with quality content.

To fully immerse and involve subscribers in the advertising campaign, you need to personalize the newsletter. To do this, segment the database, and then prepare an email for each segment.

To make a letter personalized, you need to know the email address, name, gender, location, etc. The email search solution will provide this information twice faster if the user has provided it online. Besides, you may create targeted lists of email addresses for specific needs for later processing.
User-friendly interface
All is good. But your ideal parsers should also be easy and friendly to apply even without any technical background. Choose the right instruments so that you do not have to waste time at the PC to run the program & launch parsing.


Price
Affordable price is a must too. The cost of collecting contacts should not exceed the revenue from the marketing campaign. After all, you are looking for these addresses in order to increase profits, not quite on the opposite!
Adjust your search with the top-notch parsing software
Have you ever heard of Atomic Email Hunter? This one is easy to use: a couple of clicks, and you have a ready all day & night
Atomic Email Hunter makes it as easy as possible to find and collect relevant email addresses. Keyword research is one of the best features of Atomic Email Hunter. You just need to enter some keywords that are relevant to your marketing content, and this software will start searching for websites that are ranked by search engines (such as Google and Yahoo) for those keywords.
The software will then search the website and collect the email addresses found. It will then save them for future use. However, when you already have a certain website with a lot of email addresses, just paste the URL of that website into Atomic Email Hunter - and you're done! It will effectively retrieve any email address.
Software capabilities
AtomPark Software is great for medium and large organizations that want to create email lists from multiple sources. Depending on the selected settings, it collects addresses only from the main site or following the links provided on it. So you set the speed for the end result of the search: the deeper the search - the longer it will take.
There is no doubt that the software from AtomPark Software is easy to use, and it is very well-supported by the relevant website, which has comprehensive information on the installation and configuration of this software to your specific requirements and so much more.
Key features:
Search from a website or keyword to collect addresses.


Collects email addresses from Twitter and Facebook.


Collects contact addresses from multiple email accounts.


Identifies the country of the email address owner.
This software can perform a full-scale search; each e-mail address found by the specific URL you enter will be available in a convenient and accurate format. In addition, to improve the results you can specify a few words that you think should be included in the search.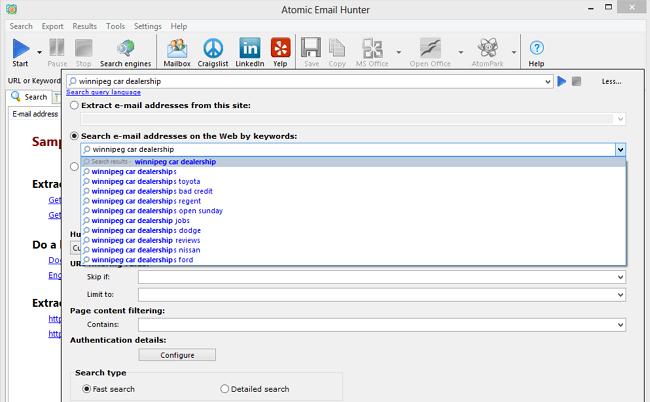 You may include any keyword. Also, choose any search engine for parsing to widen the search coverage.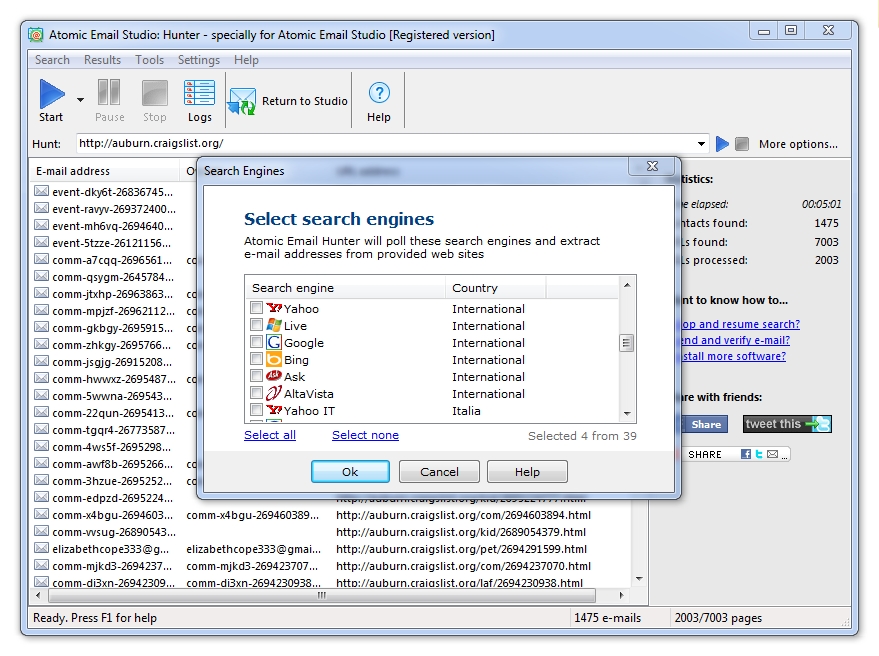 Moreover, there are opportunities to export your newly created address list to many formats.
For example, such a list can be saved on your computer, or it can also be exported to a Microsoft Excel spreadsheet or Microsoft Word document. It is possible to add a suitable name for all email addresses.
Conclusion
If you need a free, convenient and multifunctional e-mail address gathering tool with a mass collection of addresses, a huge set of additional software, affordable price, good support and including all the built-in resources to ensure the highest possible speed of address collection, Atomic Software products are strongly recommended.
Get a reliable tool for finding leads at a good price and forget about the empty database for mailing.
With Atomic Email Hunter, you pay once and use it for life.
Download this awesome email parser for free right now!
Written by: